Inform has announced changes to its management structure with the appointment of four co-CEOs to join Adrian Weiler, who has been CEO at the optimisation software specialist since 1986 and continues to lead the company.
Matthias Berlit, Peter Frerichs, Dr Jörg Herbers and Dr Andreas Meyer, took up their new roles as of January 1 this year. All have well-established tenures at the company.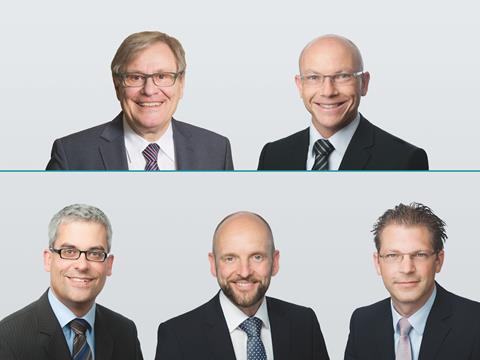 "I am delighted to have added longstanding colleagues to the management team," said Adrian Weiler. "At Inform, I have long advocated for a corporate culture of entrepreneurism and each of our new co-CEOs embodies that spirit of innovation and forward-thinking."
Matthias Berlit has worked for Inform for 20 years and for half of that time he has been vice-president of the manufacturing logistics division. Peter Frerichs has been with Inform for 23 years and was most recently senior vice-president of inventory and supply chain.
Jörg Herbers has been with the company for more than 20 years and most recently was senior vice-president of the workforce management division. Finally, Andreas Meyer has been with the company for more than 13 years, during which time he has been executive vice-president of the risk and fraud division.
Inform's optimisation technology integrates algorithms from operations research and artificial intelligence to facilitate operational processes in the areas of supply chain, logistics, manufacturing, workforce management, fraud prevention and risk management.
The company said the management team would pave the way for continued innovation, internationalisation and human resources management, while positioning the company for ongoing future success and sustainability.
"Sustainability in terms of organic growth, as well as trusting relationships with customers and employees, has always been regarded as an important value of Inform," said Andreas Meyer, who will be responsible for the area of internationalisation, among other things. "In the meantime, however, sustainability also plays an important role in an ecological sense. Optimisation technology can contribute to this, for example, through a more efficient utilisation of operational resources."
Last month Inform supplied its SyncroSupply timeslot management system to an unnamed European carmaker for the management of 2,500 component and finished vehicle deliveries per month.
Using the SyncroSupply Central platform, the carriers and suppliers enter a preferred time of arrival when booking a time slot. The system then checks whether the required staff and loading ramps at the relevant logistics centre are available for loading or unloading in the requested time. In coordination with the existing bookings, the software suggests either the required or other available time slots to the carrier.