Mercedes-Benz is adopting a mining certification programme designed to ensure more ethical sourcing of materials used to make the lithium-ion batteries for its electric vehicles (EVs). The carmaker is also aiming to reduce the level of cobalt used in the batteries it uses to less than 10%.
Cobalt is a conflict mineral, with two-thirds of the world's supply mined in the Democratic Republic of Congo (DRC) where child labour is common and safety standards can be poor. The industry is hard at work to find ways to replace the element, with iron, nickel and manganese seen as viable alternatives, but cobalt is still considered essential for the production of high-capacity lithium ion batteries.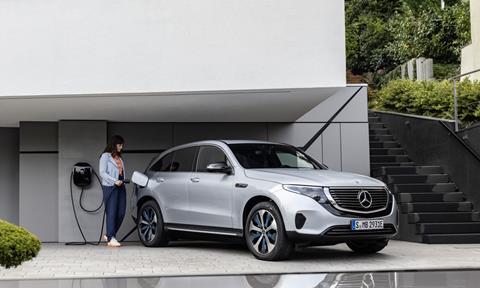 The Standard for Responsible Mining is a global and cross-sector certification programme for industrial-scale mining sites, established in 2018 by the Initiative for Responsible Mining Assurance (IRMA) – a multi-stakeholder organisation set up to drive more socially and environmentally responsible mining.
Following 60 audits by RCS Global, Mercedes found that there are currently no cobalt mines certified in accordance with IRMA's Standard for Responsible Mining and Mercedes-Benz is working with the organisation on a step-by-step approach to dealing with particularly challenging local situations.
Like most OEMs, Mercedes-Benz doesn't produce the battery cells in-house, nor is it directly involved in the mining of the raw materials, but it wants to make sure the whole supply chain for its EVs is sustainable. This initiative is part of its Ambition2039 plans, which map the manufacturer's path to carbon neutral production in 2022 and to a carbon neutral passenger car fleet by 2039.
The company said it was using the tenets of the Standard for Responsible Mining as key criteria in supplier contracts within raw material supply chains and it would only work with suppliers that complied. Suppliers now need to commit to working within their own supply chain to source exclusively from raw material suppliers who are audited in accordance with the IRMA mining standard and the supply chains will in the future also be regularly monitored, according to Mercedes.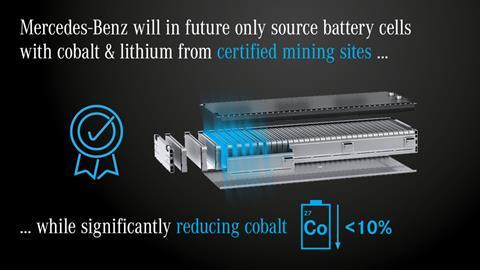 "We have had the supply chains for our Mercedes-Benz electric vehicle fleet audited in line with OECD [Organisation for Economic Cooperation and Development] guidance, all the way back to the mine, even though we don't source cobalt directly ourselves," said Markus Schäfer, member of the board of management of Daimler and Mercedes-Benz.
"Based on the insights gained, we will instruct our battery suppliers to only source cobalt and lithium from certified mining sites in the future. With this, we even go a step further and will ensure our sourcing is from mining sites compliant with the mining standard of the Initiative for Responsible Mining Assurance."
Schäfer said that the initiative would help minimise social and environmental risks in sourcing battery materials.
"Our aspiration is very clear: we want our products to contain only raw materials that have been mined and produced without human rights violations," said Renata Jungo Brüngger, member of the board of management at Daimler and Mercedes-Benz, responsible for integrity and legal affairs. "This is one of the core elements of our sustainable business strategy…[.] If there are any indications of risk, we take another, closer look at the supply chain. This involves us going beyond the direct suppliers and creating transparency, if necessary, all the way back to the mine."