Mercedes-Benz is tasking its supply base with the supply of carbon-neutral battery cells and other parts as it strives toward a carbon-neutral vehicle fleet within the next 20 years, part of its Ambition 2039 environmental initiative.
"Electric mobility and sustainability go hand in hand for Mercedes-Benz," said Markus Schäfer, chief operating officer of Mercedes-Benz Cars and board member responsible for Daimler Group Research. "With the electric EQS luxury sedan, which is already in the starting blocks for next year, we have already achieved important milestones in close cooperation with our partners, for example, by purchasing CO2-neutrally produced battery cells."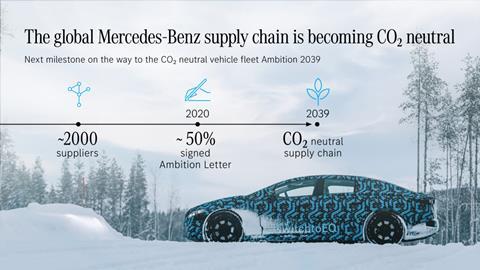 According to Schäfer, the carmaker is looking to continue down the path of carbon neutrality in its sourcing of parts by making it a guiding principle when awarding contracts for its subsequent EV platform, the Mercedes-Benz Modular Architecture (MMA) for compact and medium-sized cars.
Almost half of the carmaker's suppliers have now signed an 'ambition letter of intent' to supply parts that are carbon neutral. Those that don't sign the letter will not be considered for new supply contracts. Suppliers are required to avoid and reduce emissions as a fundamental principle of their own manufacturing.
"These companies account for more than half of the annual purchasing volume of Mercedes-Benz AG," said Gunnar Güthenke, head of procurement and supplier quality, Mercedes-Benz Cars. "This is an important proof point on the way to achieving our climate goals: our supplier network has also recognised the signs of the times and is following the transformation. We place an additional focus on particularly CO2-intensive components and materials such as battery cells."
The carmaker is focusing on battery cells, steel and aluminium, amongst other parts and materials, which account for about 80% of the CO2 emissions in the supply chain of a fully electric vehicle.
Mercedes has already agreed on clear objectives with two battery cell suppliers: CATL and Farasis Energy. Both have committed to supply battery cells that are produced using electricity from renewable sources such as hydropower, wind and solar energy. The carmaker said that reduced the carbon footprint of an entire battery by more than 30%. It said the rest of the supply chain will be included as a next step.
Mercedes is also in the process of setting up a tracking system to show how CO2 emissions are reduced over time.