From spring 2022 Toyota will start on-road trials of heavy-duty fuel cell electric trucks (FCETs) to transport parts between its plants in Aichi Prefecture, Japan, and the Toyota Tobishima Logistics Center in Nagoya Port.
The trials are part of a bigger FCET project involving Asahi Group, Seino Transportation and Yamamoto Transport, aimed at more sustainable logistics through the reduction of carbon emissions. Heavy goods vehicles (those over 3.5 tons) contribute approximately 70% of all CO2 emissions from commercial vehicles in Japan, according to Toyota.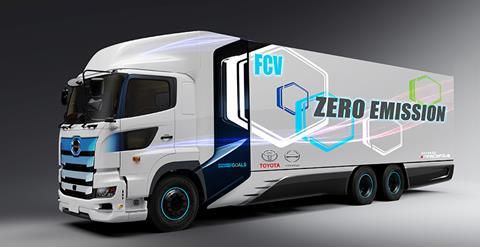 Hydrogen fuel cells generate electricity by turning hydrogen (H2) into water (H2O) and are seen as an effective solution for the electrification of heavy-duty trucks. Toyota says the heavy-duty FCETs will be developed with a target range of approximately 600km. The cells will be powered with a lithium-ion battery.
"The heavy-duty FCETs used in highway transportation must have adequate range and load capacity as well as being able to refuel quickly," said Toyota in a statement.
Toyota is also jointly developing a Class 8 FCET with Hino USA for the North American market, with a demonstration model expected in the first half of 2021.
"A fuel cell powered version of the Hino XL Series is a win-win for both customers and the community. It will be quiet, smooth and powerful while emitting nothing but water," said Tak Yokoo, senior executive engineer, Toyota Research and Development. "Toyota's 20-plus years of fuel cell technology combined with Hino's heavy-duty truck experience will create an innovative and capable product."