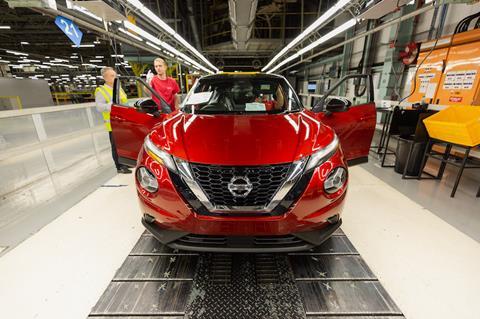 One in three automotive companies in the UK are cutting jobs to prepare for a no-deal Brexit, according to the results of a new survey from The Society of Motor Manufacturers and Traders (SMMT). The results, based on responses from 158 of its members, also showed that more than 80% of them fear that leaving the EU without a deal would have negative consequences for the future of their business in the UK; around the same number were worried about the impact on profitability.
In a no-deal scenario the UK industry could face trading on WTO terms that would add a standard 10% tariff on finished vehicles. According to the SMMT that would add to an overall extra £5 billion ($6.4 billion) on passenger cars and light commercial vehicles made in the UK, a cost that would hit profitability and investment in the country. That figure is based on the application of the tariff on assembled cars and light commercial vehicles moving between the UK to the EU, both imports and exports. If passed directly on to consumers, import tariffs would push up the cost of UK-built cars sold in the EU by an average £2,700, and that of light commercial vehicles by £2,000.
Similarly, UK buyers of a car or van from the EU would be faced with £1,500 and £1,700 increases if manufacturers and their dealer networks were unable to absorb the additional costs caused by the tariffs.
Carmakers have already said that such an outcome could impact future production plans.
Last week Nissan began assembly of its new generation Juke model following a £100m investment in its UK Sunderland plant in the northeast of England. Seventy percent of that output will go to Europe, but Nissan warned last week that any WTO tariffs on vehicle exports to the EU from the UK would make production there unviable. There are questions now hanging over whether the new larger Qashqai will be made in the UK or Spain.
Nearly 12% of firms canvassed by the SMMT said that they had already divested from their UK-based operations and more than 13% were relocating operations overseas. Overall, 77% of firms said that there had already been a negative impact on business even before the UK has left the EU, according to the representative body.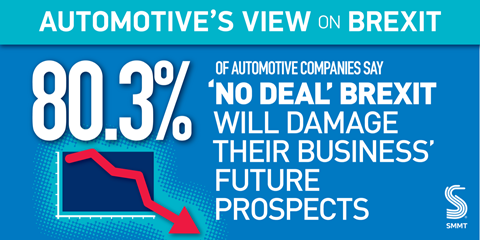 Furthermore, in its 2019 UK Automotive Trade Report, the body calculates that a no-deal Brexit would knock £50,000 a minute off the automotive sector's economic contribution.
The SMMT also said that based on separate research carried out this year amongst its members, more than £500m had been wasted on measures designed to mitigate at least some of the risks of a no-deal scenario, rather than being invested in research and development (R&D). Those companies had been spending on stockpiling parts and warehousing to try and avoid production stoppages caused by border delays.
Jaguar Land Rover, BMW and Toyota have all said they will be stopping production in November because of the potential disruption from a no-deal Brexit.
Investment in the UK automotive industry has suffered because of the uncertainty over trading conditions after Brexit. According to SMMT figures released earlier this year it almost halved in 2018, falling 46.5% to £588.6m ($770.5m).
"As the Brexit clock ticks ever closer to midnight, this survey reveals the bleak future that awaits this vital sector in the event of 'no deal'," said Mike Hawes, the SMMT's chief executive. "Damage has already been done: investment is haemorrhaging, competitiveness being undermined, UK jobs cut and vast sums wasted on the impossibility of preparing for no deal. Make no mistake, every day no deal remains a possibility is another day of lost investment, another day that makes it harder to recover investor confidence in the UK."
The UK is due to leave the EU on October 31, though if the prime minister Boris Johnson fails to secure a deal by the end of this week (19 October), or gets MPs to approve a no-deal exit, a new law passed in September means he would be required to ask for a three-month extension.
The impact of Brexit on the UK automotive industry will be central to discussions at this year's Automotive Logistics UK summit, which takes place at Castle Bromwich on December 4 this year