Last week's driver protests on the US-Canadian border caused disruption to the movement of automotive parts and finished vehicles. As a consequence, some assembly plants in Canada and the US had to temporarily shutdown lines.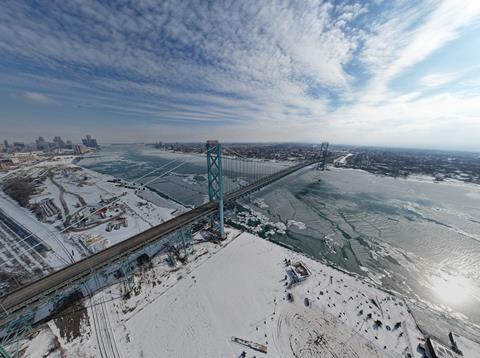 Truck drivers are protesting about Justin Trudeau's measures to make it a requirement that they get vaccinated or submit to Covid testing and quarantine. That follows a similar vaccine-or-test mandate announced in the US in October last year for workers crossing country borders, including truck drivers.
Those opposed to the requirements have been protesting as part of a self-proclaimed 'Freedom Convoy', bringing disruption to the streets of the capital Ottowa and elsewhere for the last two weeks. However, it is the blockade of the Ambassador Bridge linking Ontario and Michigan that has had an impact on automotive production in both countries.
On Monday morning (February 14), the Canada Border Services Agency reported that there were no longer delays on the bridge and that protesters had been moved after six days of disruption. However, leading carmakers and supplier groups said the action had made worse an already difficult situation for production in the wake of Covid and the semiconductor shortage.
Approximately $323m worth of goods cross the Windsor-Detroit border each day over the Ambassador Bridge, equal to 25% of Canada's annual goods trade, including its second-largest export category – finished vehicles and automotive parts. 
Last week the Canadian Vehicle Manufacturers' Association (CVMA), which is speaking for the carmakers, has called for an immediate end to the blockades.
"Blockades at Canada's borders are threatening fragile supply chains already under pressure due to pandemic related shortages and backlogs," said CVMA president and CEO Brian Kingston. "We are calling on cooperation from all levels of government to resolve this situation and bring an immediate end to these blockades."
Kingston went on to say that automotive production relied on efficient supply chain logistics for the delivery of parts and vehicles. "Persistent delays at the Ambassador Bridge risk disrupting automotive production that employs tens of thousands of Canadians," he said. 
Plant disruption
Carmaker Stellantis said that all of its plants in North America were running as normal, but a number of them cut short second shifts on February 9 because of parts shortages caused by the closure of the Detroit-Windsor bridge.
"We continue to work closely with our carriers to get parts into the plants to mitigate further disruptions," said the company in a statement. "The situation at the Ambassador Bridge, combined with an already fragile supply chain, will bring further hardship to people and industries still struggling to recover from the Covid-19 pandemic. We hope a resolution can be reached soon so our plants and our employees can return to normal operations." 
Toyota said it suspended production at its plants in Ontario and Kentucky on Saturday (12) because of shortages of parts stemming from the bottleneck in traffic over the border. Earlier, a spokesperson for the company said that while the situation was fluid and subject to frequent change, it did not anticipate any impact on employment. 
"Toyota Motor Manufacturing Canada, Toyota Motor Manufacturing Kentucky, Toyota Motor Manufacturing Alabama, and Toyota Motor Manufacturing West Virginia have recently been impacted by issues related to the Ambassador Bridge blockade. We expect related disruptions to continue this week, and we'll make adjustments as needed," said a spokesperson for the carmaker.
The Canadian Trucking Alliance (CTA), a federation of provincial trucking associations, said it strongly disapproved of any protests on public roads and bridges, adding that opposition to government policy could be expressed through legitimate means and lawful events.
"The Government of Canada and the United States have now made being vaccinated a requirement to cross the border, said CTA president Stephen Laskowski. "This regulation is not changing, so, as an industry, we must adapt and comply with this mandate. The only way to cross the border, in a commercial truck or any other vehicle, is to get vaccinated."
That was something the CTA said the vast majority of truck drivers had already done.
Adding their voices to the call for an end to the protests, a group of 16 supply chain and trade associations, including those in trucking and automotive supply, signed a joint statement last week calling on government at all levels to bring an immediate end to the disruption of key trade corridors.
"Canada's economy is being threatened as thousands of trucks and millions of dollars in cross-border trade that typically go through these entry points every day is being disrupted," read the joint statement. "Our borders are essential trade arteries that feed businesses, and Canadians with essential goods, food, medicine and critical industrial components that fuel our economy and support our critical infrastructure."
While the Ambassador Bridge has now been cleared, protests are continuing elsewhere in the country. According to news source Freightwaves, protestors have now have closed border crossings at Coutts, Alberta-Sweet Grass, Montana, and Emerson, Manitoba-Pembina, North Dakota. Protests also disrupted traffic leading to the Peace Bridge linking Buffalo, New York, and Fort Erie, Ontario, and the Pacific Highway border crossing linking British Columbia to Washington.