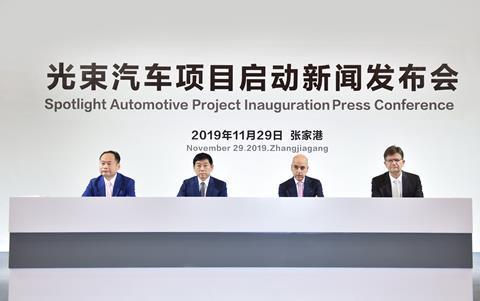 BMW Group is to expand global production of the Mini with Chinese partner Great Wall Motor by setting up an assembly plant in Zhangjiagang in eastern China. The new joint venture is called Spotlight Automotive.
The city was selected because of its existing solid supplier network, skilled workforce and good infrastructure, the German OEM said.
The companies are now negotiating with parts' suppliers and logistics service providers to establish arrangements for operation of the new plant.
But a BMW spokeswoman told Automotive Logistics it is too early to go into details of how the local supplier network is being developed with Great Wall Motor.
However, at this initial stage the partners' joint venture, plans to build its own battery factory at the assembly plant. "Regarding the supply of battery cells, we are evaluating a number of options. The final supplier has not yet been decided," she added.
Other factors in Zhangjiagang's favour include it being in Jiangsu, one of China's leading provinces in terms of finance, education and technology. The city is close to all of the country's major economic hubs, and will in effect become even closer to Shanghai, about 100km distant, with a new high-speed train service coming soon, she said.
The factory will be constructed between 2020 and 2022 at a cost of around 650m euros ($722m). It is being designed to annually produce up to 160,000 vehicles, a mix of electric Minis and Great Wall models. The workforce will be around 3,000 strong.
The start of production will be announced at a later date, the spokeswoman said.
But the partners already have their sales strategies pencilled out: they will sell Zhangjiagang-produced cars through their existing channels. The joint venture will not set up its own sales organisation in China.
At the official launch of Spotlight Automotive, Klaus Fröhlich who is responsible for development on BMW's board of management, commented: "With the BMW Group as a pioneer in the field of electromobility and Great Wall as a major player and expert in industrialisation in the Chinese market, we are joining forces for development and production of the future electric Mini and new Great Wall models."
Nicolas Peter, responsible for finance on the board, added: "This joint venture will enable us to produce a larger number of Mini-brand, fully electric vehicles at attractive conditions for the world market."
BMW said its plant in Oxford (UK), which recently built the ten millionth car since the brand's launch in 1959, will remain heart and home of Mini manufacturing. "The Spotlight Automotive joint venture will provide additional capacity and flexibility," the OEM said.
The first-generation, fully electric Mini being built at Oxford has just been launched and will come to market in the first quarter of next year.