Prestige carmaker Bentley is now using vegetable oil to run the trucks it uses to transfer inbound parts to its assembly UK plant in Crewe from its storage depot in Winsford.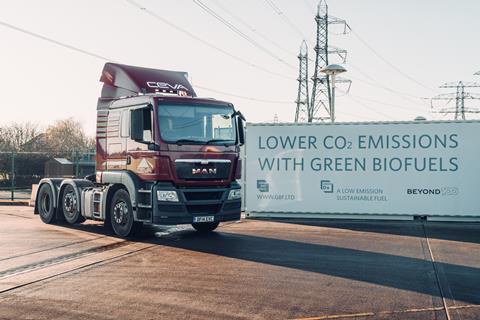 The carmaker has installed a 34,000-litre hydrotreated vegetable oil (HVO) tank at the Crewe site to fuel ten trucks with the recycled oil. It is also using the facility to fuel more than 20 smaller on-site security vehicles and delivery vans.
HVO fuel is a second-generation premium biofuel made from renewable and sustainable sources such as waste fats, vegetables and oils. Called Green D+, it can be used in Bentley's existing vehicles without any additional modifications, maintenance or changes to operating procedure.
Bentley reported that the 250-plus forklift trucks and tow motors used inside the factory are already being charged with green electricity generated in part by the 30,000 solar panels on the Crewe site.
Bentley said the switch to renewable fuel made it the first carmaker plant to run all in-house operations on renewable fuels or green electricity thanks to ongoing investment in solar PV and green electricity.
"The installation of our new HVO fuel facilities is the first on an automotive site of this size and it complements our existing strategy of generating solar PV and procuring green electricity perfectly," said Peter Bosch, member of the board for manufacturing at Bentley. "It's also a great example of an agile project and drop-in solution, which we've been able to get up and running through our existing fleet and infrastructure in less than six months."
The use of the HVO fuel reduces exhaust emissions from the trucks and other vehicles by more than 86% according to the carmaker. It also reduces nitrous oxide (NOx) by up to 30% and particulates by up to 80%. The carmaker estimates it will use around 10,000 litres of the biofuel per month.
Earlier this month Bentley set out its Beyond100 strategy to be carbon neutral by 2030.
"We're now designing and implementing a strategic roadmap that aims to deliver a positive impact through our ethos of avoiding, reducing and compensating emissions from our site and taking a circular economy approach," said Bosch. "Switching our in-house logistics to 100% renewable fuels, which are derived from waste products, is a great example of this approach in practice."
The Beyond100 strategy includes Bentley switching its model range to offer exclusively plug-in hybrid or battery electric vehicles by 2026, and full electric vehicles only by 2030.