A shortage in available capacity for finished vehicle shipments by ocean ro-ro vessel out of China, which has intensified over the last two quarters, has provoked a number of carmakers to look for control of their own assets.
Chinese electric vehicle-maker BYD is reported to have at least six car carriers on order because it cannot find enough available space with logistics service providers. Each vessel has capacity to carry more than 7,000 car equivalent units (CEUs).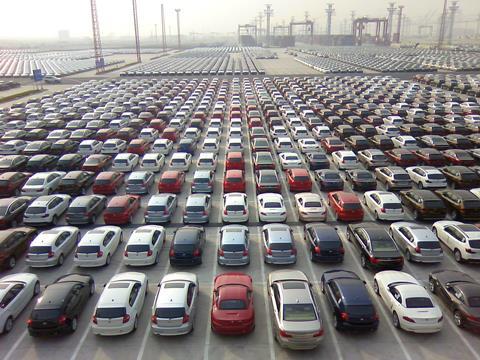 While it waits for that capacity the carmaker has been looking at alternative options, even including the shipment of electric trucks via bulk vessel, according to a report in the China Daily. The news source reported in December that BYD put 240 pure electric trucks on bulk carriers at the port of Shanghai for export to Chennai, India because of the shortage in dedicated capacity aboard pure car and truck carriers (PCTC).
Rival Chinese carmakers Chery International and JAC have also taken steps to secure ro-ro capacity in a joint venture with Anhui Provincial Port and Shipping Group. Called Anhui Hangrui International Ro-Ro Transportation Company, the joint venture will also be engaged in international container shipping, cargo transport and supply chain services, according to Seatrade Maritime News.
Lack of investment
The reason for the tightening in capacity for finished vehicle exports since the middle of 2022 is fairly straightforward. While assembly plants have been gradually building up volume output post-Covid, the vessels that ro-ro operators scrapped or laid up during the pandemic have not been replaced. Finished vehicle logistics providers were wary of placing new orders for vessels (which have a significant lead time) given the market uncertainty. That underinvestment has resulted in a capacity crunch which has driven up rates on for both ro-ro and con-ro vessels.
That coincides with lifting of zero-Covid measures in China and the greater efforts being made by Chinese EV makers to export their brands to international markets. EV production costs are lower in China making them more competitive with western brands, even with export costs taken into account. That said, the US and EU are likely to increase import taxes on those vehicles to protect local production.
Global maritime logistics provider Wallenius Wilhelmsen admitted that overall vessel capacity was tight in 2022. In a statement issued on its website in January this year Erik Solum, head of the company's global market insight team said that tightness was expected to continue. According to Solum, there are only 11 vessels expected for delivery in 2023, which would have a low impact on general capacity.
"My competent and smart colleagues have a constant eye on how we stack our vessels to optimise capacity while maintaining the most important issue: safe transportation and adequate cargo spacing. It is therefore important for our customers have a longer-than-usual horizon when planning their logistics," said Solum.
That is not to say more vessels are not being built. However, even if all the ro-ro vessels due for completion in 2023 are delivered, it still will not satisfy the demand for volume shipments out of China. The China market is planning to export 2.3m units to Europe this year but the ro-ro capacity currently expected in 2023 will only serve half of that number. That has led carmakers to make longer-term plans to avoid future disruption. In the meantime, they are also looking for containerised vehicle shipments, something Automotive Logistics will be reporting in greater detail next week.