At the end of this year, Daimler is spinning off its commercial vehicles business into a separately listed and fully independent company called Daimler Truck Holding. The company is also renaming Daimler AG as Mercedes-Benz Group in the first quarter of 2022, emphasising its focus on cars and vans in the luxury and premium segments. The company is calling the reorganisation Project Focus.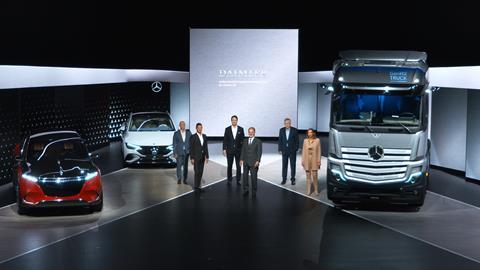 Currently, Daimler AG comprises five divisions: Mercedes-Benz Cars, Mercedes-Benz Vans, Daimler Trucks, Daimler Buses and Daimler Mobility AG. The realignment will see Mercedes-Benz Group represent car, van and mobility developments, while truck and bus falls into the new Daimler Truck Holding company.
Each business will have a separate procurement function, fully independent management and stand-alone corporate governance, including an independent chair of the respective supervisory boards.
Martin Daum, currently chairman of the board of management for the Daimler Truck division of Daimler AG, is designated to remain head of the restructured Daimler Truck Holding. Daum said that as an independent company Daimler Truck Holding will be able to make even greater use of growth opportunities and increase financial success.
Bernd Pischetsrieder, chairman of the supervisory board of Daimler AG commented: "Daimler Truck and Mercedes-Benz will be able to master the transformation of the industry even more successfully with full entrepreneurial freedom and an independent management structure. By spinning off the commercial vehicle business, we aim to create value for our shareholders, increase our profitability and fully exploit our potential."
The company said the separation would sharpen Mercedes-Benz's profile as a manufacturer of luxury cars and premium vans. The carmaker said its strategy was aimed at technological leadership, especially in electric vehicle technology and car software.
The company aims to focus on zero emissions in individual mobility, which it highlights as a "phenomenal growth business".
Global trucking
Zero emissions are also a core focus for the truck and bus division, according to the company. The company said that the "entrepreneurial freedom" afforded the division by the new structure will allow it to pursue this goal with greater focus and enable it to leverage scale, raise returns and further innovate.
Daimler Trucks makes a range of commercial vehicles, which in Europe are made by Mercedes-Benz at the plants in Wörth, Germany and Aksaray in Turkey. Mercedes-Benz buses are made in Mannheim, Germany, while the Setra brand is made in Ulm, also in Germany.
Daimler Trucks North America, meanwhile, includes Freightliner Trucks, Western Star Trucks, Thomas Built Buses, Freightliner Custom Chassis and Detroit Diesel.
The new independent organisation is of particular importance on the ground in the US, according to Daimler, because the owner-operator model fits well with the principle behind Project Focus. Moreover, that owner-operator is a particular type of truck customer, driving their own business in the form of a truck and, therefore, an archetypal entrepreneur, according to the company.
In addition, Daimler Trucks Holding will also incorporate the existing Fuso and Daimler India Commercial Vehicles business units.
By the end of this year, shareholders will hold a 65% stake in Daimler Truck Holding, which will be listed on the stock exchange as an independent company. In addition, Daimler will retain a minority interest of 35% in Daimler Truck Holding.
Diversifying technology
The development of different technologies also drives Daimler's decision to reorganise its business to answer the additional requirements of the product in the car and truck segments.
Like the majority of carmakers, Mercedes-Benz is working to make its products all-electric by the end of the decade. Next year, the company said Mercedes-Benz would have battery electric vehicles (BEV) in all segments and, from 2025 onwards, all newly launched vehicle architectures will be electric-only. Customers will be able to choose an all-electric alternative for every model the company makes.
Commercial vehicles have specific needs and are purpose-built for the professional industries deploying them, something Daimler thinks will be better catered for by a dedicated company.
Daimler's commercial vehicle divisions have been working on developing battery-electric and fuel-cell trucks and researching autonomous driving options for the future of its products. According to the company, with a greater focus on targeted partnerships, Daimler Truck Holding will accelerate the development of critical technologies to bring best-in-class products to its customers.
The latest move at Daimler echoes one made by VW Group in 2018 when it spun its commercial vehicle business off from the main company and renamed it to Traton.