Sportscar maker Lotus Cars has chosen DHL Supply Chain to manage warehousing and transport operations for production of the Emira sportscar on a five-year contract. Operations will start next month.
The logistics provider will be responsible for planning all inbound logistics movements, including global collection and tracking of parts, inventory management, picking, kitting and sequencing of products. It will also transport parts from its warehouse to the Lotus Advanced Performance Centre and headquarters in Hethel, UK. Logistics operations will support production of the Emira sports car, which was unveiled earlier this month.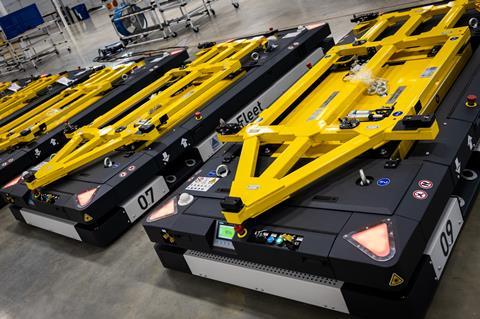 "Lotus Cars is an iconic British brand with a strong heritage and an exciting future ahead," said Mike Bristow, managing director of manufacturing logistics UKI at DHL Supply Chain. "We're proud to be working in close partnership to develop an agile and resilient supply chain, delivered by a passionate team who are committed to its long-term success."
At the beginning of last month (June) Lotus revealed details of its £100m ($136m) investment in the UK. That included two new production halls at the Lotus Advanced Performance Centre, one of which is home to the production of the Emira sportscar.
The carmaker has invested in the assembly hall, paintshop, framing line and fabrication facility, introducing robotic automation in several locations. As part of the investment Lotus has also introduced a new range of automated guided vehicles (AGVs). The AGVs move cars in build on set routes around the factory. Routes are easily programmed or reprogrammed, creating what Lotus called "a flexible and future-proof approach to Lotus sports car manufacturing". Each AGV has a height adjustment system so operators can position the car on it at exactly the right ergonomic height for them, it said.
David Hewitt, executive director of operations at Lotus, said: "The move to a part-robotised production is the right one for Lotus as we launch the Emira. Everything is about repeatability and efficiency to drive quality. Our workforce is incredibly skilled, and robots help them to deliver the consistency we need at the volume we need it."