Brazilian truck and bus sales picked up strongly last year following the country's long recession, and now both OEMs and logistics providers are hoping the trend continues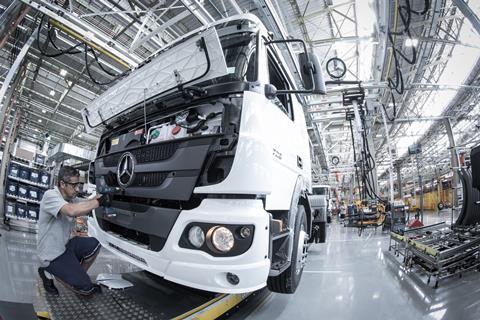 Brazil's economy is slowly emerging from a multi-year recession. Companies are gradually becoming more confident, investment and credit are re-emerging and long-delayed projects are returning to fruition. The country's GDP growth is expected to reach around 2.5% this year, while inflation remains at 4%, the benchmark Selic interest rate is sitting at 6.5%, and unemployment is slowly improving at around 10%.
In 2018, vehicle manufacturers recorded robust growth in bus and truck sales. OEMs say that Brazil still has pent-up demand for trucks and buses and the outlook this year is bright, with favourable economic indicators and new reform-minded economy minister, Paulo Guedes, aiming to drive pension reforms and privatisation programmes through.
Carlos Santiago, chief operations officer at Mercedes-Benz do Brasil, expects truck sales to be boosted by the need to transport agricultural products, like soy and corn, as well as fuel and chemicals, and also by new civil engineering works. In the case of buses, sales should be propelled by those renewing or expanding urban bus and coach fleets. "We expect double-digit sales growth [for both trucks and buses] that will be reflected in higher production volumes this year," he says.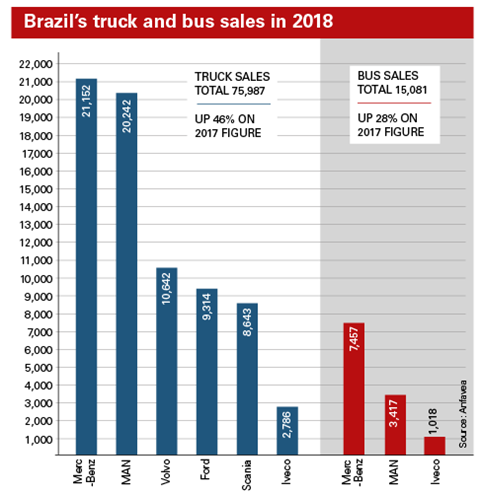 Brazil's National Association of Automotive Vehicle Manufacturers (Anfavea) also paints a positive picture. In 2018, 75,987 trucks were sold by its members, up 46% year-on-year. Of these, Mercedes-Benz accounted for 21,152 units, MAN for 20,242, Scania 8,643, Volvo 10,642, Ford 9,314 and Iveco 2,786. Bus sales also outperformed, it says, reaching a total of 15,081 units in 2018, up 28%. Mercedes-Benz accounted for 7,457 units, MAN for 3,417 and Iveco 1,018 (Marcopolo was not included in the list).
But despite moving forward, the segment faces difficulties. In mid-February, Ford announced that it would shut its giant plant in São Bernardo do Campo, in São Paulo state, which produces some 33,000 trucks and cars a year, employing 3,000 staff in a three-day-a-week operation. The plant had been operating at just 60% of maximum capacity and 19% of its truck capacity, as a result of Ford relying more heavily on its plant in Bahia state. The OEM said it would shut its heavy truck operation in South America as part of its global restructuring.
Meanwhile, General Motors, the market leader in car sales, has also been in talks with the government about keeping plants open in the country.
Marcopolo shifts gear
Despite idle capacity and turbulent times in recent years, most OEMs are now starting to see greater demand and a resulting reduction in spare production capacity. Marcopolo's CEO, Francisco Gomes Neto, says that recent years have seen bus volumes plunge almost 60%. "However, last year we saw a good reaction with strong sales for intercity, urban and microbuses," he adds.
Marcopolo's net revenues reached 4.1 billion reais ($1 billion) in 2018, up 46% on 2017, of which around 1.9 billion reais came from domestic operations. Net income rose 133% to 191m reais in the same period. The Rio Grande do Sul-based company, listed on the São Paulo stock exchange, domestically manufactured 14,000 units last year versus 8,800 units in 2017, including 4,000 coaches, 4,800 city buses, 2,500 microbuses and 2,600 minibuses.
A mix of factors sparked this resurgence in sales. Gomes says the federal government told city governments and municipalities that in order to renew fleets, operators would have to meet average fleet ages of five years in 2018 and six years in 2019. Then, in October 2018, new laws stipulated that all buses needed lifts for disabled passengers, leading to a flurry of early buying by companies keen to avoid paying for newer, more expensive buses last year, he explains.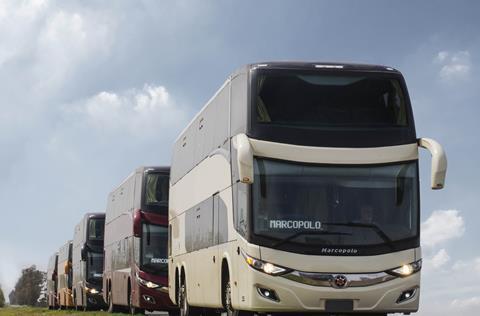 According to Gomes, bus and coach operators need modern vehicles to win concession licences and compete with their rivals. Intercity buses or coaches nowadays need to have top-notch, modern services, such as VIP areas. He adds that more Brazilians are now travelling and coaches are a cheaper option than flying, especially as passengers do not need to pay to check in their luggage (as was introduced recently on many Brazilian flights).
In 2018, Caminho da Escola, a government programme to renew school buses, also buoyed Marcopolo's sales. The project's volumes recently were almost zero, but a government tender to supply buses or minibuses resulted in blossoming sales.
Gomes does not expect the same pace of total sales for buses this year, however. "We are conservative and prefer to forecast 10% sales growth. However, unlike in prior years, we have already started this year with more orders than normal, so I'm optimistic we can achieve 10% or more for the next five years," he says.
Capacity to grow
Nonetheless, shifting from a recession to surging volumes has been a major challenge, especially after a fire destroyed Marcopolo's plastics plant in Caxias do Sul, in the southern state of Rio Grande Sul, in September 2017. "In 2018, despite producing 1,000 buses a month, Marcopolo needed to buy parts from many suppliers," Gomes recalls.
However, Marcopolo invested 70m reais to open a new 19,600 sq.m metals and components plant at the site on January 24, with new machinery and moulds. Working with 180 different third-party suppliers, the plant will produce items such as doors, bars, windows and parts to build bus bodies, helping internal logistics by doing everything in a single location rather than the operation being spread across three plants as before.
The new plastics plant is located in an unused 14,000 sq.m building about half a mile from the former plant, and features modern equipment along with better safety and fire protection facilities, Gomes says.
Exports face choppy waters
Raphael Liberato, Wallenius Wilhelmsen Ocean's sales manager for east coast South America, says heavy vehicle sales growth was above expectations in Brazil last year, but exports were hurt by neighbouring Argentina's economic difficulties and unfavourable foreign exchange swings.
Anfavea's data shows that Brazil exported 24,642 trucks in 2018, down 12.7% year-on-year, and 9,101 buses, virtually unchanged from the previous year.
Having the Americas among its main routes, WW Ocean saw good levels of shipments last year from Brazil to Colombia, given its South America-North America service with three monthly non-stop calls and a transit time of about ten days, says Liberato.
WW Ocean is currently handling not only buses and trucks, but also chassis and semi-knockdown kits from Brazil for destinations in Mexico, Colombia, Ecuador, Panama and Australia, with volumes rising in the last three years, he says.
Liberato adds that OEMs have been searching for new, promising markets, such as Russia and South Africa, to reduce their dependence on Argentina, a market that led the dip in 2018's results. WW Ocean is working on the basis of a 3.5-4.0% rise in heavy vehicle export sales in 2019, he states.
Despite the strong ramp-up in production, Gomes forecasts that the company will easily produce 30% more bus bodies just by adding extra workers. In 2012-2013, the market produced more than 30,000 units a year, so companies now have the capacity to expand further. "Demand is important and the rest we organise ourselves," he says.
From the plant, Marcopolo's buses are driven on the road by outsourced drivers from Servicargas Transportes. For longer trips, the OEM uses vessels to ship vehicles to Mexico, the Caribbean and Africa. In terms of inbound logistics, Servicargas brings chassis from São Paulo, or from Volvo's plant in Curitiba, to Marcopolo's domestic plants in Rio Grande do Sul, Rio de Janeiro and Espírito Santo states.
It would be easier if the roads were better, but we do business in spite of the conditions – Francisco Gomes Neto, Marcopolo
Given the thousands of miles to reach dealers, infrastructure challenges are rife. For instance, the journey from Marcopolo's Caxias do Sul plant, in the south, to Manaus, in the Amazonas region, takes more than a month and involves both difficult roads and boat transport. While the roads are good in the south-east of Brazil, in the north and north-east they are often muddy and strewn with potholes. "It would be easier if the roads were better, but we do business in spite of the conditions," Gomes comments.
Marcopolo exports mainly to Latin American countries such as Chile, Mexico, Peru, Bolivia and Paraguay, and to the Caribbean. It also ships buses to the African continent (1,000 units last year), to the Middle East and in small quantities to Asia.
The company wants to keep the same level or grow further in Latin America and Africa, and intends to leverage its plants worldwide. "As Marcopolo has plants in China, Australia and India, we see good opportunities in Asia because sales are not as big as in Latin America," says Gomes.
Tapping technology
Santiago says that Mercedes-Benz do Brasil invested 500m reais in a new truck assembly line at its São Bernardo do Campo plant in São Paulo state, which kicked off operations in March 2018. The company took three years to build the new facility for the assembly of light and heavy trucks.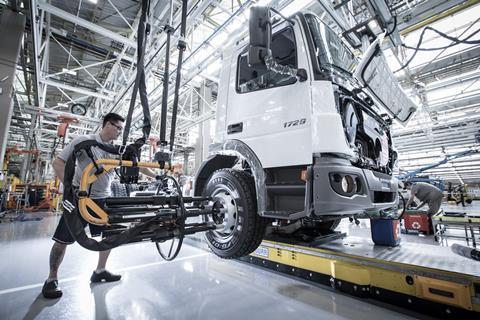 The outlay is part of Mercedes-Benz's 2.4 billion reais investment to 2022, to modernise the assembly line and add new products and services, while also using industry 4.0 technologies, such as high-speed connectivity and the cloud to store big data.
According to Santiago, Mercedes-Benz's new truck assembly line is 15% more efficient than before, due to the company cutting the number of parts facilities to six, 12-metre-high storage facilities from 53 separate warehouses before, while also boosting direct deliveries of parts to the line from 20% to 45%. It has also reduced the duration of component storage to a maximum of three days from ten.
Santiago says that company employees played a key role in designing the working environment at the truck assembly line, which provides better ergonomic and safety conditions. State-of-the-art technology, meanwhile, makes data available in real time around most areas of the São Bernardo do Campo site via a mobile phone app, and links in with the OEM's Juiz de Fora's plant and other group plants, too.
The vehicle-maker is making use of the data generated by the app and by new equipment, such as 60 automated guided vehicles, to analyse the quality of every product, detect any faults, and match information from sales with production systems in order to make the product mix more flexible.
Mercedes-Benz employees can also use 3D printers to ensure faster parts production, while using augmented reality glasses to access machine manuals or specific details about components. These glasses allow a member of the team to remotely see a computer another employee is viewing, with an audio link between them.
We expect double-digit sales growth [for both trucks and buses] that will be reflected in higher production volumes this year – Carlos Santiago, Mercedes-Benz do Brasil
Santiago explains that unification and vertical integration of the warehouses makes it possible to centralise the receipt, distribution and return of empty packages and containers, yielding efficiency gains while reducing logistics and transport costs.
Faced with a scarcity of parts last year, Santiago says Mercedes-Benz developed analytical tools using big data to support strategic decisions on stock levels, extra freight needs and handling issues.
Mercedes-Benz has also recently expanded its sales to Africa, signing a deal in Nigeria and delivering its buses by ship, whereas buses to Chile are driven through Brazil and Argentina. In both cases, transport has been organised by its customers.
Mercedes-Benz do Brasil is targeting Argentina, Chile and Peru as its main truck and bus export markets in Latin America. The company also exports to around 50 countries in Latin America, Africa, the Middle East, Asia and Oceania.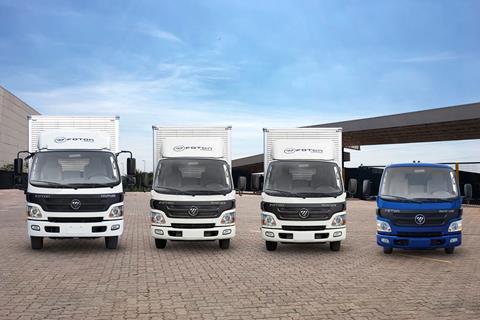 Chinese investment
After years of rocky sales, Marcio Vita, CEO at Foton Aumark do Brasil, the official importer of Foton trucks in the country, says that Foton plans to start its own production plant in Guaíba, in Rio Grande do Sul, in 2020. With support from Foton China, it will invest 100m reais to build the plant as part of Foton's strategic global expansion.
"To be present in Brazil on an equal basis with other truck manufacturers that have access to tax benefits, competitive financial conditions, currency protection and product credibility, it is mandatory to produce trucks locally in the medium or long term," Vita comments.
The company is looking for a market share of 5% in 2020, which it has reached in the past, and two new truck models are now being approved, Vita says.
To be present in Brazil on an equal basis with other truck manufacturers that have access to tax benefits, competitive financial conditions, currency protection and product credibility, it is mandatory to produce trucks locally in the medium or long term – Marcio Vita, Foton Aumark do Brasil
Until Foton Aumark do Brasil has its own plant, it will continue to import trucks from China in containers, moving them by truck to some 20 outbound dealers. The company also uses space at the plant of Agrale, a national manufacturer of light trucks, to assemble Foton vehicles.
Vita says the main challenge is to transport trucks to key cities nationwide. Foton uses Gefco for inbound deliveries and Transportes Gabardo for outbound work.
Beyond Brazil, Vita says that although Latin American countries offer a lot of growth potential, volumes are not yet sufficient to justify installing plants there. "These markets are mostly supplied by trucks produced in Brazil or from their country of origin," he says.
Dealership drive
Iveco, part of CNH Industrial, is working to keep in step with the market's recovery and expand its network of dealerships. Ricardo Barion, Iveco's director of sales and marketing, says it is investing $120m in new products in the first half of the year, with new launches such as the Daily City van and Hi-Road truck range.
The company is also looking for new dealerships to better serve all transport segments right across the country. Barion says the company is inaugurating new dealerships in Recife, Fortaleza and Manaus, in particular.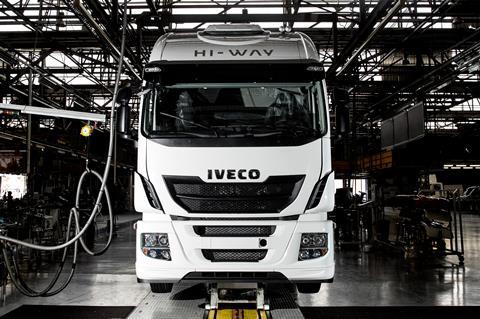 Iveco is preparing for a recovery in the commercial vehicle market and pinning its hopes on its Hi-Way and Hi-Road in the heavy truck segment, which accounts for about 40% of the overall national truck market. Iveco will also attend the region's largest transport trade fair, Fenatran, in the second half of the year to sell its new products, he says. The truck-maker uses Sada for outbound logistics from Belo Horizonte city.
Humberto Spinetti, director of Iveco's bus operation in South America, says its plant in Sete Lagoas, in Minas Gerais state, has the capacity to cope with existing market growth. New tenders for public bus services, especially in São Paulo, should help propel local sales.
Beyond Brazil, while the economic crisis in Argentina dented sales last year, Iveco expects to continue sales there this year, as well as in Colombia, Costa Rica, Paraguay and Peru. Some chassis models are already available outside Brazil and the external market will continue to be important, says Spinetti.
The road ahead
Despite years of tepid sales and challenging logistics, Brazil's commercial vehicle manufacturers and logistics providers are optimistic about the future. They see improving economic conditions and are pinning their hopes on the new government putting Brazil on the path to full recovery.
Manufacturers say that demand for buses and trucks should remain strong and will deliver steady growth in the years ahead. Marcopolo's Gomes is keen to see what the new government will do to help boost competitiveness, such as simplifying the complex tax structure that often hampers moves between states. In addition, improving roads and ports will be important, he says.
With such changes, Brazil could now enter a new era with buoyant demand and high volumes, he suggests.
"It is easier to surf when there are big waves," Gomes comments.