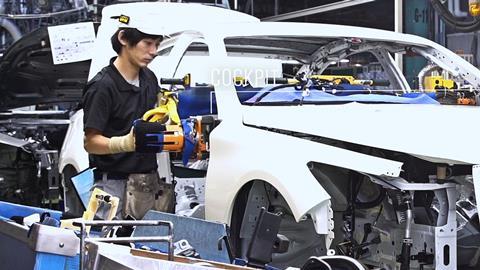 Lineside workers at Nissan's Tochigi plant in Japan are now learning a series of innovative production techniques as the company prepares for an electric, connected generation of cars.
The new systems, initially costing around 33 billion yen ($300m), will be introduced to the company's factories globally once completed at Tochigi next year.
Among the changes is an automated pallet to mount the entire powertrain at once. The system measures the car's dimensions in real time during mounting, and the pallet makes micro-adjustments accordingly.
"This ensures that powertrains are installed to within a small fraction of a millimetre's accuracy," the company said, adding the new method is highly adaptable as the same pallet can mount three types of powertrains (internal combustion engine, e-power and pure electric), and can assemble and mount 27 different powertrain module combinations.
The OEM noted mounting powertrains is traditionally a lengthy process and strenuous work for assembly line staff, who must install multiple components in sequence.
The new way of doing things includes assembly line workers and engineers digitising certain processes and then training robots to perform delicate tasks so that highly skilled employees can focus on new, unexplored areas of expertise.
One application where robots have taken over is automated sealing of seams around the vehicle body to prevent water intrusion. "Sealing is generally done by experts, as the necessary dexterity and speed can be acquired through training but isn't easy to replicate," the company said.
Robots are also being employed to perform some strenuous jobs efficiently, such as installation of headliners, a task which has become harder because cars have more connected features these days, adding to the number of devices in and around headliners.
The introduction of robots in that area of assembly improves ergonomics, makes factories easier places to work and frees up the company's trained employees to do more valuable jobs elsewhere on the line, agues Nissan.
"We're facing an unprecedented evolution in the capabilities of our vehicles," said Hideyuki Sakamoto, Nissan's executive vice-president for manufacturing and supply chain management.
"Our job is to make this evolution a reality by rethinking how we build cars. This will also mean shifting the efforts of our expert technicians from techniques they've already mastered to new, unexplored areas.
"These new technologies and innovations are at the heart of the company's competitiveness. They will be rolled out globally in the coming years, underpinning the future of Nissan Intelligent Mobility," he added.