One of the largest car plants in North America has been forced to temporarily shut down because of disruption to the supply of semiconductors and a renewed coronavirus outbreak in Malaysia.
Nissan North America will halt production at its factory in Smyrna, Tennessee for two weeks on August 16, the longest closure in the US for any OEM of an equivalent size since the global chip shortage began.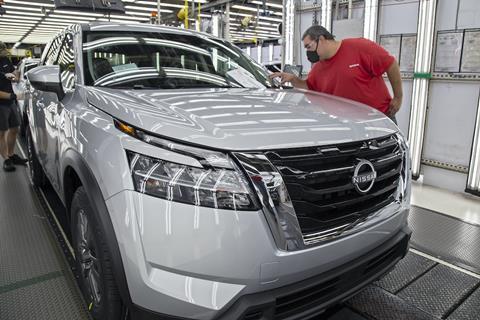 Nissan's 557,000 sq.m Smyrna plant makes six models, including the Rogue SUV, the company's highest-selling US vehicle (see fact box). The factory has total annual capacity of 640,000 units but the impact of Covid-19 meant that dropped to just 266,000 in 2020 (down by half compared to 532,000 made in the previous year).
Production has been on the up in 2021 but the carmaker confirmed this week that production schedules would be adjusted in August because of "a Malaysia-based supplier that has shut down because of an outbreak of new Covid-19 cases".
"All production lines at our Smyrna, Tennessee facility will be down the weeks of August 16 and August 23, with production expected to resume the week of August 30," said a spokesperson for the carmaker.
Since last year, semiconductor shortages have caused bottlenecks in automotive production across the world. OEMs have attempted to conserve stocks of microchips for their best-selling models, such as SUVs and pickup trucks. However, even truck plants have been forced to close amid the crisis. In July, GM was forced to halt production at plants in Flint, Michigan, Fort Wayne, Indiana and in Silao, Mexico because of the microchip shortage.
Nissan's stoppage is notable because of the facility's size, the length of the closure and profitability of the vehicles it makes.
"We continue to work closely with our supplier partners to assess the impact of supply chain issues and minimise disruption for vehicle deliveries to our dealers and customers," Nissan told Automotive Logistics. "The situation is fluid and we are working to mitigate the longer-term impact on production."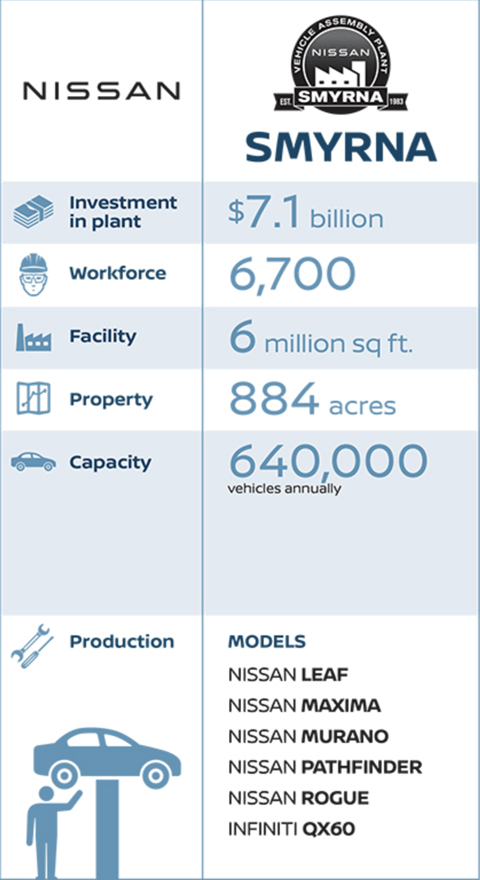 Bottlenecks in bottlenecks
The disruption caused by the semiconductor shortage has snowballed. Taiwan and other large Asian silicon-wafer producing countries, which are also responsible for turning them into multiple smaller integrated circuits, are unable to meet global demand. This was initially caused by increased sales of consumer electronics during the Covid-19 pandemic when production of vehicles was slowed. The problem was compounded by the faster than expected resurgence in demand for vehicles when the lockdowns were lifted but while stocks of semiconductors had been allocated to other industries.
Typically, the integrated circuits are shipped to manufacturers, including those in Malaysia, where they are processed into chips for use in automotive electronic control units (ECUs). However, the existing shortage has been complicated further by new outbreaks of the coronavirus in Malaysia, which has a low vaccination rate.
The coronavirus pandemic has illuminated how vulnerable global supply chains are to disruption but the technology to provide better supply chain visibility is improving on a daily basis. Nissan is developing web-based applications to improve workflow organisation and is centralising its data infrastructure in the cloud. That is part of a wider shift towards digital analytic applications designed to accurately mine information from the company's data lakes to improve processes. Nissan is also training and recruiting staff to support these changes.
In March, the company said it had put measures in place to ensure the supply of parts with higher risk, such as those produced by specialist suppliers, would not be jeopardised by disruption. Nissan said it had increased visualisation with its supplier database and had been able to identify affected suppliers more quickly.
According to Nissan, lessons learned from the first wave of the pandemic meant it was better prepared for the second wave, such as through better teleworking and the establishment of a backup scheme for parts acquired on a global scale. Online meeting tools were also used by members who were then able to organise how they would coordinate responses during the disruption caused by Covid.
Despite these widescale changes, however, disruption is still ongoing, as the latest shutdown shows. While declarations that OEMs are working to reshape supply chains sound appropriate in the current context, and may neutralise investors' fears for a time, the industry is still looking for the crystal ball that will guarantee supply chain resilience to unforeseen catastrophe on a global scale.