The daily and multiple disruptions affecting the global automotive supply chain are forcing major carmakers to reassess the design of their supply operations.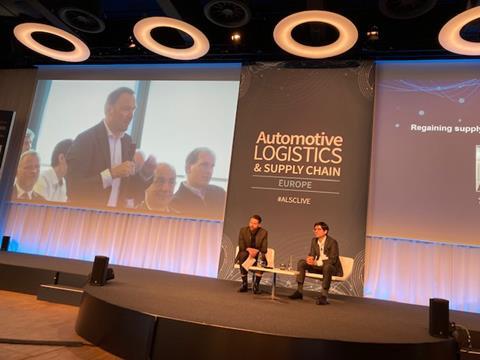 Carmaking is not an industry with high margins of profitability and the current global volatility is forcing many to fundamentally reassess where parts are sourced. It is leading to a renewed focus on localisation and a strong focus on efficiency where supply cannot be localised.
In the keynote opening session of this week's Automotive Logistics and Supply Chain Europe conference in Munich, Germany, Jean-François Salles, global vice-president of supply chain at Renault Group, outlined the current pressures facing his company and the industry as a whole. He said the way to deal with it is through greater cooperation amongst stakeholders and greater innovation.
Rough seas
A focus point at the moment for many carmakers is the disruption to maritime logistics in China, where the country's zero-Covid policy has shut down Shanghai, including its port, the biggest for container and vehicle shipments globally. The prospect of that spreading to other centres of manufacturing in China is a major concern for Renault as it is for the rest of the industry.
It is not only the situation in China, however. Globally energy costs are rising and show no signs of subsiding and there is an imbalance between demand and capacity in logistics. That is largely because the disorganisation of ocean freight, a situation that has not improved since the end of the first wave of the Covid pandemic and now being exacerbated by the lockdown in Shanghai.
"When you look at the past year it has been chaotic in maritime freight and the cost on containers," noted Salles. "The cost of freight has completely exploded and in some cases it has [shifted] the economic balance between sourcing from a low-cost source of production and the transports costs involved."
He said that adding the risk of supply and the service rates that the industry is currently experiencing is leading Renault and others to increase safety stocks and invest more to secure the ready supply of parts.
There are also problems affecting inland transport, with the driver shortage a major concern for trucking.
Salles described the sum total of these impacts as tense and challenging, and situation that will remain so for the foreseeable future.
Watch the full keynote interview with Jean-François Salles at ALSC Europe 2022
Network redesign
In response, Renault, as part of the Renault-Nissan-Mitsubishi Alliance, is looking long-term on logistics network redesign and the way it gets parts from its 6,000 global suppliers to its 40 plants.
Tight margins of below 10% in the automotive industry mean the impact of logistics costs and raw materials can be very severe on the global business. Salles said that a fundamental redesign of the supply will necessitate reducing the footprint of suppliers and a greater reliance on those remaining to be more flexible.
A key part of that redesign has to consider sales and operations planning (S&OP), said Salles.
"Over the past few years, different crises have shown the importance of S&OP," he said. "The different functions have had to adapt themselves on a much quicker cycle. Suppliers have to give the right input for the best decisions to be made to deal with potential supply shortages but also protect profitability."
Salles said that required a careful balance between orientation, arbitration and allocation of the parts.
Digital tools
Dealing with current and future supply chain volatility will also require the wider adoption of digital tools to manage the timely delivery of a high diversity of components across global supply chains that are still defined by long lead times but which are now also subject to a greater demand for sustainability.
"It is Impossible to manage this level of complexity at the human level," says Salles. "An army couldn't manage this level of complexity and diversity. Digital tools are helping us manage this dynamic complexity and provide information in any given situation about stock level wherever we are."
Salles said that with the latest technology Renault can better anticipate and make decisions on the planning of parts sourcing around the world.
"We take into account the full supply chain dimension," he told delegates the conference. "It is tier one and we are also integrating our tier n suppliers in terms of mapping localisation of supply."
Localised supply is also a key strategy for manufacturers but it inevitably has to be matched with a more secure supply from low-cost manufacturing locations.
"We are reorientating the strategy around industrial clusters to have more local supply," said Salles. "It means having a good, more localised portfolio of parts for the plants but where we do keep low-cost production overseas it has to be consistent in supply."
There has to be a careful balancing in the purchasing of parts and services, according to Salles. In terms of supply chain design that means rationalising for more simplicity in the flow of parts.
"It means less of a spread in the sourcing but also considering channels of supply where we can make transport more efficient and sustainable," he said. "In Europe, we are looking at reducing CO2 impact but we also need to have [greater use of] short-sea and rail, and that dictates a sourcing strategy that is aligned."
Looking ahead, Salles said it was essential in facing any coming challenges that the supply chain be more "end-to-end connected", digitalised and at the forefront of sustainability.
"We are managing complex flows and a massive business," he said. "We have to take the lead on this and ensure more cooperation between the different stakeholders.