Skoda has been working with its suppliers to relocate production of cable harnesses from Ukraine to the Czech Republic because of the disruption caused by Russia's military invasion of Ukraine. The carmaker is also working with suppliers to increase production of the components in Morocco.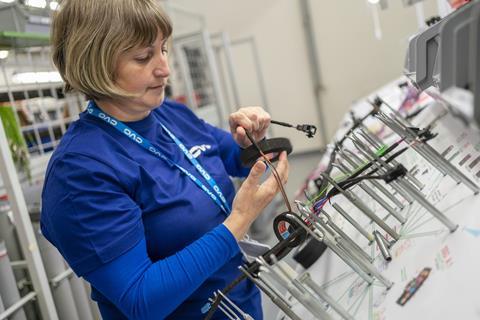 While production of the components has resumed in the west of Ukraine, the aim of the move to set up alternative production capacity is to safeguard vehicle production and remove any disruption to supplies in the face of the ongoing war, which is now in its third month.
Ukraine is home to a number of tier one suppliers of cable harnesses, including Fujikura, Leoni, PEKM Kabeltechnik and Yazaki. The impact of the war there has led to supply problems for a number of carmakers in Europe over the last few months, including Skoda
Skoda said it could double volumes of the crucial components by shifting production to the other locations.
"At Skoda Auto we have been working very closely with our partners over the past few weeks to minimise the impact of the war in Ukraine on the supply of cable harnesses," said Karsten Schnake, head of purchasing at the carmaker. "With great dedication, we managed to resume production in Ukraine within a short period and also significantly increase manufacturing capacities."
At the same time, Schnake said that Skoda remains fully committed to its Ukrainian partners.
Impact on EV production
Skoda was forced to suspend production of the all-electric Enyaq iV for eight weeks from March 3 because of a shortage of cable harnesses resulting from the conflict in Ukraine.
In response, Skoda and its supplier PEKM Kabeltechnik relocated part of the cable harness production from Ukraine to Mladá Boleslav in the Czech Republic. The process took just five weeks. PEKM built the necessary production tools in assembly halls provided by Skoda and manufacturing was increased from April.
The new manufacturing sites are staffed by 35 women from the Ukrainian plant in Lviv, who are now training new employees. According to Skoda, harnesses for the Octavia, Kodiaq, Karoq and Superb model series will arrive "in the coming weeks" from the Mladá Boleslav site.
Skoda has also secured additional capacity from the company Kromberg & Schubert at the Moroccan plant in Kenitra, near Rabat. In addition, Kromberg & Schubert has been able to increase cable harnesses manufacturing capacity at its Ukrainian plant in Zhytomyr.
Skoda also has plans this month to start sourcing cable harnesses for its EV production from Romania. Meanwhile, production at the plant in Khmelnyskyj, Ukraine, will be stepped up thanks to arrangements within the parent Volkswagen Group.