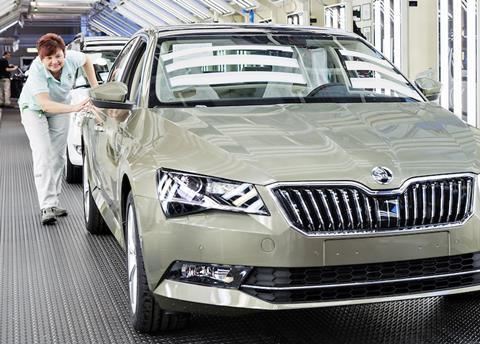 Volkswagen has confirmed this week that it is putting plans for an assembly plant in Turkey on hold following the country's military campaign in Syria.
"The decision for the new factory has been postponed by the Board of Management of Volkswagen AG," said the carmaker in a statement. "We are monitoring the current situation with great concern."
Turkey began a military offensive in northern Syria last week targeting Kurdish-led Syrian Democratic Forces (SDF), which it considers a terrorist organisation. The move follows the withdrawal of US troops, which had been fighting alongside SDF against Islamic State.
The US has this week imposed sanctions against Turkey, targeting defence and energy. However, in a statement posted on Twitter on Monday (14), President Trump also said he would raise tariffs on imported Turkish steel back to 50% (following the drop to 25% in May this year).
"The United States will also immediately stop negotiations, being led by the Department of Commerce, with respect to a $100 billion trade deal with Turkey," said the statement.
Exports from Turkey
According to an earlier report from Automotive News Europe, VW was planning to build the next-generation VW Passat and Skoda Superb midsize vehicles in a new plant located in Manisa on Turkey's western coast, mainly for export markets in eastern Europe, Russia and the Middle East. Production was scheduled to start in 2022 and maximum annual capacity was set at 300,000 according to the document seen by Automotive News Europe. According to an earlier report, part of the reason for the plant was to ease capacity constraints at the Skoda plants in the Czech Republic.
Domestic sales are not doing well in Turkey as the economic downturn that began in 2018 continues. Sales of cars and light commercial vehicles fell 35% last year, from almost 1m units the year before and there has been a further 9% decline in the first nine months of this year. The continuation in 2019 has been felt by VW. In the first half of this year VW passenger car sales fell by half, from 63,700 units over the same period last year, to 30,480 to June this year.
"Demand in the Turkish passenger car market fell dramatically from January to June 2019 compared to the first half of 2018 as a result of the deteriorating macroeconomic situation," said VW in its in its interim management report for the first half of 2019.
However, the export markets VW was targeting from the plant are doing well. VW sales in Central and Eastern Europe, have remained fairly steady over the first half of the year. An 11% decline in the Czech Republic was offset by gains in Poland (7%) and, despite its own market problems, in Russia (5%).
"In the Central and Eastern Europe region, demand for passenger cars in the reporting period was just higher than in the previous year," said VW in its interim management report for the first half of 2019, though it added that developments in individual markets were mixed.
While Middle East sales for VW have been hit by sanctions on Iran, the burgeoning market in North Africa is looking good for VW.
Deliveries of VW Group cars in North Africa hit around 70,000 units last year and in the first half of 2019 figures went up by more than 40% yoy to more than 50,000 units. The vehicles are delivered from across Europe. The top five countries of VW exports to North Africa by volume this year are Martorell (Spain), Poznan (Poland), Wolfsburg (Germany), Kvasiny (Czech Republic), Mlada Boleslav (Czech Republic).
What is more, despite the downturn in Turkey, exports have remained relatively strong, with factory capacity utilisation in 2018 still running at 78%, according to figures from Turkey's Automotive Manufacturers' Association (OSD). Exports accounted for 1.33m of the 1.59m units built last year, or 83%, making Turkey the country with the highest rate of automotive exports relative to total production, according to figures from Jato Dynamics.
However, the largest customer for exports by far was the EU and, while condemnation from its leading member countries has so far stopped short of sanctions or tariffs, any weakening of Turkey's export trade with the EU could be particularly damaging for the country's automotive sector as a whole.
Developments in the North African and Middle East (Mena) markets will be discussed at the forthcoming Automotive Logistics MENA conference, which takes place in Dubai between November 19-20