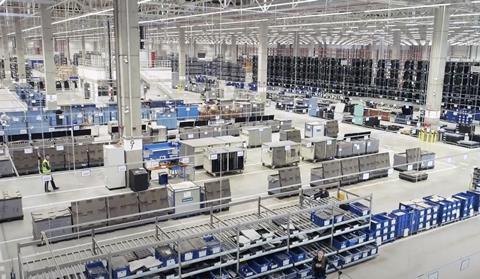 Following two years of expansion work worth €400m ($463m), Volkswagen's commercial vehicle (LCV) plant in Poznań, Poland is almost ready to start full production of the new mark 5 Caddy van.
According to the head of VW Poznań, Dietmar Mnich, 90% of the capital investment needed for Caddy production (and for the Transporter 6.1 Kombi van) is now complete, including a new logistics hall providing 46,000 sq.m of storage for components. The inclusion of the logistics hall in the main site will save up to 260 truck trips a day between Poznań and the former logistics facility in Swarzedz. It will store engines, bumpers, side windows, door trim panels, bulkheads and fuel tanks for the Caddy and T6.1 Kombi.
"The first few vehicles for testing the production processes are currently running through the new facilities," said Mnich. "We are planning to start full production in September, and then to gradually ramp up the volume and ultimately reach full capacity in 2021."
Along with the construction of the logistics hall VW has integrated two parts of the site formerly separated by a public road (which is now internal to the plant) and expanded the bodyshop, which covers 14,000 sq.m and has 200,000 cub.m storage capacity. VW has also invested in 450 new robots to build the Caddy, part of a doubling of the level of automation in the bodyshop. That has meant retraining for plant employees.
"Making the body of the new Caddy requires much less manual work," said Jolanta Musielak, head of human resources and administration. "The demands in relation to controlling the plant and machinery meanwhile are going up nearly threefold. Over the last two years, we have therefore run over 1,800 training sessions for the plant in Poznań, the aim of which has been to retrain and upskill the team for their new tasks."