Volkswagen Group is permanently pulling out of contract production at the Nizhny Novgorod plant in Russia where it assembles VW and Skoda brand vehicles with Russian carmaker Gaz. It ends an agreement that was first signed in 2011 and was due to run, under its contract renewal, until at least 2025.
"Taking into consideration [the] high level of uncertainty in the overall situation and [the] inability to predict any potential restart of production in Nizhny Novgorod, Volkswagen Group Rus took the decision to start the formal process of closing its office in Nizhny Novgorod on July 5, 2022," said the company in a statement.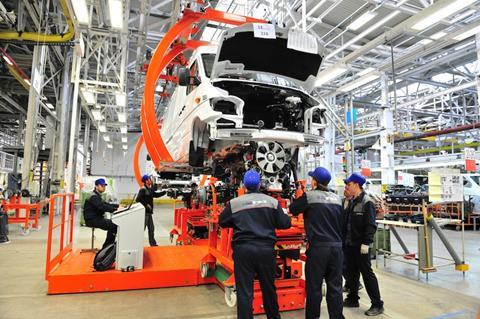 In a letter to employees that the Workers' Association trade union cited to Reuters news agency, VW is reported to have blamed a lack of EU-produced parts and critically important components from Ukraine, as well as disruption to logistics chains, as among the reasons it would not resume work at the plant.
VW Group Rus said it has offered "a well-balanced package of benefits" to those employees in Nizhny Novgorod willing to take voluntary redundancy and the majority of the 60 staff affected by the decision have done so.
Back in March, following Russia's invasion of Ukraine, VW stopped vehicle production at both Russian plants in which it operates: Nizhny Novgorod and Kaluga. Staff have been retained on downtime since then at both plants. VW Group said that staff would be retained on downtime at Kaluga "till further notice."
As with Nizhny Novgorod, production is also still disrupted in Kaluga and a spokesperson for VW said it was currently impossible to maintain because of the sanctions on electronic parts and other equipment.
Annual production at the VW plants amounted to 170,300 units in 2021 (-6.5% on 2020). Of that figure 118,000 vehicles were produced at the automotive plant in Kaluga (-4.9%) and 52,300 vehicles in Nizhny Novgorod (-10.2%).
The carmaker also exported almost 11,500 vehicles to Russia in 2021 (+10%) but halted all exports there in March this year.
VW Group sales in Russia last year amounted to 199,200 vehicles. However, according to the latest figures from the Association of European Business (AEB), total passenger and light commercial vehicle sales in June this year were down by 82% year-on-year to 27,761 units (excluding BMW and Mercedes-Benz, which do not report monthly figures).
For the first half of 2022, sales were down by 57.5% compared to the same period the previous year, equal to a loss of 500,500 units.