Ports and terminals giant DP World is building a network of technologically advanced vehicle handling terminals that Asian carmakers stand to benefit from as they export globally, writes Glen Hilton, CEO and managing director of Asia Pacific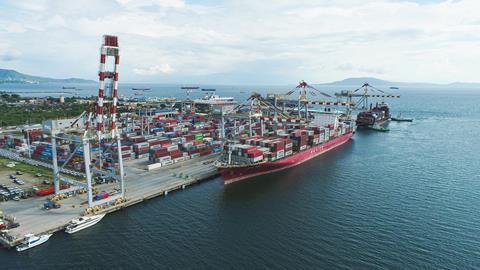 Asian countries have long held dominance over the finished vehicle export market. South Korea and Japan have now been surpassed by the new powerhouse – China. China manufactures 21.4m passenger cars every year.
Outside the continent, Germany is the only country that comes close to this scale at 3.1m. The entire Asia region sets itself apart from the rest of the world with an insatiable drive for innovation and growth, which will help it deliver on the increasing demand for cars worldwide – particularly as we shift towards electric vehicles (EVs).
There are a number of reasons for the region's dominance in the field. China's government has introduced policies to boost car manufacturing and demand in the country, such as a cut in vehicle purchase tax and incentives for EV production.
Many of the country's manufacturers are multipurpose, making individual components, as well as the finished vehicles, and exporting these products around the world.
Another reason is that nearly all car parts are manufactured en-masse somewhere locally. This setup provides a basis for Asia's scale, efficiency and value that other economies struggle to compete with.
However, the fundamental reason for Asia's meteoric rise in all things automotive is its logistics network, supported by state-of-the-art ports that have quickly adapted to the growing number of vehicles being shipped from Asia to satisfy global demand.
Driving automotive trade
With many Asian carmakers expanding overseas, it is vital that they have reliable, fast and cost-effective routes to new markets. As a result, more sophisticated, technologically advanced car-handling terminals are needed. After all, with car manufacture market share on the decline in Europe, and North America remaining largely domestic, building a supply chain infrastructure that can facilitate Asia's automotive manufacturing industry has become a global imperative.
DP World has 16 terminals that accommodate ro-ro vessels, through which around 2m finished vehicles are moved every year but ports and terminals must adapt with the latest technologies and customers' need for real-time data. The Batangas terminal in the Philippines handles 80% of finished vehicle imports to the country.
The Batangas terminal has a dedicated ro-ro berth, multi-level parking, pre-delivery inspection points and value-added services coordinated by its terminal operating system – Cargoes TOS+ – which synchronises all moving parts of the terminal, from gate entries to cargo and staff movements.
Accelerating global growth
However, to truly utilise the benefits of this port model, manufacturers need a full network of them. No matter how strategically located a next generation terminal may be for the likes of automotive giants such as Kia, Toyota or Nissan, the efficiencies are not optimal if other terminals haven't adopted the same digitalisation.
DP World aims to maintain trade flow throughout its import and export network by doing exactly this: replicating the successes seen in its Asian ports on a global scale. This effort feeds into a broader strategy to introduce greater automation and visibility to trade and create value for manufacturers and consumers alike.
As end-to-end specialists, the company does not evolve terminals regionally but does so globally. DP World is using these same methods at its ports in emerging economies, such as those in South America and Africa, enabling the communities in these areas to tap into the ever-growing automotive boom.
DP World facilities in Puerto Central and Lirquen, Chile, are testament to this, handling a combined total half a million of imported vehicles annually, a figure which could easily increase thanks to the infrastructure and technology behind their leading operations. The twin ports in Chile complement each other by providing alternate gateways and thereby business resilience for importers in the country.
So, for Asian manufacturers, choosing the right logistics supplier that gives them total end-to-end visibility wherever they export to in the world is critical. DP World's portfolio of terminals, complemented by its logistics arm, provides a one-stop-shop for the finished vehicles global supply chain.
Asia's dominance in all things automotive has been evident for a long time. However, the infrastructure supporting the accelerated growth in China, Vietnam, South Korea and the rest of Asia is what we should be learning from if we're to support the industry and better serve all economies.
Asia is a leader in automotive manufacturing. But from what we can see, its influence in transforming the global supply chain is the real driver of its success in the industry. Applied strategically, everyone can benefit from the region's continued automotive growth too.