BMW has announced a plan to use more recycled material in the packaging used to deliver parts to its assembly plants in Europe.
The carmaker aims to reduce carbon emissions from the supply chain by 20% per vehicle by 2030 (compared to 2019). To help reach that goal it is looking at a number of packaging initiatives, including the use of alternative sustainable materials, reducing single-use packaging and introducing lightweight packaging.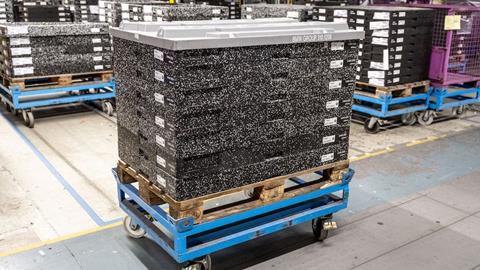 BMW said it will increase the proportion of recycled material in reusable packaging for logistics to more than 35% for newly awarded contracts.
"For the individual types of packaging, an individual percentage is agreed upon allocation, depending on geometry and material type," a spokesperson told Automotive Logistics. "On average, our target for 2022 is more than 35%. There are types of packaging where we have no recyclate, for others we have more than 90%."
Packaging and material suppliers
The carmaker is working with packaging suppliers on a number of initiatives, including the use of recycled material in containers made of expanded polypropylene (EPP), which can be adapted in shape to the components being packaged. BMW uses 360,000 of these containers annually and they are currently made using 25% recycled material, which saves almost 280 tons of CO2 a year, according to the company.
The EPP containers were piloted and introduced with material supplier JSP and Jacob, an EPP container manufacturer, but BMW said that any of its approximately 10 EPP manufacturers can use the material in series production.
BMW said it plans to increase the proportion of recycled material in the EPP further and the first pilot schemes with 100% recycled material are currently underway. The company said that if the tests are successful, the recycled containers could become standard for new contracts from 2024.
It also said it is launching pilot projects using bio-based materials to replace oil-based polyethylene and polypropylene (PE and PP).
"We are also investigating whether and in what ways we can use materials from recycled household appliances in our packaging," said the company in a statement. "In the long term, our aim is to use alternatives to raw materials across the board."
Reducing resources
The efforts being made in packaging are part of an overarching circular strategy at BMW based on the four principles: rethink, reduce, reuse and recycle.
"Our 'rethink, reduce, reuse, recycle' approach is being implemented consistently in packaging logistics," said Michael Nikolaides, head of production network and logistics, BMW Group. "We're using innovative strategies to consistently reduce the volume of resources we use, thus reducing our carbon footprint."
Among those innovative strategies is the use of folding load carriers. This year BMW is going to start using folding plastic pallet containers made from 90% recycled material, an alternative to the steel pallet cages it has traditionally used. Following the involvement of several suppliers during the development phase, series production is being carried out by Cabka Group in Berlin.
When empty, the containers can be folded and moved more easily, reducing the transport capacity needed for returns. BMW said that using 15,000 of these containers reduces CO2 by around 3,000 tons per year.
Additionally, BMW said that through the use of small load carriers wit 50% recycled contents and the use of covers, a further 680 tons of carbon emissions savings were possible every year.
The container cover is a standard component for load units that consist of several packaging components, eg. euro pallets, plus small load carriers and covers. The cover is necessary to protect components, ensure safe transport and enable the loaded units to be stacked.
"Several different small load carriers (with different dimensions) are used as standard containers at BMW," said its spokesperson. "These are part of the load units. In small load carriers, various components or parts are transported from suppliers to BMW sites."
The carmaker said that the measures it was taking to make packaging more sustainable was focused within Europe at the moment because of available recycling infrastructure but it is currently working towards expanding the strategy to Mexico, the US and China.