Packaging is essential to the supply chain for the timely movement of parts and the maintenance of quality in the storage and distribution process.
Containers specific to the type of components being moved need to be readily available if there are not to be costly delays in delivery. That requires significant investment – but the capital expenditure on packaging is constantly subject to cuts. All the money that goes into packaging has to come from vehicle revenue and the chief executives at the world's carmakers do not want to spend money on a box. That may be because it has no ostensible value, remaining invisible to the customer. Reducing cost is about reducing capital expenditure – so do you design lower cost packaging or just buy less of it? And what about the balance between expendable and reusable packaging?
Expendable packaging is invested in for single use and thrown away but can be made to the exact specifications of the part being moved at comparatively little expense per unit. An aftermarket report published by Transparency Market Research suggested the disposable packaging market would be the largest contributor to the global automotive parts packaging market between 2017 and 2027 (Automotive Parts Packaging market: Global Industry Analysis, Size, Share, Growth, Trends and Forecast, 2017-2027).
Compare that to a metal box that can last 15-20 years or a plastic one that has two or three cycles over eight years and you get into questions of flexibility. Vehicle lifecycles are shortening and some products sell better than others, a fact companies only tend to find out once they have invested in the packaging required for the product run.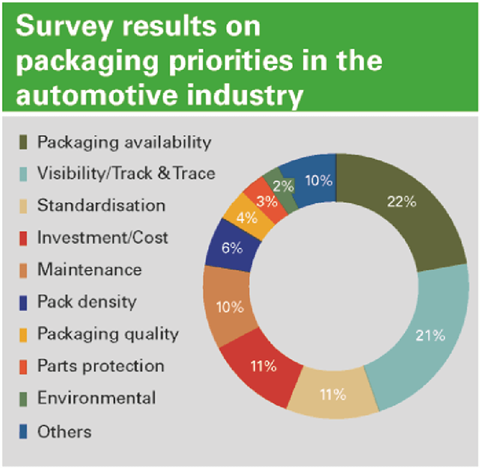 Raising standards
Rather than constantly investing in dedicated packaging for specific products that can become quickly redundant then, companies turn to standardised containers that can carry dedicated parts using a specific insert, which requires further investment in bespoke interior fitments and dunnage.
However, standardised assets are only useful when there is collaboration between companies. Discussions in the packaging Ideas Lab at the Automotive Logistics Europe conference last year pointed toward smaller collaborations as a good starting place, where two OEMs and a packaging provider worked together to come up with a standard product and then shared it with the wider industry. There also needed to be a common platform for the interior systems and dunnage used, according to participants there.
Another consideration is that investment in reusable containers needs to be measured against storage requirements because oversizing a pool of containers means additional expenditure and a fight for space in supplier and assembly plants.
The conflict of interests in packaging and container management could be in part down to the fact that packaging has never been properly integrated with the wider logistics function, according to one leading OEM – which is surprising, given the cost of assets and the impact on quality of the product, as well as the central importance packaging has in terms of the organisation of supply.
A closer look reveals that it is the logistics of handling the container where the real cost comes in. At the packaging Ideas Lab held at the Automotive Logistics Global conference 2018 in Detroit, one leading expert said that a rough estimate put the logistics cost of handling a container at eight to ten times the cost of the container itself. Therefore, if a company bought a box for $100 it could expect to spend $800-$900 in handling costs, including getting that container back, over its useable life.
Freight cost is a big part of this additional logistics cost and is "going through the roof", according to one carmaker at the meeting. That problematic trend is set to continue because of the endemic driver shortage in the industry, which is pushing up the premium on road transport.
Available and visible
While it is hard to extricate any one issue from another in this complex sector, two of the top concerns expressed in a survey of 50 companies conducted by Automotive Logistics were packaging availability and the traceability of available assets.
The confidential survey revealed that packaging experts were all looking for ways to secure availability of containers and packaging, and ensure parts shipments were not held up.
The automotive industry is looking at the possibility of sharing containers and using the same packaging across OEMs, as well as across different suppliers. That includes looking at common pools so that suppliers use the same packaging types, and looking at different ways of providing enough containers to component suppliers in time for them to ship what is needed to assembly plants.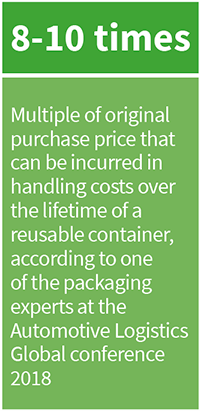 One of the big impediments in the automotive industry is that the use of containers at suppliers is not highly enough synchronised with the requirements of vehicle production.
As noted, over-investment in containers can lead to congestion in a plant but many containers are in the wrong place or have disappeared altogether. According to one carmaker at the packaging Ideas Lab in Detroit, containers disappear in large numbers, not small ones, and it is easy to lose 10% of the pool because the assets get misused or abused (and there is a large black market for containers). That means more cost for replenishment.
Knowing where returnable containers are in the system is a real battle, which is why there is such a concern about tracking existing containers with the latest technology. The industry is using a range of methods to try and keep tabs on their precious containers, including passive RFID and low energy Bluetooth beacons, but it is a complex business.
The set-up during 2018 of AutoSphere, a digital supply chain system (previously referred to as the Automotive Supply Chain Data Ecosystem) developed by US information technology and packaging specialist, Surgere, and involving five OEMs and 12 suppliers, could be one way forward. The system uses passive RFID tags on returnable containers, a variety of RFID readers at various points in the network and a digital platform from Surgere to track, monitor and manage the containers.
Find out more about AutoSphere here
Tackling capital expenditure
Capital expenditure on packaging is under constant scrutiny and in discussions at the Automotive Logistics packaging Ideas Labs, leading experts with responsibility for packaging at carmakers, tier suppliers and packaging companies highlighted some of the main ways of keeping it under control. These include:
• Pack density – fewer parts in the same space save money. This includes working with parts design
• Increasing use of standards – this brings down cost and allows high quantities to be bought for pooling
• Increasing reuse of packaging – again, this also involves parts design
• Smarter design to bring down the cost of packaging
• Recycling – designing for recycling or establishing a buy-back scheme with packaging suppliers
• Loop-sizing linked to the terms and conditions drawn with suppliers
• Outsourcing to providers – some use logistics providers, some manage their own assets
• Including loss of assets in packaging management models