Toyota is working on a system to return the same totes used to deliver parts from Japan to the US with export manufacturing parts back to Japan, as well as using a new packaging method for bumper delivery. Meanwhile, Ford is already returning containers delivered to Europe from South Africa with parts for another customer at the point of origin. It has also implemented a recycled tray system that is making big savings by removing disposable packaging.
Tony Minyon, senior manager for packaging and environmental at Toyota Motor North America (TMNA), explained that the company was working with Toyota Motor in Japan to implement returnables on export shipments.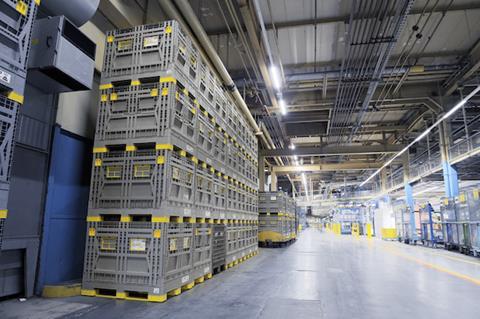 "What we are going to be doing is taking the product that Japan sends to us in totes and using that and rebuilding the totes with export manufacturing parts, back to Japan," he said. "Currently [the totes] come from Japan, we remove the product, and we break them down and send them back. Now we are going to fill them up and send them back instead."
Minyon said the project is taking a lot of coordination, but Toyota is keen to remove the imbalance on the international route and the new system would soon be introduced.
Bumper savings
Toyota is also using an alternative multi-use plastic packaging for the delivery of replacement bumpers to dealers and service centres. To prevent damage, it used to ship them in cardboard that was more than likely going to landfill. It then switched to a plastic bubble wrap alternative that actually improved the damage rate. However, that bubble wrap alternative was still going to landfill if it could not be recycled.
"We are upgrading that type of packaging right now and going to a heavier, multi-use, round trip," said Minyon. "So it goes from manufacturing to a dealership for the repair part and is then sent back, cleaned and folded, ready for reuse. That will be a cost saving and we won't be generating all this plastic."
Minyon said that Toyota was spending a lot of time looking at issues, such as CO2 emissions and landfill waste vs recycling, as they applied to stringent 2050 environmental action plan goals. The plan is broken down into five-year periods and Minyon said the next one, its seventh, begins in April 2021.
"Toyota is converting as many trucks as it can over to alternative fuel. In addition to that we are going to be implementing more returnables and more reuse of our packaging material. Those are our main priorities for the next five years."
Returning and recycling
Meanwhile, at Ford, Axel van het Kaar, car line supervisor working in material flow and packaging engineering at Ford Europe, explained that containerised material delivered from South Africa to Europe is emptied at the destination and then collected by Ford's pooling provider and used to ship material back for another customer.
More specifically, catalytic converters from South Africa destined for plants in Europe are shipped in IsoBin containers (provided by Macro Plastics), which are then repurposed and sent to the nearest location of another supplier who then uses them to ship components back to South Africa. The Europe-South Africa loop has been very successful, and Ford has begun opening similar loops from Europe to the Americas, with plans to open one between Asia and Europe.
Ford has also introduced 'chocolate trays'. These recyclable plastic trays are a packaging innovation being used to deliver powertrain components, as well as some other parts, to the point of assembly. They hold more parts than the previous method could, and they can be reground into pellets and returned to the manufacturer when necessary.
"Once a tray arrives and is emptied it is ground down to the raw material and compressed, so the return shipment is high density, which saves a lot of return transport," said van het Kaar. "Then it is made fresh again and recycles about 80% of the material. It avoids having to use one-way cardboard inserts."
Elsewhere Ford is working with packaging and pooling expert CHEP on an idea to pool large containers that is being implemented across the European market. According to van het Kaar the containers are easier to repair and maintain, and have a higher interior volume, even the though the outer dimensions remain the same. "Now we have to focus on track and trace of these assets and trying to get this all together," he said.
CHEP Europe's head of innovation, solutioning and strategic marketing, Sanjiv Takyar laid out the challenge ahead for the automotive industry.
"As OEMs face a complex mix of production between internal combustion and electric vehicles, forecasting demand and packaging investment is becoming increasing challenging," he said. "Layer on top of that the fact the supply chain is still developing with a diverse sourcing strategy, moving from intercontinental to more localised supply, it brings into question the rationale of investing in your own container pool, when there are specialist service providers and alternatives available."
In other packaging news, electric vehicle start-up Rivian has revealed details of a plastic recycling initiative that aims by 2024 to collect 500,000kg (1.1m lbs) of single-use plastic annually and stop it from floating out to sea. Rivian will instead turn it into the containers it uses to move parts inbound to its production line.
Videos from Automotive Logistics and Supply Chain Live can be viewed here.