Carmakers in the US are collaborating on more sustainable packaging and a new guidance document promises to promote a more environmental take on inbound logistics. Two of the carmakers involved – GM and Toyota – discuss the merits of the approach with Marcus Williams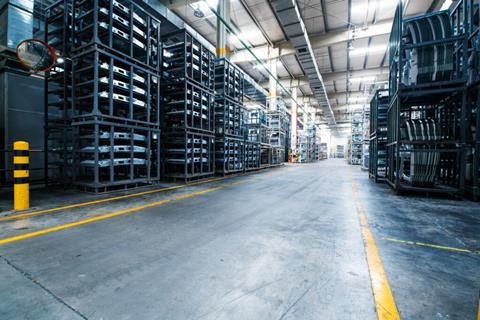 The Suppliers Partnership for the Environment (SP) is an association of vehicle makers and suppliers that works with US government bodies, including the Environmental Protection Agency (EPA), on projects designed to advance environmental sustainability while providing economic value to the automotive supply chain.
At the end of 2020, the SP published guidance on sustainable packaging aimed at reducing waste in the automotive sector and increasing the amount of packaging that could be recycled. The guidance document – Sustainable Packaging Specification Recommendations for Automotive Manufacturing Operations – aims "to provide straightforward industry-supported guidance to help automakers and their suppliers source sustainable packaging designs for use in automotive manufacturing operations".
It lists 18 recommendations (see box below) for better practice when designing packaging and planning its use, including a recommended selection of materials for containers, dunnage and other equipment, the avoidance of metal components and minimising single use packaging.
The original document was put together by John Bradburn, sustainability expert consultant at ERA Environmental Management Solutions, an SP member company, with input from carmakers including FCA, Ford, GM, Honda and Toyota, as well as their tier suppliers. It is part of a project designed for companies to share knowledge and lessons learned to minimise waste across the automotive industry.
Sustainability and demand
Sophia Borroni-Bird, environmental project manager at GM, chairs the Materials Efficiency Work Group at SP together with Kevin Butt, director of environmental sustainability at Toyota North America. She explains that together, all five carmakers are working on ways to increase sustainability in packaging products and increase demand for them.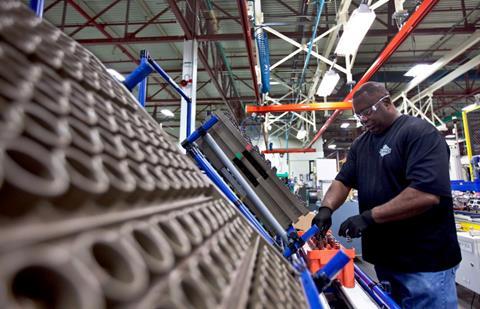 "It is really helpful to have industry collaboration to increase that demand," she tells Automotive Logistics. "GM recognises that, along with the other players, which is why the group was formed."
Kevin Butt at Toyota agrees and suggests that cooperation among carmakers is the only way to make the environmental improvements needed for packaging on a big scale. As carmakers share many of the same tier one suppliers, bringing consistency to packaging recommendations for suppliers will ensure greater efficiency without compromising competition between OEMs.
"It is not going to do any damage to one or the other, it is just about doing the right thing to improve certain segments of the environment," he says. "The Suppliers Partnership is the right organisation to help make that happen. It's just that simple."
Such partnerships are especially necessary in the absence of any joined up, stringent federal regulation in the US on packaging. The regulations on material use, waste and packaging tend to be state-specific in the US, with varying rules from individual states such as California and New York, though the Automotive Industry Action Group (AIAG) in the US recommends a number of standards, for pallets and cartons for instance, that are broadly followed by industry.
At the same time there are also varying guidelines across Mexico and Canada, and moreover, international standards that are voluntary to which carmakers much conform, while others are mandatory to do business, though North American regulations contain variations on these international standards.
Members of SP are hoping that they can work directly to agree more sustainable standards rather than waiting for regulators to do it. "We really ought to be doing this ourselves without being driven by regulations because sometimes the regulations can become difficult to do across the enterprise, and that can be more costly," Butt says. "So, we need to be doing this smartly and on our own."
Straight to source
The recommendations outlined in the document are designed to tackle barriers to recyclability in the design phase of the packaging, based on proven best practices that have been implemented elsewhere in the industry.
"We decided to put together a working group to measure and track progress towards increasing recycled content in the automotive industry," says GM's Borroni-Bird. "The goal is to leverage our requests as an industry to increase demand for sustainable content and increase supply of it from our suppliers."
The group wants the sustainable packaging strategies outlined in the guidance document to be entered into automotive companies' product sourcing considerations, where appropriate, and distributed widely across the automotive supply chain as best practice guidance.
The enthusiasm behind the project across stakeholders in the automotive supply chain bodes well for a wider distribution of these packaging recommendations, thinks Ahmed Al Ganzouri, sustainability strategy manager at GM.
"Usually an agreement like this would take years to go public but it was completed within just a few months," he explains. "I think we are seeing the whole auto sector really examine their entire supplier network and not just our own environmental impact. Our suppliers play a vital role in that as well as the B2B packaging, which is what this document really focuses on."
A growing inclination to tackle environmental issues has to some extent been influenced by the Covid pandemic, says Kevin Butt, because the upheaval has changed the scope of how people are thinking about doing business.
"We see financial institutions making a bigger deal out of how a company is performing as a sustainable business," he says. "We are starting to see a lot of movement in that direction."
Al Ganzouri agrees, saying that necessity is now inspiring innovation to drive the circular economy and make something that was once an aspirational niche, something more mandatory.
Packaging and purchasing
The willingness to invest in more sustainable packaging at a company board level is refreshing for those working in supply chain and logistics , who are more often the people encouraged to find savings at all costs.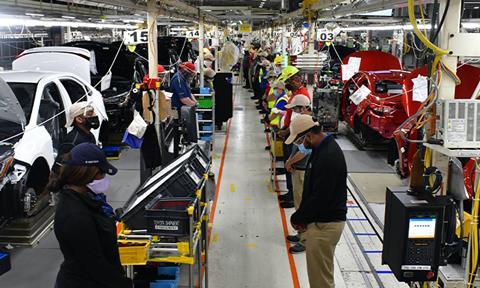 Al Ganzouri says that at GM, purchasing and packaging teams work under the umbrella of the OEM's Global Purchasing And Supply Chain division, which seeks to align logistics, packaging and material cost considerations in the decision making on packaging from early on in development phases. However, he also says that there is room to improve in North America when it comes to investing more in sustainable material with the aim of achieving true zero waste across the regional supply chain.
At the same time, sustainability does not always mean inevitably paying more. Butt says that with returnable packaging the cost is spread out over the lifetime of the asset. For Toyota it does not make sense to continue with cost one-time use packaging where avoidable.
The carmakers involved in the Supplier Partnership do not share details of expenditure based on anti-trust guidelines, which makes it difficult for the body to discuss the estimated savings to be had by adopting more returnable and recycled material.
However, Butt says that one of the key areas of focus at Toyota is for purchasing teams to work closely with other parts of the business, whether engineering or logistics, for example, to make the right material and equipment investments in packaging that also support environment and sustainability goals.
"There are multiple ways that you can include the environment, whether it is light-weighting of packaging [or] the reduction of raw material usage in making the packaging," he says. "It is a complicated lifecycle that you have to handle for each of these activities."
That could sometimes mean paying more for a packaging product upfront, but making savings across the supply chain. At GM, Al Ganzouri says that taking a less siloed approach to the decisions made on packaging will reveal the true financial cost of being more sustainable: "I might end up paying a little bit more for the box in the beginning but the disposal costs might be less and I can recycle it."
The companies involved in this packaging initiative are focused on considering a full range of environmental considerations on the use of different packaging equipment and materials, which includes not only weight and emissions, but also its sourcing footprint and recyclability.
"One [material] might be better because it doesn't need to go to a landfill but it might use more water when its being made – how do we compare these environmental impacts?," notes Al Ganzouri. "These are the questions I'm getting from internally here at GM but also with the partners that we are working with."
Quality and safety
One of the most important considerations for investing in new forms of packaging is whether it can assure the quality of the part being delivered to the assembly plant or aftersales location. And that can make carmakers and tier suppliers even more risk averse when it comes to trying new types of packaging.
"Quality is a huge issue for receiving parts," says Butt from Toyota. "Everybody wants packaging that can ensure the delivery of a part unharmed and ready to be installed. So making sure we meet those specs given the different types of packaging is always a tricky thing for quality engineers."
According to Al Ganzouri at GM, many packaging recommendations are new and require validation and testing so that quality, and by association safety, is not compromised. The automotive sector is a high-risk one when it comes to using new types of packaging to ship parts.
"The risk of having someone's vehicle stranded on the side of the road because of a part defect [caused by] the box it came in is not going to be acceptable," he says. "It has to be a zero risk."
According to Al Ganzouri, that means taking a holistic approach to ensure packaging design takes into account all of the different elements involved in the shipment of a part in the final decision.
"It is new and with anything new there are going to be challenges," he says. "It doesn't mean they cannot be overcome. Definitely the automotive industry has faced many challenges in the past, so I think it just creates room for creativity and innovation."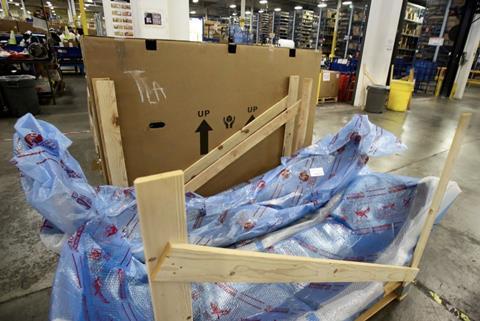 Packaging as an investment in the future
Getting packaging engineers and parts designers to work together more closely at earlier stages in vehicle development cycles is also going to be important to meeting long-term sustainability and environmental goals. In this way, OEMs and suppliers might be able to consider costs in packaging today more as investments in the future supply chain.
At Toyota, for example, Butt suggests that costs need to be looked at over the course of a decade, including how much a packaging decision might save on transport and emissions. Making the right choice soon will save money in the long run, as well as to help meet objectives such as Toyota's aim to transition to sustainable materials by 2030.
"If you are designing a part with packaging in mind, you will think about the density, the transport of it, how will it move [in transit] and how you can make it sturdier," Butt says. "Also, what are these car parts going to be made out of? As we announced in February [2020] we have the goal to make the majority of our car parts out of sustainable content by 2030."
Meanwhile, Butt says there is a legacy mentality that can hold back progress – because things have been done the same ways for a long time and they have worked, there is no need to change them. Encouraging that change is part of the educational process in transitioning to a more sustainable automotive supply chain.
"If I don't know there are two ways of doing something or that there are several choices and one is more environmentally sound, it is happenchance that I might make the right decision," he says. "We need to be sure that we are making the folks that are making those choices aware of what their options are."
Electric packaging opportunities
One area where the industry is now more ready to accept change is through the development of electric vehicles, which bring with them some new requirements for packaging, such as the shipment of lithium-ion batteries. Rather than another hurdle for the adoption of sustainable packaging, GM's Al Ganzouri sees the switch to EVs as part of the change culture necessary.
"For all of our EV parts and batteries I think it might be less challenging than some of the existing parts," he says "With existing parts you have to push against the notion of what is already being done and [the argument] 'why fix something that is not broken'."
By contrast, it is all new when it comes to the development of parts and production processes for EVs, including the elimination of carbon in those parts and processes. That includes new materials for packaging and operation of factories on 100% renewable energy.
"It is going to be a testing ground," says Al Ganzouri. "There is a lot of collaboration with EVs and sustainable packaging will be dependent on collaboration and partnerships."
The 18 sustainable packaging recommendations for automotive manufacturing operations
• When building business cases for packaging design and logistics, include and communicate to procurement/purchasing/supply chain managers a total enterprise financial scope that considers all corporate goals and strategies including health, safety and the environment
• Whenever possible, source parts, modules and other products using returnable packaging and base this decision on lifecycle factors.
• Avoid using foams in packages that include spacers and dunnage if possible, as most foams (polystyrene, polyurethane and other thermoset products) are difficult to recycle.
• If a foam packaging product is sourced, expanded polypropylene (EPP) may be more recyclable than other foam options. EPP foam containers are commonly used for products in need of surface protection and nesting within the container and is used as a returnable container option over a product's entire life cycle. Reuse options for EPP foam formed containers are limited outside of the original packaging application. EPP foam second use options can include densification and resin creation for new products.
• Combination packaging (specifically incorporating multiple materials) should be avoided whenever possible. When unavoidable, materials should be able to be segregated without requiring significant time or force.
• Pallet and container separation ease improves reuse and recycling potential. Avoid using screw fasteners, nails or staples to attach cardboard/old corrugated container (OCC) boxes to wood pallets. Alternatively, secure the box to the pallet using plastic banding that wraps around the box and secured to the pallet through the fork spaces. Also, consider sourcing OCC pallets that are fastened to the boxes or manufactured as part of the container. These designs improve the recyclability of the entire package. Please note, some OCC pallets have limitations based on moisture compromise, weight capacity and stacking limits.
• Avoid using metal clips on plastic banding. Plastic banding should be secured using plastic weld (sonic) technology.
• Avoid using metal brackets and wood to reinforce cardboard/OCC boxes. Often times cardboard brackets and spacers can reinforce boxes where needed.
• Whenever possible, avoid one-time use packaging and assembly aids. These packaging aids, commonly called caps and plugs, can be cleaned, inspected and reused to protect fittings, threaded fasteners and ports. Whenever possible source in neutral coloured polyethylene packaging aids. Please note that sometimes colours are used as visual aids, where possible consider the use of alternative options to achieve the same goal.
• Plastic corrugate, which many times is polypropylene, should not be sourced with mixed plastics or metal fasteners unless material is intended for reuse. This material, when clean and used without fasteners can be densified for recycling as well.
• LDPE plastic bags and bubble wrap and other film can be reused or baled and placed into a plant recyclable film program. These materials can also be reused internally, or sent to non-profits, small local businesses as well as sent back to the supplier for reuse.
• Polypropylene and polyester fabric bags that may be used to protect class A surface parts from mutilation such as lighting fixtures, fascias, chrome parts, etc. can be placed in the container and sent back to the supplier for reuse where feasible.
• Use of expanding polyurethane foam in packages should be avoided, especially when formed within plastic bags. This package material creates a significant challenge for recycling and reuse. Consideration could be given to using bio-based or polypropylene and polyethylene foams if a local reuse or recycle solution is found. Although many reuse options exist, foams are typically a challenge to recycle.
• If a logistics optimisation centre (LOC) is used to service nearby manufacturing operation(s), then efforts to concentrate and manage expendables for reuse and recycling at this location should be done. Aftermarket parts locations can also help consolidate materials for this purpose. These strategies create consolidation points for improved material management.
• In order to continually improve the lifecycle management of containers and packages entering manufacturing operations, enlist the participation of environmental professionals located at the first point of package use and at the destination point after first use so local considerations can be incorporated into package designs.
• Wood pallets sourced in the US should be [in inches] 40x48 (101.6x128 cm), 42x48 (106.7x128 cm), or 45x48 (114.3x128 cm) whenever possible, with the auto industry using 45x48 for production and 42x48 for service.
• Use of OSB (oriented strand board) pallet planks and risers will likely limit recycling options and should only be used if local rules and international issues prohibit alternatives.
• Wooden crates, even for small batch shipping use, should be designed with ease of disassembly for reuse and/or shredding for recyclability in mind. Often, wooden crates are assembled using plate steel and bolts that unnecessarily make recycling very laborious and costly.