Volkswagen Group Components has developed a standardised, returnable container for the safe delivery of lithium battery cells and assembled modules in support of its ambitious electric vehicle goals leading up to 2030
Towards the end of 2020 Volkswagen developed a special returnable container that can be used both for the shipment of lithium-ion battery cells and assembled battery modules. The containers, which were based on a propriety concept developed by the Volkswagen Group Components division and produced in collaboration with various (unnamed) partners, form part of an overall zero-emission sustainability strategy at the carmaker.
The containers are currently used to move battery cells from the supplier LG Chem in Wroclaw, Poland by rail into the VW Group Components plant in Brunswick, Germany. The same containers are also used to move completed battery systems built there to VW's plant in Zwickau, again by rail.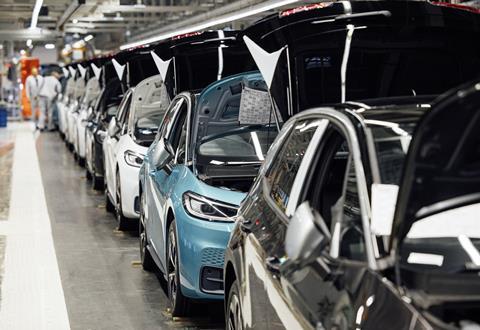 "The containers are optimised for delivery by train, which has an essential impact to achieve the goals for CO2-neutral logistic chain," said a spokesperson for VW Group Components. VW has said previously that since 2017 it has been able to reduce carbon emissions at Zwickau by 60% or more than 100,000 tonnes per year.
Brunswick will be supplying 500,000 battery systems a year for delivery to Zwickau at full production (as well as running gear components, and front and rear axles), making the choice of returnable containers a wise one.
The Zwickau plant is also now the first facility in the VW network making only electric vehicles, in the forms of the ID.3 electric hatchback and the ID.4 electric SUV. However, the Emden plant in Germany will begin making the ID.4 next year, as will the Chattanooga plant in the US, opening the potential for the further deployment of the new containers.
Strengthening ties with Northvolt
Volkswagen Group's collaboration with lithium battery maker Northvolt, which began in 2019, moved up a gear with the announcement in March this year at Volkswagen Power Day 2021 that the carmaker is increasing its ownership in Northvolt and making it VW Group's strategic lead supplier for premium battery cells in Europe. VW Group will order $14 billion worth of products from the company over the next ten years.
In 2019 VW Group announced it was investing €900m in joint battery activities with Northvolt, including a 20% share in the company and a 50/50 joint venture battery cell factory in Salzgitter, Germany called Northvolt Zwei. Northvolt is now selling its joint venture share in that plant to VW as the carmaker scales up its battery manufacturing efforts in Europe. That plant is due to open this year.
Northvolt Zwei will produce lithium-ion cells exclusively for VW Group electric vehicles over the next decade. More specifically, from 2025 the Salzgitter plant will produce a new 'prismatic unified cell' for VW Group's high-volume segment. The new unified cell will be installed across brands in up to 80% of all EVs in the Group by 2030.
Salzgitter will also develop innovations in process, design and chemistry. VW is planning production capacity of up to 40 GWh per year at Salzgitter.
"Northvolt Zwei is one of the most exciting industrial projects to be introduced into Germany today; one that provides a symbol of the new direction that the nation's automobile industry is taking," said Fredrik Hedlund, CEO of the joint venture and former chief strategy officer of Northvolt.
Together VW and Northvolt are also expanding capacity at the Northvolt Ett gigafactory in Sweden to achieve further economies of scale, reduced complexity and a better environmental footprint for the battery products made there.
"Volkswagen will continue to deepen the collaboration and partnership with Northvolt," said Thomas Schmall, CEO of Volkswagen Group Components and board member for technology. "They are one of our key battery suppliers as we make the transition to electric mobility – and there is potential to expand this partnership even further."
VW is aiming to gradually reduce battery costs in entry-level segment vehicles by up to 50% and in the volume segment by up to 30%.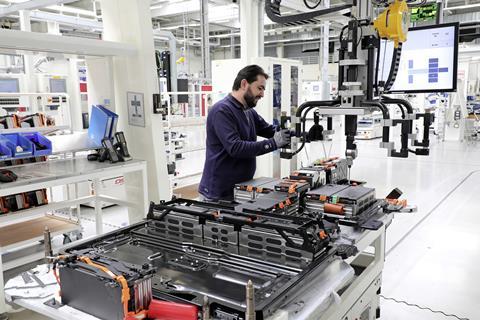 "We will use our economies of scale to the benefit of our customers when it comes to the battery too," said Schmall. "On average, we will drive down the cost of battery systems to significantly below €100 per kilowatt hour. This will finally make e-mobility affordable and the dominant drive technology."
The production of battery cells there for VW Group contracts is set to commence in 2023 and will be expanded gradually to an annual capacity of up to 40 GWh.
VW plans to have 22m EVs built off its electric platform over that period and is part of a strategy that anticipates an annual demand of more than 150 GWh of batteries from 2025 in Europe.
VW's investments with Northvolt are part of wider plans to build a further six gigafactories by 2030 with a total production capacity of 240 GWh to secure battery supply in partnership model. VW said it was considering further potential partners and sites for these other factories. That plan could potentially increase overall battery capacity in Europe by 25%.
Currently VW Group Components is building batteries at its Brunswick plant for onward delivery to its Zwickau plant in Germany, which is assembling the ID.3 and ID.4 pure EVs. Zwickau is the first exclusively EV production plant in the VW network. The carmaker will start building the ID.4 at its Emden plant in Germany and at its Chattanooga plant in the US next year.
Read about the logistics supporting the EV production at Zwickau
Thermoplastic safety
The dimensions of the container that VW Group Components has developed are 1.8 x 1.5 x 2.5 metres, providing a total capacity for 105 cell modules or seven battery systems respectively. They consist of seven frames, with a base pallet made of structural steel and supporting sheets made of the thermoplastic polymer, ABS (Aerylonitrile Butadiene Syrene).
ABS is a non-conductive, thermoplastic, that has high impact resistance to shock and vibration, and provides protection against heat and chemicals. That makes it good for moving lithium-ion batteries and materials as they are liable to ignition when damaged and categorised as a Class 9 Dangerous Good under the United Nation's ADR treaty governing the international carriage of dangerous goods.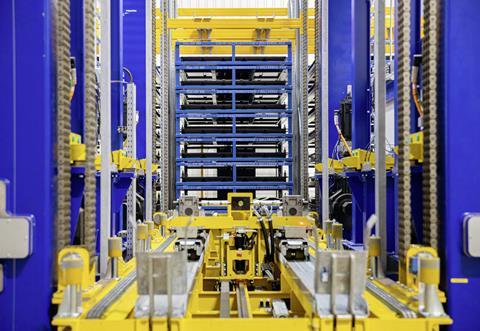 The principal safety risk when moving lithium batteries relates to thermal runaway, when an increase in temperature caused by a short-circuit or damage to the cells results in fire, explosions and the release of toxic and corrosive materials. It can also cause electric shock and the release of high-velocity projectiles from the cell.
ABS provides protection for the materials to avoid such damage and also a good level of containment should there be a thermal runaway incident. At the same time, ABS is also lightweight and recyclable, fitting in with VW's overall sustainability strategy.
Automated delivery
The systems for loading and unloading the containerised batteries at Zwickau and Brunswick are highly automated, something VW said was "an essential prerequisite for efficient battery assembly" at the German plants. The loading cars at Brunswick and Zwickau have an empty weight of about 25 tonnes and travel on dedicated tracks beside the trains. They lift the special containers with battery modules or battery systems into or out of the rail cars automatically. On delivery to Zwickau the batteries are stored sequenced and lined up with conveyor technology – a first for the automotive industry according to VW. That system is combined with the use of fully electric 40-tonne trucks for internal transport within the factory.
Among the other notable logistics developments at Zwickau are the use of a virtual acceptance system for the containers and the use of fully digital and automated logistics retrieval and control systems.
In terms of the virtual acceptance system, it is no longer necessary to work with real parts and prototype containers at VW anymore because the whole process can be done virtually. Once the digital twin of the container and parts are tested, work can start immediately on the production of the containers, which saves time and materials.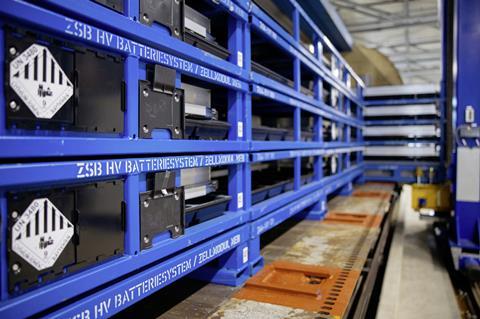 "The containers are part of a holistic logistic concept – from our suppliers [through] VW Brunswick [and] to VW Zwickau – with fully automated loading and unloading processes in both VW plants," said VW's spokesperson. "Therefore, we closely worked together within the Volkswagen Group to exploit the most possible synergies."
Five trains a week are currently running between Brunswick and Zwickau, with more planned in the future as EV production increases at the plant. Each train takes about five hours to load and unload.
To add to the sustainability goals, VW is in the process of switching all the materials, parts and vehicles it moves in Germany with state run rail provider Deutsche Bahn (DB) to green electricity. Currently 95% of VW freight movements carried by DB Cargo in Germany are accounted for by power generated by wind farms and hydropower plants. Bringing the figure up to 100% will save more than 26,700 tons of CO2 emissions annually, according to the carmaker.
Modal regulations on lithium-ion battery transport
There are different requirements for batteries above and below 100Wh [watt hour]. Over 100Wh are subject to less stringent transport and packaging rules
Clear packaging requirements are required to prevent short circuits and damage during transport, as well as to contain any short circuits, fires or overheating
Packaging requirements include specific inner and outer transport casing requirements (restricted by their materials, conductivity, strength and resistance to fire/explosions, gas venting apparatus, protection from excessive vibration and movement, and other characteristics)
Cells/batteries need to be packaged separately in ways that do not allow for the possibility of short circuits, including no direct contact with each other or with conductive surfaces
Increased requirements (such as testing) for weight above 333kg per shipment, which covers most assembled BEV batteries.