Can you give an overview of GM's logistics activities in Brazil, and your own responsibilities?
The scope of my function in the region is to handle the inbound pieces and materials, such as local inbound flows from overseas to South America. I [also] manage outbound flows from the factories to customers and dealerships. In addition, I am responsible for handling returnable racks and packaging for current and new programmes, as well as purchasing, planning and related business.
I should add [that] GM is engaged in the development of new programmes and launches, and the logistics team helps all projects or programmes from a total enterprise cost standpoint related to logistics and supply chain activities. In short, we aim to have the best logistics models or solutions for the company.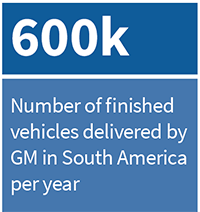 What is the scale of GM's logistics operations in the region?
We have to deliver more than 600,000 finished vehicle units per year in the region [and] handle around 10,000 trucks and containers at assembly plants on a monthly basis. We have about 150 employees in the South American region who handle the logistics business. Our logistics operation covers Colombia and Ecuador, where we have plants, as well as Brazil and Argentina, where we have other assembly plants. Elsewhere, GM just has sales operations and we don't actually own facilities. In my case, I also handle outbound flows to the rest of the countries and dealerships.
What are GM's growth targets for Brazil?
We hold 15.5-16% of the Brazilian market share, so we want to be smart in the way that we plan our product mix and also how we carry out distribution across Brazil in order to optimise it from a financial standpoint. Therefore, we aim to combine local production and also imported vehicles to serve customers.
What is GM's mix in terms of imports and local production?
Most vehicles are locally produced but for some premium models, where we don't have a large scale, our solution is to import. For instance, Equinox is assembled in the US and then we have to import it to the region.
Brazil was experiencing strong vehicle export growth when the economy was still struggling to emerge from recession. How are exports to other parts of Latam performing now?
We are mainly exporting our Onix and Prisma cars. The Onix has been the bestselling car in Brazil in the last two years, and it is also our most important export model to the rest of the region, where it is highly competitive. We export it to markets such as Argentina, Colombia, Ecuador, Chile and also to Paraguay and Peru.
GM is to invest $3.8 billion reais ($972.4m) in Brazil between 2014 and 2020, as part of the largest such programme in its 93-year history in the country. Is this investment on track?
We are in very good shape. GM is preparing to replace the actual [car] models in South America with new ones. We continue to believe in the region and the company has been investing in assembly lines for new launches. We are on schedule and will retain our leadership position in the Brazilian market.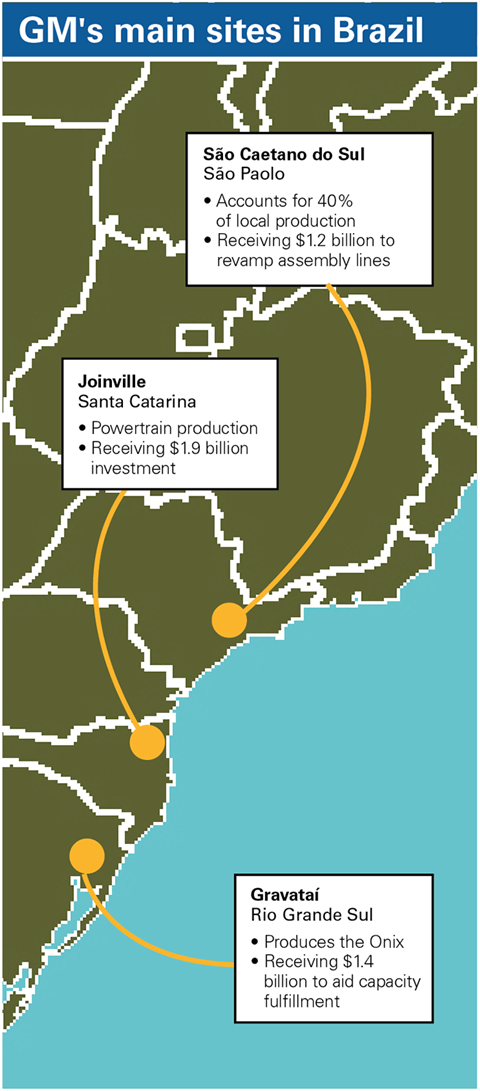 Why dedicate this multi-billion-dollar investment to Brazil and the wider region?
We continue to see South America as an important market for our brands and the region is strategic because it provides opportunities to grow. Although in the short period there has been a drop in growth, in a 20-30-year period there are peaks and valleys, and our view is that the overall trend is to grow.
Out of the total investment, GM has set aside around $1.2 billion to revamp its São Caetano do Sul plant in São Paulo state. What progress has been made?
General Motors has three important assembly plants here in Brazil, and São Caetano do Sul accounts for about 40% of local production. It is well located for our footprint, as it is the closest to our main market [the densely populated south-east region] and also well positioned in relation to suppliers. It is therefore strategically important.
We are investing in new general assembly lines that will meet the needs of new launches in the coming years, bringing best practices and technology from across the globe, while keeping our operations up-to-date to assemble products.
Although I can't give details about what new technologies we'll invest in, GM's global manufacturing system always shares best practices worldwide in order to boost productivity and efficiency. Whenever we launch new vehicles, we always bring best practices to fulfil the new launch.
GM is investing $1.4 billion in its Gravataí plant in Rio Grande Sul, as well as $1.9 billion in Joinville, in neighbouring Santa Catarina, where motors are produced. Could you give an update?
We are investing in these plants because at Joinville we have powertrain and at Gravataí we assemble the Onix, so we are refurbishing the plants to be ready for 2019. Gravataí's production is very important so we must keep it in good shape to fulfil its capacity needs and be efficient.
Can you discuss plans for new launches or production volumes? What models will GM be rolling out?
We will increase volumes for the coming year because the market here [Brazil] is recovering slowly, but in a consistent way. We will increase production volumes and will start to launch models in the middle of 2019. We will replace the models we already have in the market.
The market does seem to be recovering; what impact is this having on capacity?
We are ready to meet demand and this is a good problem. However, we still have enough capacity available to meet expansion needs. We're monitoring the situation and, if necessary, we can add additional shifts to extend production to meet the market's growth. There are no concerns.
What do you think will happen to GM's market share over the coming months?
[In 2018] we plan to keep exactly the same market share, at around 16%, and [2019] will be pretty similar.
How do you view the Brazilian market's performance over the past 12 months and what trends have you seen?Every time Brazil has a presidential election, we typically see customers buying just a small amount, and then purchases recover afterwards. If we can keep inflation under control, this will be a positive factor, but the challenge will be to reduce unemployment in the country, which is currently at above 11%. Thus, the new government [under President Jair Bolsonaro] must find a solution. This kind of positive macro impact will favour our industry as people can consume more.
However, despite Brazil's recent economic crisis, macroeconomic conditions are solid and inflation is under control. Nonetheless, the real has been fluctuating sharply, due to the election's uncertainty. Now it is stabilising, so this is a good message for the market. Therefore, we are very optimistic about the future.
What has been the effect on the industry of the right-wing Bolsonaro winning Brazil's presidential run-off election on October 28 last year?
The market in general is reacting positively and we see this in the FX [Forex] that has improved recently, so we see this as positive.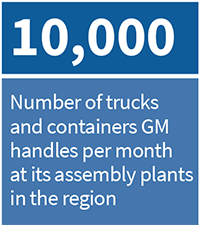 The conditions in Argentina and Mexico are challenging and exports from Brazil shrank by almost 40% year-on-year in October, or 10% over the first 10 months of 2018. In particular, Argentina recently faced a series of currency shocks and required a $56 billion loan from the International Monetary Fund. What is the impact on GM in Brazil?
This situation has been affecting all OEMs because it imbalances trade between the two countries due to high inflation. However, in this region we have already learnt how to manage this kind of situation in the past. Therefore, we need to adjust our strategy and volumes to meet the market's needs, while also having the ability to quickly grow when needed.
A long-awaited incentive package for the sector, Rota 2030, was approved in November by Brazil's lower house of Congress and is set to replace Inovar-Auto, which provided tax breaks for local producers. What does Rota 2030 mean for GM and the automotive industry in general?
All of the industry wants more visibility and stability regarding the rules to play the game in Brazil. In short, what we want is visibility to pursue our strategy; we need clarity and clear definitions from the government on which to build our strategy in the country.
---