While the automotive industry is ploughing through a period of unprecedented upheaval, the Port of Vancouver USA continues the smooth importing of vehicles for its principal customer Subaru. Now the port is looking to enhance that service with a greater degree of sustainability
The Port of Vancouver USA is Washington state's third-largest public port after Seattle and Tacoma. Its biggest automotive customer is Subaru of America and next year will mark 30 years in the provision of port services for the Japanese automaker.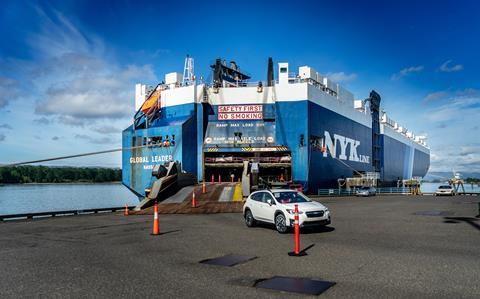 Subaru of America's facility at the port services Pacific Northwest retailers, as well as Midwestern markets as far east as Ohio, and it has managed to securely support the carmaker's import volumes across 2020 and 2021 despite the disruption caused during the Covid-19 pandemic and the strong rebound in volumes since then (more than 52,800 vehicles were moved in the last six months of 2020).
Last year the Port of Vancouver USA imported almost 90,000 Subarus and that included one shipment of 3,350 vehicles, a record number of vehicles per single vessel delivered to the port.
Room to manoeuvre
In fact, Vancouver USA's ability to quickly designate and prepare sites capable of storing new vehicles became critical in the early months of the Covid crisis as dealerships stopped taking in new vehicles and the outbound supply chain seized up. That was thanks to the port's flexible allocation of available terminal space. The port made an additional 20 acres [8 hectares] of open land available to Subaru, suitable for parking vehicles on in anticipation of its requirements.
"The pandemic really brought to light how important ports are in the global supply chain," said Alex Strogen, COO of the Port of Vancouver USA at the release of its annual report in June this year. "From moving grain, wind energy components, autos and steel, our operations never shut down. In fact, the ILWU [International Longshoreman and Warehouse Union] posted a record-setting number of hours worked as they kept cargo moving, generating millions of dollars in local wages and spending in our community."
Port of Vancouver USA by numbers


Number of vehicles imported in 2020. 89,900
Number of vehicles imported to June 2021 36,192
Record number of vehicles delivered
on single vessel 3,350
Rail cars moving product in and out of port 63,300
Total $ revenue in 2020 (+15% on 2019) 50,000,000
Subaru volumes are flowing through to the carmaker's regional dealer network thanks also to the port's strategic position at a key crossroads of shipping lanes, interstate highways and national rail lines. Major US western railroads BNSF and Union Pacific have direct access into the port through the Columbia River Gorge for efficiency of distribution, a key advantage of the infrastructure at the Port of Vancouver USA.
Climate action
Sustainability is now top of the agenda as OEMs strive to take total emissions out of the outbound supply chain. That fits well with Port of Vancouver USA's comprehensive Climate Action Plan, which identifies a number of areas where the port can reduce greenhouse gas emissions.
The port is planning to take action on reducing emissions from the port's vehicle fleet and equipment, as well as more indirect emissions, such as those that result from the energy the port uses and which are provided as a utility.
The Climate Action Plan also covers activities occurring in and around the port, such as the transport used to deliver and pick up freight (including finished vehicles), handling equipment, tenant infrastructure, vessels and harbour craft, and the movement of workers.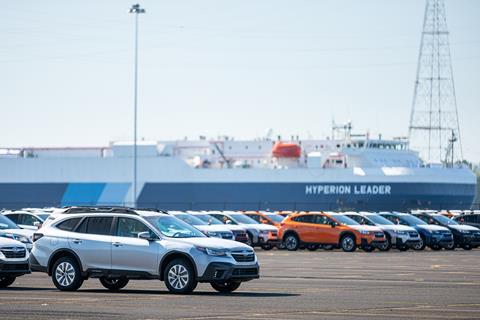 In late 2020, the port hired a consultant team made up of experts in the analysis of climate change, planning and transportation to begin the work of the Climate Action Plan. That involved engagement with the consulting firms: Ramboll, WSP USA and Fehr & Peers, and that team is currently collecting and evaluating data.
"This [plan] will help guide decision making in the coming years," said Julianna Marler, CEO of the Port of Vancouver USA in June this year. "Port staff are working with a team of industry consultants on a greenhouse gas inventory that will help guide and inform the development of initiatives to reduce port emissions."
The latest update, published in July 2021 on the authorisation of the plan by the commissioners of the port, indicates that organisation is working towards mid-term goals that include installation of an EV charging infrastructure that supports the use of electrified (or hybrid) vehicles and equipment being used at the port.
That climate initiative ties in well with Port of Vancouver USA's commitment to future services for Subaru and the carmaker's plans for electric vehicle (EV) production.
By 2030 the US government has called for EVs to make up 50% of overall vehicle sales in the country.
The first all-electric SUV from Subaru will be called the Solterra and will go on sale in the US in the middle of next year. It is being built in Japan and China.
Future growth
Looking to the future the port is working to attract new OEMs with intended development of its Columbia Gateway property. The land is the largest contiguous tract of undeveloped industrial and deep-water marine property on the US west coast and at 500 acres (202 hectares), sits just west of the port's current operations.
Capable of hosting multiple automotive partners, the development has capacity for vehicle inventory handling and storage, rail infrastructure, building improvements, trucking and ship berthing.
Suited for pure car carrier (PCC) or ro-ro ships with a maintained 43-foot (13-metre) channel depth, the development has capacity for floating berths with connecting bridge ramps to the shore. This approach will allow berthing immediately adjacent to the dredged channel.
There are also multilevel operations available with the loading of vehicles onto multilevel railcars planned from a double-ended, elongated ladder track. Each track can handle two sets of six, bilevel or trilevel railcars.
"As we look ahead in 2021, we continue to see opportunity for the further diversification of products handled by the port," said Alex Strogen. "Our role as an economic engine for our community continues to grow regardless of the challenges faced."