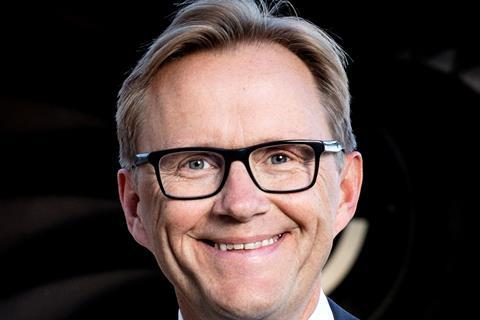 Torbjørn Wist (pictured) will take over as chief financial officer (CFO) at Norwegian shipping and logistics provider Wallenius Wilhelmsen from October 1 this year. He replaces Rebekka Glasser Herlofsen.
"We are very pleased to have Torbjørn join us. He has a strong financial and investment banking background, coupled with very relevant experience from asset-heavy services industry.
"I believe Torbjørn's broad international experience, the cultural understanding that brings, and his drive to lead change will bring great value to our management team and the group as a whole," said Craig Jasienski, president and CEO of the company.
Wist comes to Wallenius from Scandinavian airline SAS, where he is also CFO. He has also held previous roles as group treasurer at Telenor ASA and multiple financial leadership positions at Greenhill, Merrill Lynch and Salomon Brothers.
"I am delighted to join Wallenius Wilhelmsen with Craig Jasienski at the helm," said Wist. "This is an exciting position in a market leading company and I very much look forward to driving future results together with the global team.
"Our recruiting process began well before the coronavirus made its entrance and created the demanding business environment we now all face," added Jasienski. "In the light of the challenges faced by the airline industry, we respect Torbjørn's full and total dedication to his current employer until he is able to join us," says Jasienski.