While ro-ro is the traditional method of shipping finished vehicles, containerisation is becoming increasingly viable as the automotive industry decentralises and introduces more EVs. Growth in China and South East Asia offers particularly good opportunities
Cars have been shipped in containers ever since the modern shipping container was introduced commercially in the late 1950s, but it is only since dedicated racking systems were mass produced to improve loading that there has been a greater adoption of containers for volume shipments.
There are estimated to be 39m containers moving around the world, 25% of which are being shipped empty at any one time. The target is to fill these containers with other products and for the automotive industry, that includes finished vehicles.
The percentage of new vehicles shipped in containers versus the traditional ro-ro process is tiny (though the market for used cars is bigger). However, there are certain factors that substantiate their use.
These include shipments to regions that suffer from irregular ro-ro services or inadequate infrastructure, a problem that has arisen from the decentralisation of the global automotive manufacturing base. Ocean ro-ro service providers cannot easily accommodate smaller or more unevenly scheduled volumes and, given their investments and margins, they are only interested in big volumes. That leaves carmakers looking to the container side of the business.
Containerisation is also an answer for the shipment of new vehicles over long distances, either by truck or rail, across areas where quality or security may be compromised. The fact that there is a global driver shortage also promotes the movement of containers by rail.
Furthermore, the use of containers on developing routes out of China is also being adopted, especially by rail between China and Europe.
In addition, containerisation is used for vehicles that are shipped as semi-knockdown (SKD) kits for final assembly overseas, in cases where the quality of the original body and paintwork is a priority, or high tariffs discourage imports of completely built units.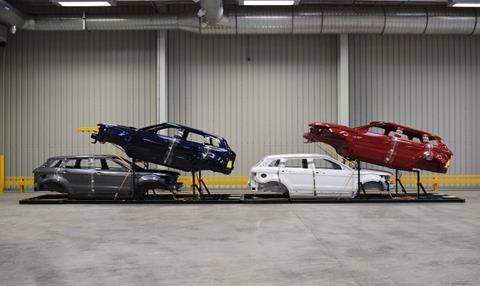 Finally, the mode is regularly used for second-hand vehicles moving to new markets and, increasingly, for the shipment of damaged cars that need to be repaired and resold.
"Essentially, for any lane where ro-ro is not the ideal solution, because of various factors such as cost, multiple transhipments or handovers, transit time, infrequency or critical mass, containerisation with racks makes sense," says Christoph Seitz, co-owner and CEO of CFR Rinkens, an international third-party logistics provider that makes 95% of its revenue from shipping cars in containers.
Opportunities in Asia
The proliferation of sales and manufacturing in China, and the development of the country as an exporter of vehicles as part of its famous 'Belt and Road' policy, is generating big opportunities there for providers of container services and equipment.
But another region with all of the factors needed to make containerisation feasible – plus growth in vehicle sales and therefore demand for outbound services – is South-East Asia. Following the free trade agreement signed in the ASEAN markets, including the Philippines, Malaysia, Thailand, Vietnam and Cambodia, trade in finished vehicles has grown. However, good ro-ro connections are sparse, especially from Europe, and this is where companies supporting containerised vehicle shipments are finding business.
CFR Rinkens has just won a contract to ship BMWs from Europe to Vietnam in containers, to take one example. Container shipments to Vietnam are more regular, while ro-ro suffers from at least one transhipment point and irregular ro-ro schedules thereafter.
"Ro-ro had never been a good option on that lane, and previous providers were not able to optimise container utilisation and process flows," says Seitz. "Often, you have only once or twice a month service, but with transhipment added you are looking at two months or more, with processing at the transhipment port to take into account, and issues relating to damage and theft. That can become a nightmare, but containerisation makes more sense because it goes every week."
Container racking equipment supplier Trans-Rak also reports that one of its biggest markets for equipment at the moment is the ASEAN region. Trans-Rak supplies products globally to logistics providers, including CFR Rinkens, as well as the ocean liner companies.
"If you look at the ASEAN region, whether you are moving from Japan or Europe into those areas, they may have a ro-ro service that is monthly or bi-monthly, while there are container ships going down there virtually every day," says Trans-Rak's CEO, Paul Donaldson. "The container is the only true 'international envelope' for taking products door-to-door."
Donaldson says the Philippines is a good example of where its equipment is needed at the moment, because carmakers are looking for onward services from Manila to the many islands making up the country. It is easier to move containers to these islands and it is easier, in the face of limited available and expensive parking space at the ports, to stack containerised vehicles; the storage costs are lower.
Returns between Europe and Africa
Richard Cox, CEO of racking equipment and services provider Kar-Tainer, also sees increased demand in the ASEAN region, but adds that Africa is another focus for new business.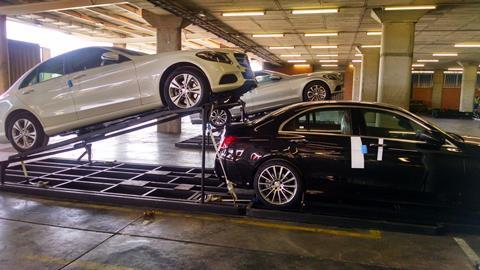 Kar-Tainer is well established in South Africa and counts BMW, Mercedes-Benz and Volkswagen among its customers. For the lanes between there and Europe, business is helped by the fact that carmakers are sending a lot of European-made parts into South Africa and are looking at options to get the containers back. At the same time, however, Kar-Tainer has to retrieve its own equipment from Europe.
"Our [Mercedes-Benz] C-Class project in South Africa is a good example," says Cox. "We ship approximately 2,000 vehicles a month for them [to Zeebrugge]. There is a ten-week turnaround. To do that, we have to provide a pool of 4,500 cassettes, which we maintain and ensure is looked after properly."
For every ten to 12 containers that go out with cars, one goes straight back to Mercedes-Benz with the equipment, according to Cox.
The latest project for Kar-Tainer in Africa, however, is for SKD units from South Africa to Kenya and Rwanda. "It has to go in containers here, particularly in Rwanda, where there is a long inland move and security is an issue. All of those factors together are making this a definite container move," says Cox.
Kar-Tainer is also managing the return of the equipment and dealing directly with the shipping line and the inland transport provider, with the security of a guaranteed volume of vehicles.
Growth in SKD shipments
Trans-Rak's Donaldson also points to the growing importance of SKD shipments for decentralised global automotive production. "It is becoming more of an important market where vehicle manufacturers are saying they want to make their vehicles in low-cost areas but want to send all the bits out there to do it," he notes.
One big project involving Trans-Rak is Nissan's shipment of the Pathfinder SUV from its plant in Spain to Russia for final assembly. The vehicle is shipped without its wheels, gearbox or engine, thus avoiding import duty on entry to Russia. Those components are then refitted at its plant in St Petersburg.
Meanwhile, Kar-Tainer is moving SKD kits for Jaguar Land Rover out of the UK (through the port of Liverpool) to Brazil, another example of where it provides more than just the equipment.
"We went in and helped them design the facility to get the vehicles from the production onto our equipment – the mobility of the equipment around the inside of their facility," says Cox. "We are very much a part of that set-up and maintaining it."
SKDs aside, it is not an easy battle winning business from global carmakers bound by tenders that are heavily geared towards conventional ro-ro and have better rates for forwarding vehicles.
As Cox makes clear, providers of containerised equipment and services find the business of vehicle moves fickle because they are competing in a high-volume business, at least as far as built-up vehicles are concerned. Ro-ro rates have also been dropping because sales in various markets are down, meaning vessels have excess capacity and are fighting to fill it. "The ro-ro guys can come and take your feet from under you, which they do in these situations," he explains.
Seitz makes the same point: "It is a steep uphill climb to not only identify possible rack lanes but then also compete against ro-ro providers in the tender process."
However, this is something CFR Rinkens has managed with BMW, both between Europe and Vietnam and from the US to Brazil. "I am especially excited about our momentum with BMW, who have really embraced the idea of containerisation with racks, and we are jointly exploring feasibility on a global level," says Seitz.
The company should be able to add three additional OEM contracts by the end of 2019 and sees good potential in Brazil and Colombia for containerised shipments, he adds.
EVs and a fresh attitude
One other area where containers provide a solution is in the shipment of electric vehicles (EVs), which tend to be moved in smaller volumes and in less regular shipments. With new EV start-up companies emerging almost daily, especially in China, there is a lot of opportunity here for companies providing containerised services.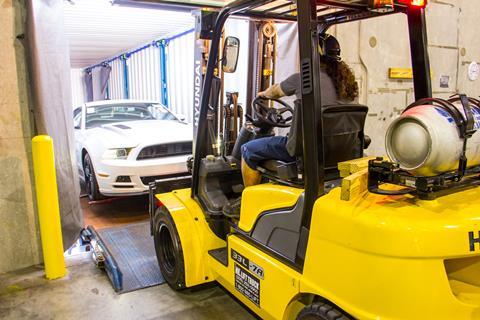 CFR Rinkens' container services really took off with volume business from Tesla, and Seitz says the opportunity presented by the EV sector is enhanced by the fact that EV start-ups are looking beyond the legacy of ro-ro tenders.
"China's dramatic increase in EV activity provides a lot of opportunity because, just like Tesla was back in 2013, most EV start-ups are much more open-minded to alternative solutions to the traditional ro-ro model," says Seitz.
Donaldson concurs: "Tesla is not invested in the legacy model of how cars are moved around – they are looking for a solution and are more friendly to new ideas of how to do that," he says, though they are using ro-ro for Model 3 shipments out of the US.
While it was previously a mainly US-based logistics provider, CFR Rinkens is establishing itself in China in a big way and the provision of services to the EV sector is central to its plans. The company has now started its sixth contract, as sub-contractor to global freight forwarder Crane Worldwide for EV start-up Electra Meccanica, exporting a three-wheel vehicle called the Solo from Western China to North America.
Regular weekly volumes are due to begin in the second quarter of this year and the vehicles will be shipped in containers directly from the manufacturing plant in Chongqing via Shenzhen to the port of LA.
According to Seitz, the company can comfortably load six of the vehicles per 40-foot (12-metre) container, making for a high utilisation rate. According to official figures from Electra Meccanica, the company has 23,000 pre-orders on its books.
From internal to external loading
One other trend affecting the containerisation of vehicles for shipment is the move toward external loading on racking systems. When dedicated returnable racking systems started being used, they were exclusively fitted internally and the cars were driven into the container before being fastened. That still happens, but there is now a growing preference among OEMs for loading vehicles onto the racking cassettes outside the container, which means vehicles can be pre-staged for loading, with overall savings in loading time. The cassette and vehicles are then moved by forklift into the container.
Kar-Tainer International specialises in exterior loading cassettes for complete vehicles, SKDs and motorcycles, and Cox says vehicles can be loaded in two-and-a-half minutes compared with the much longer loading time required for drive-in loading (up to an hour in some cases). He notes, however, that a greater variety of model mixes can be loaded on an internal racking system.
Responding to demand for exterior loading, Trans-Rak launched its EL-Rak cassette late last year. It is being used between the UK and New Zealand and will be on all of its Europe to China routes.
CFR Rinkens is making use of the EL-Rak and highlights the advantage of external systems affording more space for loading and securing the wheels, free of the constraints of having to do so inside the container.
"It probably reduces loading time by 25-30% versus the traditional internal systems," says Seitz, adding that more than half of OEMs prefer the work to be done outside before loading. However, he points out, external systems use more steel and so are more expensive, while fewer racks can be returned in a container than an internal loading system – important considerations when competing with the ro-ro mode where "every dollar counts".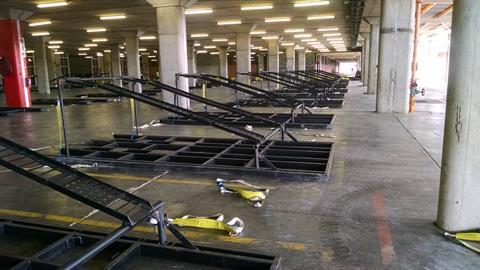 Changing technology and trade
A decentralised global manufacturing base and expanding trade routes, along with an open-minded attitude among EV start-ups, is presenting new opportunities for companies supporting containerised vehicle shipments. But what developments are on the horizon and how could fractious trade relations affect the future of the business?
Automation of the vehicles being shipped, the machines loading them and the vessels on which they are being moved, whether rail or ocean, could have an impact. According to Seitz, however, these disruptions are some way off.
"Everything to do with automation will be the disruptor and the question is, how much of a disruptor and when?" he comments. "Our process is so complicated that I think it will be a long while before cars will be loaded into containers on racks by robots or other automation. We are a long way from that. Any lane that is viable for containerisation is safe for another 15-20 years."
But the way cars are manufactured could have an influence, according to Vegard Synnes, marketing director for Asia at Kar-Tainer. "OEMs are changing the way they produce cars," he observes. "There are more being produced ready for sale, or customised off the line, in many cases with a specific customer assigned to the vehicle by the time they are halfway through the factory."
If those customer-specific vehicles can be containerised and shipped directly from the factory, by whatever mode, to the customer in a method that preserves quality and security, then it brings a new level of service to vehicle delivery.
One important point is that the equipment used with the standardised container needs to be standardised itself to accommodate all vehicle types. "To make the container shipments cost-effective, equipment must be standardised to carry all vehicle shapes, sizes and weights efficiently," says Donaldson. "Equally important is to optimise the return and reuse of the equipment to reduce cost, and they must work in all sizes and types of containers."
At the same time as changes in technology and production, shifting trade relations are also presenting both opportunities and challenges.
In the case of the UK's imminent departure from the EU, Cox says that while there may be scope for services in and out of the UK if the manufacturing base is undermined by a no-deal Brexit, the uncertainty would outweigh the potential gains because OEMs cannot commit to the three-year model required to plan cost-effectively.
The trade disputes within North America and between the US and China (and now India), meanwhile, also affect plans for establishing vehicle manufacturing bases and the international trade between those plants and the global markets for their sale.
"Anything that disrupts world trade is going to disrupt our business," Seitz concludes.
Growing trade links with China
The proliferation of sales and manufacturing in China, and the development of the country as an exporter of vehicles along new and established trade links, including by rail to Europe, is also generating opportunities for providers of container services and equipment.
BMW, for example, has been using rail to move vehicles and SKDs to China since 2008 and Volvo has been moving S90s from Daqing to the port of Zeebrugge in containers on a rail service that began in 2017 (pictured).
Customers in China are looking for European luxury brands and, given the shipping costs and time required to move vehicles from Europe to China by ocean, containerised rail services offer a faster (and safer) delivery route – down from 56 days to 18, according to Paul Donaldson of Trans-Rak.
"The safety, security and speed of getting the products to market are key elements," he says.
There have been trials using conventional rail wagons but again, vehicles are exposed to harsh temperatures and other conditions on routes from Europe across Russia or the Central Asian states into China.
As Vegard Synnes at Kar-Tainer, points out, there is also the prospect of at least two rail-gauge changes between Europe and China. Switching volumes between trains is easier and the vehicles are less subject to damage if they are in containers, he points out. There is also less congestion at the container terminals supporting rail in Europe, he adds.
"Here you have the local [Chinese] government backing the route that has been set up which is around the container," says Synnes. "We definitely see growth and think it is going to continue. Containerisation of cars going between China and Europe is definitely going to be one of the big ones in the next one to two years."
As with the South Africa-China trade lane, one other important element is the optimisation of the number of racks a provider can get back in a container.
Donaldson says moving a container from Europe to China is quite cheap. China supplies western markets with a lot of goods, resulting in an imbalance in availability of containers, which companies need back in China. Moving them out is thus the expensive leg of the round trip.
Logistics providers tasked with getting their rack sets back at a commercially viable rate need to get 45-60 racks in each container. "When you hit those levels, then it starts to get very competitive," says Donaldson.
Within the country, meanwhile, manufacturing is being pushed further west – even as far as the Kazakh border, where Shanghai GM has a plant. Chengdu, in central China, is the second-biggest market for vehicles after Beijing and there are many manufacturing plants being set up near that city and in Chongqing. The Chinese government alone has invested around $1 trillion over the last decade.
As the manufacturing base shifts west in China, it seems highly likely that carmakers will make greater use of the rail links between Chain and Europe – a trade from which those providing container services stand to benefit.