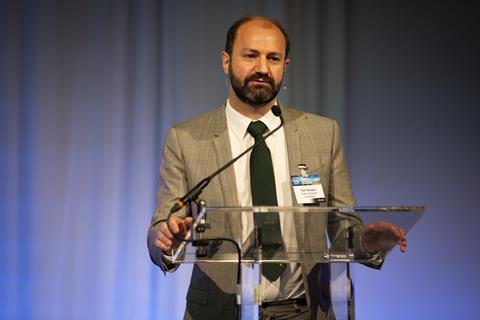 Stagnant vehicle shipments, rising regulatory costs and sinking vessel utilisation are all affecting the ocean transport sector, according to data from Drewry Shipping Consultants. With shipping rates at relative lows, new vessel orders for pure car and truck carriers (PCTCs) have stalled to a virtual standstill, threatening the future of the sector.Tom Ossieur, speaking at the Automotive Logistics Global Munich conference, pointed to growing fragmentation across vehicle trading routes. Over the last decade, the main east-to-west routes, including from Japan and South Korea to Europe and to the US, have lost significant market share, while there has been growth in north-south trades. The result is more imbalanced trade flows and poor vessel utilisation, particularly as PCTC sizes have increased.
"Compared to 2007, carrier utilisation today per car equivalent unit (CEU) is 35% lower," said Ossieur. "At the same time, costs are increases thanks to shipping and fuel regulations, but the volumes per ship are decreasing."
Following the International Maritime Organization's 2020 requirements for low sulphur bunker, carriers need to choose between using more costly fuel, adapting ships to alternative fuels or installing expensive sulphur 'scrubbers' at costs of millions of dollars.
"The scrubber strategy is difficult, as it costs around $5m to install, and the ship is out of service for a month," said Ossieur. "Meanwhile, some countries don't technically allow them."
He pointed to further disruption in the automotive industry, including declines in diesel sales, shifts to electric vehicles, as well as global trade and economic uncertainty. These factors contribute to keep shipping rates low, and suppress new vessel ordering activity. Compared with 12 years ago, for example, when the average renewal rate across PCTC fleets was 45%, the renewal rate today has collapsed to the low single digits.
With so few carriers ordering new ships, a pickup in parts of the market could lead quickly to a capacity crunch. However, Ossieur noted that some PCTC carriers were responding by shifting more of their business to port terminal and inland operations. While this has long been a focus for carriers like NYK and Wallenius Wilhelmsen, others are investing further, including Höegh and K-Line.
"Terminals can be a higher margin business, and we're seeing a fragmented spread of vehicle terminals by geography," said Ossieur. "It is an opportunity for the vehicle logistics sector to better integrate the supply chain through partnerships."
Despite the difficult conditions and low rates, Ossieur did not anticipate further consolidation in the market, or disruption from new players, except for some niche routes. "It is already a highly consolidated market, especially for deep sea shipping. There are about five major players and the barriers to entry are very high," he said
Tariffs, trade and technology: A new era for European automotive industry
1

2

3

4

Currently reading

Deep-sea vehicle carriers sail further into troubled waters

5

6