European vehicle-handling ports faced a squeeze on space last year for several reasons, including wild fluctuations in distribution patterns caused by WLTP implementation. But the situation is now improving, because of investment in infrastructure and digital technology

European automotive ports could not find enough room in 2018, a situation made all the more difficult by the fact many of them were turned into parking lots as new diesel emissions regulations in Europe, in the form of the Worldwide Harmonised Light Vehicle Test Procedure (WLTP), caused wild fluctuations in distribution patterns. Continued trade uncertainty between Europe and the UK, and more globally with upsets between the US and China continuing, had their impact too. However, the main ports also had positive developments to report in terms of long-term infrastructure investment and the adoption of digital technology to improve throughput and security.
Last year, volumes remained steady at Europe's busiest vehicle handling port, the Belgian port of Zeebrugge, despite the various pressures on European ports generally, and the port says that was down to an increase in new customers and car brands. That, in part, has been brought by a growth in vehicle deliveries by Toyofuji Shipping, which celebrated the shipment of 2m vehicles between Zeebrugge and the UK ports of Grimsby and Sheerness. According to Zeebrugge port's spokesperson, traffic from Toyofuji has increased by 44%.
Finding space for these vehicles, however, has required some work and a number of projects to address this were underway in 2018. They include an expansion of operating space at the port's Bastenaken terminal, enabling the port to handle more and bigger vessels.
WW Solutions has added 49 hectares to its facility there, doubling the surface area, and ICO, the terminal division of NYK Line, has added 54 hectares, giving it additional storage capacity for around 25,000 vehicle units.
For ICO, that expansion provides the capacity for an annual throughput of 350,000 vehicles. It also now means Bastenaken terminal will be connected to the adjacent Hanze terminal, on which ICO has another operation, enabling all traffic to have access through one gate, located near the A11 motorway. That central gate enables to company to handle the average of 600 trucks calling at the terminal a day in a much more efficient manner, says the port authority.
There have also been improvements to the facilities. WW Solutions has added ten fast-charging stations for electric vehicles, each of which can charge 20 vehicles an hour with enough energy to cover 125km. This ensures vehicles remain charged during delivery and can be driven on and off the vessels.

ICO is also improving environmental credentials at the port with plans this year to erect 11 wind turbines. The energy gathered from these and the existing solar power panels at its terminals will also be used for its own charging stations to power electric vehicles in transit.
In addition, work is continuing on construction of a 1,071-metre quay wall in the southern canal dock at ICO's part of Bastenaken.
The quay wall extension is also being built near WW Solutions' operation, at the Verbindings dock, one of two projects – the other being the building of a bridge crossing the dock.
As well as larger WWL and NYK vessels, the port of Zeebrugge reports that the CLdN-operated vessel Delphine, which about 235 metres long, is now the biggest short-sea ro-ro vessel to call at the Bastenaken terminal. CLdN began two direct sailings between Zeebrugge and Santander in Spain in September last year for general ro-ro cargo but has just increased this with the addition of the ro-ro vessel Laureline, which can carry finished vehicle and breakbulk volumes, along with other ro-ro cargo. The Laureline will also complement CLdN's other con-ro services between Zeebrugge and the port of Gothenburg, in Sweden.
"With this, [the] port of Zeebrugge ensured a strengthening of the position in northern Spain," says a spokesperson for the port. "Zeebrugge was already connected to northern Spain via Finnlines, EML and UECC."
Santander port is strategically well connected, with access to toll-free roads to Spain's main industrial centres in Madrid, Barcelona and Zaragoza.
Zeebrugge improved its own hinterland links in 2018. In June, it started a new intermodal train connection with Bologna, in Italy, working with Bologna Interporto and C. Ro Ports Britannia (part of Cobelfret) in Zeebrugge. The train has a capacity of 34 ITUs (intermodal transport units) and once in Zeebrugge, cargo units can be loaded onto various short-sea services to the UK and Scandinavia. The rail operators are Italy's GTS Rail and Swiss rail provider, BLS.
Furthermore, in October, intermodal rail operator Hupac increased the frequency of its service from the P&O terminal in Zeebrugge to Novara in northern Italy from six to eight weekly trains. In Zeebrugge there is a connection to regular freight services from P&O to Tilbury, Hull and Teesport.
Finally, Zeebrugge's inner port is growing rapidly and to secure further development, the authority is looking for a second access point to the inner port. At the end of 2018, the Flemish government drafted approval for a new Visart lock.
To reach the inner port docks at Zeebrugge – the Northern Inlet dock and the Southern Canal dock – vessels need to move through the Visart or Vandamme locks. The inner docks are surrounded by logistics centres for the handling, storage and distribution of finished vehicles and other cargoes.
Using technology to cope with post-Brexit customs
Zeebrugge port has established a data-sharing platform called RX/Seaport to deal with the expected increase in customs activities and other administrative formalities stemming from the UK's departure from the EU. Zeebrugge port authority said it expected the number of import declarations to increase by 14% while export declarations will soar by 47%.
To compensate, it is working with the private terminal operators resident at Zeebrugge to invest in the RX Seaport digital data platform, which was put in place at the end of March with aim of making the port a "globally interconnected smart port 4.0".
"The port of Zeebrugge constitutes a prominent gateway for all cargo traffic to and from the UK and is preparing itself to remain the 'UK hub of excellence' after Brexit," says its spokesperson.
One of the aims of installing the RX Seaport system, according to the port authority, is to limit the transit times of UK cargo flows through more efficient handling of formalities and the digitalisation of Brexit-related administration.
"Coordinated, transparent and efficient planning of controls by different administrations is crucial," says the port spokesperson. "Via one unique connection, this data-sharing platform will allow the secure interchange of data and information with all the parties involved, in order to avoid interruption of the physical goods flows because of Brexit-related administration.
For more information on RX/Seaport, see
https://rxseaport.eu/en/
.
Hinterland consolidation at Antwerp
To the east of Zeebrugge in Belgium, the port of Antwerp was also upbeat about developments in 2018. Antwerp saw a 3.4% increase in volumes over 2018 and last year set up a business plan based on improving operations and sustainable growth by 2020 through a range of initiatives, including port expansion and plans for the future of the Verrebroek dock, where its ro-ro terminals are situated.As with Zeebrugge, one of the major issues for Antwerp port is finding enough space for the growth in vehicle numbers. A spokesperson for the port says that in terms of short-term capacity problems, terminal operators are solving the issue with better yard optimisation.
"As free water-connected areas in our port are very scarce, we are willing to think together with our leasehold tenants on a strategic level to work on a long-term vision," says the spokesperson.
In terms of hinterland links, Antwerp wants to double the proportion of rail transport to and from the port to 15% and last year established the joint initiative Railport to oversee this.
"In a first phase, we are aiming at containers as this represents about 55% of our total annual volume," say a spokesperson for the port authority. "However, Railport has a long-term strategy and where feasible, it is our ambition to also include other flows such as finished vehicles and breakbulk."
What is also an important consideration for Antwerp is the need to consider hinterland consolidation hubs that are reachable by rail or inland waterways.
"Given the fact that the volumes of finished vehicles keep on rising year after year, all players in the logistics chain together with the OEMs may need to consider consolidation hubs in the hinterland that are reachable by rail or inland waterways," says the port's spokesperson.
Expansion into Halvorsäng
Further north in the Swedish port of Gothenburg, Volvo Cars continues to provide what the port describes as a very positive driver for its business, with volumes sustained last year around the same level as 2017. On the import side, Gothenburg is handling Renault and Nissan vehicles. The port made 15,000 sq.m of additional space available to handle the volumes and is in the early stages of expanding into 400,000 sq.m of additional logistics space in adjacent Halvorsäng, with plans for vehicle warehousing. The first logistics properties on Halvorsäng are expected in 2020.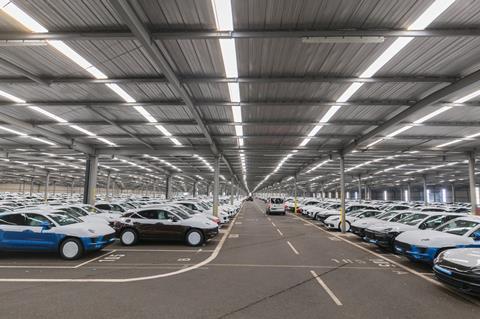 "We are currently in the process of building up an in-house organisation that can assume responsibility for this development and ensure the best possible outcome," says Magnus Nordfeldt, project leader at the Gothenburg Port Authority. "A key aspect of this endeavour is to provide assurances that our tenants will have a link to the port and can contribute to increasing freight volumes. This is also set out in our ownership charter."
The port authority already owns and manages a property close to the port, which is managed by DB Schenker. Adjacent to this property is a site ready for construction, which is in addition to the land at Halvorsäng. Potentially, more than 300,000 sq m of storage space could be created on land managed by the port.
As mentioned above, CLdN is moving more ro-ro cargo to Gothenburg thanks to a transhipment link at Zeebrugge and WW Ocean took up the volumes linked to North America that were lost at the beginning of the year when the weekly con-ro service provided by ACL was abruptly cancelled.
"It was a potentially big challenge for [WW Ocean], which they solved in a fantastic way, without any issues," says the port's spokesperson.
Stable and secure at Bremerhaven
Throughput was also kept stable at BLG Logistics' terminals at Bremerhaven port in Germany, Europe's second busiest vehicle handling port. Numbers were helped by additional Daimler imports from the US, South Africa and Finland, as well as continued export performance to the US and China, though BLG expects these latter trade lanes to cool down in 2019.
BLG says there was no significant investment in vehicle handling infrastructure at Bremerhaven in 2018, though it did rent space outside the terminal in the port area to accommodate about 10,000 cars to help importers overcome slow sales and "seasonal volatility".
Capacity has been an issue, according to BLG. A spokesperson for the German logistics provider said the lead time on throughput and the amount of time vehicles were waiting for shipment had "increased remarkably", resulting in full utilisation of storage capacity.
To get the vehicles in and out of the port, BLG has also invested in hinterland links and in 2018 bought new rail cars and flatbed wagons for the transport of light commercial vehicles (LCVs), while also expanding its truck fleet in Germany and Russia for vehicle distribution.
Bremerhaven is also embracing new technology to make vehicle processing more efficient and safer. BLG Logistics is participating in a new cyber-security project launched in November last year called SecProPort for the development of a "security architecture" to protect port logistics against cyber attacks. The project is supported by a subsidy of €2.8m ($3.16m) from the Federal Ministry of Transport and Digital Infrastructure (BMVI).
In a statement, BLG said the aim of the project was to develop a general and comprehensive IT security protecting the communication network that operated within port facilities.
"The innovative architecture is to support the diverse security requirements of the operating procedures that take place in the network, protect them against sabotage and prevent third parties from illicitly gathering sensitive data," said BLG. "The architecture is also to provide resilience measures for minimising the impact on other actors in the alliance in case of an incident, and return the affected network to normal operation in a controlled manner."
Ports in the north of Europe were affected by the cyber-attacks that hit a number of shipping and logistics providers in 2017, including AP Moller Maersk, Deutsche Bahn and Fed-Ex.
Along with BLG Logistics, the current project alliance involves Duisburger Hafen, Hapag Lloyd, and research institutes DFKI, The Institute of Shipping Economics and Logistics, and Bremen University. The project is being coordinated by dbh Logistics IT and also involves IT security services provider, datenschutz cert.
BLG Logistics has also founded a new department called Innovation and Digitalisation to develop new internal processes and cooperate on projects with shipping lines and OEMs. Projects looking at innovative port technology are in part funded by the German government. One of the projects underway is the development of a new steering tool for the Autoterminal in Bremerhaven, according to the company.
Connection at Cuxport
At the German inland port of Cuxhaven (at which BLG Logistics also has a terminal) Rhenus Logistics has been making its own improvements.
In September 2018, the company inaugurated a new berth, which includes an extra 290 metres of quay wall and 8.5 hectares of storage space. That extra space is used for storing vehicles for shipment to the UK and Scandinavia (as well as storing offshore wind farm components transhipped to the Deutsche Bucht wind farm).
Early last year, BMW extended its contract with Rhenus for the processing of finished vehicles destined for export to the UK and Scandinavia. The vehicles are moved to Cuxhaven by rail from Germany and Austria. From there, short-sea European ro-ro operators UECC and DFDS move the vehicles to the UK via the port of Immingham, while K Line European Sea Highway Services (KESS) takes a percentage of the vehicles to Scandinavia on a twice-weekly service.
In addition, a new ro-ro connection was set up in May last year between Cuxhaven and the French port of Saint-Nazaire, which is being used to move trucks to Cuxhaven and high-and-heavy cargo in the other direction, avoiding difficult road routes for that traffic.
"Since Cuxport manages its terminal according to a multipurpose strategy, Berth No. 4 is able to handle heavy lift goods as well as facilitate ro-ro transhipment of trailers and vehicles," says Hans-Peter Zint, MD of Cuxport.
More hectares in Le Havre
Further south in France, Haropa Ports, which runs the port of Le Havre, is looking positively on the increase in vehicle traffic but, like the other ports in Europe, is looking for storage and has been resorting to the use of disused container terminal space. However, as previously reported, Haropa Ports is investing €500m in Le Havre and around €30m of that is being dedicated to the reorganisation and modernisation of the the ro-ro terminal there. Over the next five years, the area dedicated to ro-ro storage and processing will increase by nearly 50 hectares to around 180 hectares.
Le Havre port is also benefitting from some new trade routes that were established in 2018. Italian forwarder Grimaldi is calling there on its Euro-Aegean route bound for Antwerp. In addition, shipping company MSC has started a new ro-ro service from Le Havre to West Africa, directly serving Dakar, Conakry and Abidjan.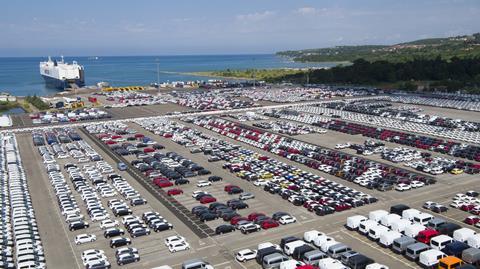 New lines into Koper
The Slovenian port of Koper has also seen a steady growth in volumes (up nearly 2% on 2017 to 754,400 units) and is speeding up the investment and development of infrastructure to increase storage capacity.
Port operator Luka Koper has recently started construction of a multi-storey garage for 6,000 cars, which will add to the existing facility's capacity of 8,000. The company says the decision to add a second garage was driven by a need to make better use of the space available and demand by carmakers for covered parking lots.
Added to that, a totally new car-carrier berth is planned in the Basin 3 area, which will be served by new rail access from the adjacent garages. Construction of the new garage and berth is expected to be completed this year, says Luka Koper.
In April this year, the company is due to have finished installation of a new truck gate, which it says will improve the internal logistics across the port complex.
Luka Koper is also investing in services to support the forecast increase in electric vehicle (EV) shipments.
"The logistics of EVs is bringing new challenges, especially from the infrastructural perspective," says Gregor Belič, car terminal manager at Luka Koper. "We expect that the majority of EVs, while waiting in the port, will require power supply, which is logical if you want to optimise the whole supply chain. That's why we have recently built a new electrical substation to meet the increased consumption. We are already using plug-in stations in the existing garage and the new garage shall be built considering the requirements of EV logistics."
WLTP caused peaks and troughs in 2018
When the Worldwide Harmonised Light Vehicle Test Procedure (WLTP) was introduced in September last year to regulate vehicle emissions in the wake of the diesel emissions scandal, it led to severe distortions in the distribution of vehicles across Europe.
Carmakers were eager to get vehicles out ahead of the deadline, as customers rushed to buy vehicles. That, combined with many suspending the distribution of the vehicles for fear of failing to comply with the regulations, led to chronic congestion as carmakers used port compounds as storage yards.
That problem was followed by a sudden absence of vehicles, as the test procedure caused bottlenecks in the release of vehicles and test facilities themselves became congested to the end of the year. Finished vehicle logistics providers were faced with the impossible task of finding sudden extra capacity, only to find it unwanted a couple of months later.
The situation led to some severe stresses on the distribution of vehicles in Europe, including congestion at a number of ports.
The port of Barcelona registered a negative impact on imports and exports from the regulation and its impact on car sales. Uncertainty longer-term about the intention in Europe of eliminating vehicles powered by internal combustion engines by 2040, combined with forecasts of an economic slowdown, added to the reasons for a decrease in 2018.
At the port of Bremerhaven, in Germany, BLG Logistics noted that WLTP had an impact because OEMs put a lot of cars on hold en route to the customer and were looking for any free space at terminals and compounds at ports as a result.
"As an effect, cars were blocked for exports, which led to slow business in summer and high flows after the OEMs had overcome this period," says BLG Logistics. "There was a strong impact on Bremerhaven and Cuxhaven, but not on Gioia Tauro."
The port of Koper in Slovenia also noticed "a substantial impact", mainly on storage capacity as vehicles lingered for much longer than usual.
The same problem was noted at Zeebrugge, where car stocks built up in the period leading up to September 1 and the WLTP emissions test launch.
As with a number of other European ports, Koper is looking forward to the further development of rail links supporting vehicle flows in and out of the port. The government of Slovenia has recently announced an investment plan for a track between Koper and Divača to the north, something Belič says is of the "highest importance for the future development of the port of Koper".
The investment plan supports one of the biggest publicly funded infrastructure projects to take place in Slovenia over coming years, according to Belič. Construction will run up to 2025, with rail operations planned for the beginning of 2026.
"The new line will significantly boost the capacity of rail transport [to and from] the car terminal, but also [benefit] the whole port, which relies heavily on train transport," says Belič. "In fact, the modal split is 59% for rail and 41% for road."
Switch around in Spain
In Spain, meanwhile, the port of Barcelona has also been benefitting from an increase in the volume of vehicles being delivered or picked up by direct rail links serving the port. Of the 730,000 vehicles moved through the port last year, roughly a third (264,953) were transported to or from the port by rail, an 11% increase on 2017.
"[The] railway market share for vehicle distribution at the port of Barcelona is currently 36.2%, a ratio we feel pretty proud of," said a spokesperson for the port. "The improvement of railway infrastructure at the port has had a positive impact on these results. Specifically, three new tracks on Príncep d'Espanya pier were lengthened to 750 metres last year, which enabled us to attract some continental traffic (46,753 units)."
Those vehicles were made at plants in central Europe and sent by rail to Barcelona, from which they are distributed to the Spanish market. This route offers carmakers based in Spain a northbound route to send their vehicles to Europe by rail.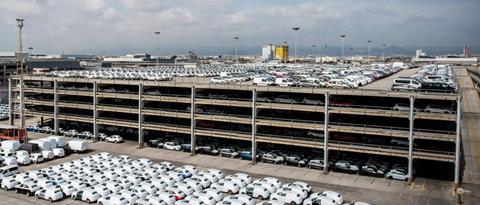 Nevertheless, compared to the previous year's figures, Barcelona was down more than 107,000 units in terms of total vehicles handled, with the majority of that accounted for by a drop in exports (down by more than 100,000). The reasons for this, according to the port, were numerous. There was a sharp decrease in numbers from September because of the previous pull forward on volumes caused by the introduction of the new WLTF emissions testing regulation.
The relocation of some car factories for specific models, including from India to Eastern Europe, also negatively affected vehicle imports, which were down 7,000 units.
Other factors include a decrease in production at Nissan's assembly plant in Barcelona and the fall in sales in Turkey because of the economic downturn. The VW Group plant in Martorell also stopped production of the Q3 but in October it began making the Audi A1 and the port expects volumes to increase again.
This drop in volumes at Barcelona helped Valencia port, which includes adjacent Sagunto and Gandia ports, to become the busiest vehicle handling port in Spain. The port also made its own increase in the number of cars handled by more than 23,000 to 818,000.
Overall, Spain's vehicle handling ports processed around 3.4m units in 2018, according to Spain's National Ports Authority (Puertos del Estado), a 2.5% decrease. Valencia was the only one of Spain's three leading vehicle handling ports to post an uptick in traffic last year. It had a particularly strong December with 14% for the month, equal to more than 67,600 units and the most to be handled at any domestic port.
Avoiding congestion in Piraeus
Following three years of double-digit growth at the Greece's main port of Piraeus, volumes levelled out in 2018 at just over 429,000 units, a decrease of 0.5% on the previous year. Vehicles imported to the domestic market were up again last year, by 17.5% to 116,737 from 99,325 in 2017. That is still lower than the imports handled before the economic crash in 2009, when figures stood at 173,000. However, the majority of traffic through Piraeus is transhipment and that accounted for almost 312,500 (-5.8%). The drop was explained by the decrease in sales in Turkey thanks to the economic problems there and the drop in the value of the lira. [mpu_ad]
According to Piraeus Port Authority (PPA), the port has not suffered the congestion that its neighbouring ports have been dealing with, a problem affecting the whole supply chain in the eastern Mediterranean feeding vehicle flows to the west and north of Europe.
That congestion has affected the whole network of transhipment, which has increased peaks in weekly volumes. Moreover, in several cases, the congestion has been result of the progress of investment plans at rival ports, with construction of new facilities reducing the available space on a temporary basis.In the mid-term, PPA is planning to invest in increasing storage capacity. That includes the construction of two five-storey garages including a special area for high-and-heavy machinery. The PPA is also applying for an economic free zone and implementing new digital administration systems to manage processing of vehicles. The PPA forecasts that domestic cargo will continue to rise this year, albeit at a reduced rate, while transhipment cargo will marginally improve.
More specifically, in its annual report the PPA says it expects a rise of 5% this year as a result of increased sales to the EU, US and China. EU exports to Asia are all up substantially: those to China rose 7.1% last year, while those to Japan rose 5.6% and those to South Korea were up 37.8%. However, that was accompanied by an 8.7% reduction in exports to the USA.
Moreover, PPA says the worldwide economic environment is volatile because of trade wars between the US and China, and the probability of pending trade issues between the US and EU, with an emphasis on the export of vehicles.
Brexit: preparing for the worst but hoping for the best
While vehicle import and export trade through the UK remained strong in 2018, the ports handling that trade were working under the gathering clouds of Brexit uncertainty.
Figures from the Society of Motor Manufacturers and Traders (SMMT) show that the UK exported over 1.2m new passenger vehicles last year, 81.5% of what the country's car plants made and the third highest volume on record. At the same time, the UK imported more than 2m vehicles, or 86% of the 2.37m vehicles sold there last year, with the majority coming from Europe.
However, there is concern that additional customs requirements could push up costs and compromise efficient processing, leading to greater complexity in the movement of vehicles in and out of ports.
The UK's ro-ro ports handle the majority of the nation's trade with the EU and have been working on resilience planning to mitigate possible cross-border disruption. However, as Finished Vehicle Logistics went to print, there was still no clear sign that the UK would leave with a deal and the British Ports Association (BPA) said there were concerns about the level of preparedness for a no-deal exit in the wider logistics sector, though it said the government had been working productively with the ports sector on dealing with potential disruption.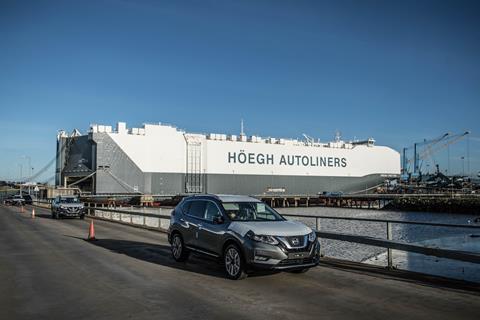 Uncertain relations
One of the UK's biggest port operators, GBA Group, says that Brexit dominated planning discussions with its OEM customers through last year. The operator has seen arrival and delivery profiles distorted by Brexit uncertainty and other regulatory changes, including the introduction of the WLTP vehicle emissions regulation, which has also affected dwell time at its port operations across the country. That has contributed to uncertainty in relation to the accuracy of volume plans together with demand fluctuations generated by "the reactive diversion of market channels", according to the company.
However, GBA has been preparing for whatever Brexit looks like, in part by extending its customs and tax services with Authorised Economic Operator (AEO) status. AEO status is the standard authorisation issued by customs administrations in the EU and certifies that a business has met certain standards in relation to safety and security, as well as systems to manage commercial records. Only a few companies in the UK have AEO status but it makes it easier to establish special agreements with customs.
Cale Judah, managing director at GBA, is positive about the outlook, therefore. "Whilst Brexit will bring many challenges and, of course, opportunities, the efficiency of European port transhipment routings defined by geographical and market proximity will remain – even where the political backdrop differs," he says. "In the long term, trade from non-EU countries may improve as direct trade agreements are negotiated."
GBA works across the major UK vehicle handling ports and has expanded services through 2018 in response to demand at its operations on the Humber and in the south of the UK. That activity includes a new vehicle preparation centre for BMW and the expansion of vehicle handling space for VW Group in the Humber. It also opened a multi-marque pre-delivery inspection (PDI) centre at its Humber operation last year. GBA has also redeveloped and expanded operations at the port of Sheerness for VW Group.
Last year, the GBA Group handled a total of 1,100,710 vehicles through its port facilities, a drop of around 4,500 on the previous year, thanks in part to the fall in demand for diesel cars across Europe. Nevertheless, it handled 1.85m vehicles across all of its facilities, including inland, and in 2019 it will handle its 25 millionth vehicle since records began.
GBA's innovation arm – GBA Technologies – has also been investing in new technology to improve processing through its terminals. These include GBA DaaS, a tool designed to support Suzuki's E2E Tracking and Forecast System with live GBA data (E2E refers to the exchange of information or transaction by websites).
In 2018, the division also rolled out two editions of its GBA Vehicle Information Portal. According to Judah, the Retailer edition provides accurate live delivery forecast information and VIN-level visibility for VW, Audi, Seat, Skoda and VW Commercial Vehicle dealerships. Meanwhile, the Logistics Expert version provides real-time status on an OEM's E2E logistics chain and infrastructure.
The company invested £750,000 ($977,000) in technology last year alone.
Looking ahead into an uncertain year, Judah says GBA expects volumes to plateau mid-term and return to growth thereafter as customer confidence returns. There is also likely to be more market consolidation in the short term that will be of benefit to the OEMs.
"We are anticipating steady and continued volume growth in the next three to five years across the majority of our customers, with a rebalance in the import/export ratios for certain OEMs that have traditionally produced domestic product in the UK," says Judah.
"The demand switch from diesel to hybrid and electric technology will see a tick-up of imports for those OEMs best placed to answer the demand with volume-engineered platforms."
Extreme fluctations at Bristol
Technology has also been contributing to confidence at the port of Bristol. Tony Dent, director of automotive trade at the Bristol Port Company, says the company is confident that its systems and operations will continue to operate smoothly and efficiently after Brexit.
"We expect that any additional administrative burden will be kept to a minimum and further mitigated with the use of technology," says Dent. "Bristol Port's overall trade, including non-car-related, currently comprises 65% non-EU and Bristol is predominantly an importing facility. We expect activity levels to increase in the years ahead – whatever the final Brexit outcome."
Bristol Port Company has also secured AEO status, which Dent says demonstrates a secure supply chain and compliant customs controls and procedures.
"This has enabled us to obtain a zero-rated Customs Comprehensive Guarantee along with an extension to our temporary storage areas," he adds.
In terms of physical infrastructure, Dent says Bristol has recently developed a new area to offer additional car storage at Royal Portbury Dock, which provides space for an additional 3,500 vehicles. Further surfacing is about to start on another site with 1,800-unit capacity.
Volume fluctuations through Bristol have been "quite extreme" over the last year, confirms Dent. The decline in diesel vehicles and reduced markets in the UK have adversely affected imports, though exports have remained relatively strong over 2018. Dent says there was no congestion as a consequence of the WLTP regulation.
Looking for clarity on the Tyne
Joining a chorus of voices in the automotive and maritime sectors, the port of Tyne, in the UK's north-east, is troubled by the continued uncertainty over Brexit and says it would welcome clarity from the government on future trading arrangements, free ports, tariffs and free zone corridors.
"The port continues to lobby for an even playing field in relation to Brexit funding for ports and in supporting the creation of free ports and free trade zone corridors," says a spokesperson.
Tyne is in the final stages of securing its AEO status and says it will continue to strengthen its relationship with Nissan, supporting the carmaker's future growth, though Nissan has cancelled plans for X-Trail production at the Sunderland assembly plant.
Nevertheless, Tyne port handled 526,000 vehicles last year for Nissan and VW Group, including 372,000 exports. It is looking to invest in extending its handling capacity and is the closest port to the International Advanced Manufacturing Park (IAMP), a £91.9m project planned for land to the north of the Nissan factory in Washington.
"It will be an international location for advanced manufacturing and European-scale supply chain industries and will maximise links with Nissan and other high-value automotive industries," says the port's spokesperson.
The port is also a member of the North East Automotive Alliance (NEAA) an industry-led cluster group established to support the economic sustainable growth and competitiveness of the sector in the north-east of England.
The NEAA is the largest automotive cluster in the UK and one of the fastest-growing clusters across Europe, according to Tyne's spokesperson.
Tyne has also developed more storage space during 2018 with an additional site set up to provide vehicle storage for the Lookers car dealership group.
In addition, Tyne is providing container freight and warehouse storage for inbound parts for Nissan Motor Manufacturing and Komatsu Europe, based in Gateshead.
Looking ahead, Forth Ports has received consent from the government to expand at the port of Tilbury, near London. It will build on a 61.5-hectare site to be called Tilbury2, next to the existing 376-hectare port at Thurrock, to the north-east of Greater London.
The £200m investment in the brownfield site will include new rail and road connections, storage areas for vehicle imports and exports, a deep-water jetty, a floating pontoon, and a ro-ro terminal for containers and trailers going to northern Europe.
ABP ports, another of the UK's leading port groups, did not provide any comment for this year's ports survey.
Looking into Brexit from Europe
Whatever deal is struck between the UK and the EU (if one ever is), the consequences are not just going to affect UK port operators and a number of major ports trading vehicles with the UK have expressed their concerns and talked about plans for the future. Some have also suggested that they could benefit.
Europe's biggest vehicle handling port, Zeebrugge, says it is preparing for the worst but hoping for the best. With that in mind, it has recruited more customs personnel and developed a new PCS (port community system) platform.
"Regular meetings were organised with border control services and the private sector. The awareness of all stakeholders was created so that all parties in the logistics chain are prepared for a hard Brexit," says the port spokesperson.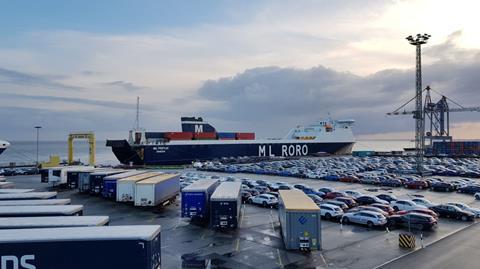 The port says a contingency plan will guarantee a smooth change in the port of Zeebrugge and a continuous flow of the trucks and trains that are moving in and out of it with new cars.
However, it also highlights uncertain factors affecting trade between UK and the EU. These include the exchange rate between them, which has an influence on the buying power of UK citizens and also investments or disinvestments, like Honda's decision to close its plant in Swindon after the current model year of the Civic and Nissan's decision to cancel X-Trail production in Sunderland – measures that will change trade patterns.
At Cuxhaven, Rhenus Logistics says that together with its customers, shipping companies and partners, as well as customs authorities, it is preparing for Brexit by extending storage areas at the port. In addition, Cuxport's IT system has been updated and augmented to facilitate electronic data interchange (EDI) with customs and employees trained accordingly. That said, Rhenus does not expect there to be a severe impact on its business because most of the trade to the UK from Cuxhaven consists of unaccompanied trucks.
Chaos without a deal
The port of Antwerp says it does not anticipate being heavily affected by Brexit in terms of finished vehicle trade with the UK because that is not a big part of its overall maritime traffic. However, the port authority also says that overall, the UK is the second-largest maritime partner country for it and circumstances do not suggest a positive outlook for the port or for the companies based there. In fact, it says that any small or medium sized company in Europe is going to be affected.
The port says that in the event of a hard Brexit without any deal on the table, there will be no period of transition – and therefore some chaos.
"We welcome a postponement of the Brexit date, in order for the customs authorities and the Federal Agency for Food Safety to have more time to increase capacity," says Antwerp's spokesperson.
However, the port is not relying on wishful thinking and has appointed a representative in the UK to report back on all Brexit-related matters.
"We do feel that companies are interested to relocate their European distribution facilities from the UK to the European continent and to the Flanders region in particular," says the port spokesperson. "Furthermore, we expect more direct cargo flows between Ireland and the port of Antwerp."
Adampol builds on throughput in Gdansk
Polish finished vehicle logistics provider Adampol handles the vast majority of vehicle shipments moving in and out of the port of Gdansk, located on the northern Baltic coast of Poland. The port has been increasing the volume of vehicles it handles over the last five years and in 2018 Adampol took care of around 80,000 vehicles through its terminal (out of a total of 82,000 moved through the port), with imports roughly equal to exports.
The transport and logistics provider uses a fleet of more than 600 car-carrying trucks to move vehicles in and out of the port, as well as relying on subcontracted trucks at times of peak volume. The company manages 1,000 trucks on a daily basis across its operations. Gdansk is also supported by rail links.
Adampol's main customers at the Gdansk Terminal are Hyundai (Adampol was bought by Hyundai Glovis in 2015) and Nissan. It also handles volumes for Kia, Mitsubishi and Mercedes-Benz, Suzuki, Volvo Cars and VW Group.
Lukasz Szutenberg, business development manager at Adampol SA, tells Finished Vehicle Logistics about the activity at Gdansk port…
What significant changes in throughput and demand for services has Adampol noted in Gdansk over the last year? And how have you reacted to those changes?
We have observed an increase in the number of vessels, trains and trucks which arrive at the port of Gdansk. As such, we have to make sure that we meet this increasing demand for operations. Having a lot of contract staff, a great operations management team and experience means we can support all the necessary movements.
One of the examples is heavy cargo operations. We handled excavators, cranes and general equipment equal to approximately 1,000 tonnes in export and import volume.
From where does the bulk of vehicles come into your Gdansk Terminal, in terms of Europe and further afield?
Most of the vehicles arrive from central and eastern Europe and the UK. We also receive the Asian production of Hyundai, Kia and Mitsubishi and Nissan, and cars are shipped out to Australia and New Zealand.
Do you have sufficient storage capacity there, given the rise in volumes handled at the port, or are there plans to expand? If so, when and by how much?
We currently have more than enough space on the compound. The Port of Gdansk Authority supports the rise in the volume and provides us with space when necessary.
The cars are rotated with high frequency, so capacity is not an issue for us. Besides that, together with the Port of Gdansk Authority, we are involved in a multi-storey garage project in the duty-free zone with 2,000 dedicated parking spaces.
How much have you invested in that terminal specifically over the last five years and in which areas?
There have been huge investments made in improving the available compounds. We have also opened a dedicated PDI facility for one of our OEMs, where we perform repairs, washing, and application of stickers, and install satellite navigation.
How many people are employed at the Gdansk Terminal? Can you provide the split between permanent staff and contract workers?
There are 51 permanent staff working at our Gdansk branch and approximately 150 contract workers responsible for operations such us loading and discharging vessels, trains, and other compound movements.
What impact did last year's introduction of the WLTP emissions regulation in Europe have on your compound and services, both at Gdansk Terminal and at your other locations?
By using the newest Euro 6 trucks we have reduced fuel consumption significantly. Our ongoing eco-driving project is also worth noting. We train our drivers and monitor them online to utilise our fleet more efficiently. Reducing empty mileage and loading our trucks efficiently are two other points that are important for decarbonisation.
We have run the CNG-driven truck project. Unfortunately, the results were not satisfactory because this technology is still in its infancy. The development of LNG, CNG and electric heavy trucks will help us move towards further decarbonisation.
We would like politicians to harmonise the European regulation concerning the allowable loaded length for a vehicle transporter to at least 20.75 metres. It will improve the truck's loading efficiency by 13%.
What measures is Adampol putting in place to deal with the rise in production, sales and movement of electric vehicles (EVs)?
We have one of the bestselling EVs in Europe on our compound, so we have experience and infrastructure that allows us to deal with them. We are prepared, should the number of EVs on our compound rise. We plan to invest in electric charging stations in the near future and this is linked to EV market growth.
How has the uncertainty of Europe's future trading relationship with the UK affected Adampol's business and how do you think it will affect business when the UK withdraws from the EU?
Whatever the decision is, we will have to face it. We are ready to support all of our clients in regard to transportation, handling and customs clearance related to Brexit. We know that Brexit could cause some congestion in western ports and we are prepared to accept new volumes and support new OEMs here in Gdansk.