Japan and the UK have secured a free trade agreement estimated to increase trade between the two countries by £15.2 billion ($19.25 billion). The UK-Japan Comprehensive Economic Partnership Agreement was agreed in principle by International Trade Secretary Liz Truss and Japan's Foreign Minister, Toshimitsu Motegi on September 11.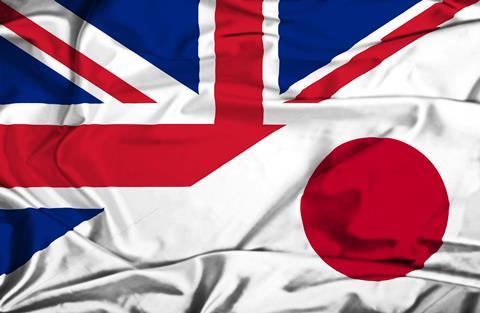 "The deal is tailored to the UK economy and secures additional benefits beyond the EU-Japan trade deal, giving UK companies exporting to Japan a competitive advantage in a number of areas. It will help to create jobs and drive economic growth throughout the whole of the UK," said the UK government's Department for International Trade (DIT) in a statement.
One of those areas is automotive. According to the Society for Motor Manufacturers and Traders (SMMT), more than 143,000 vehicles registered in the UK last year were imported from Japan, worth almost £1.5 billion. In the other direction, 33,500 UK-built cars were exported to Japan in 2019, worth more than £1 billion.
The SMMT also reported that the trading relationship in parts and components is significant, with Japan enjoying a substantial trade surplus in bilateral exchanges of engines, parts and components.
"While the UK imports £458m worth of parts, accessories and components and £120m worth of engines, exports of UK automotive parts, accessories and components to Japan represent £65m and exports of engines are valued at £16m" said the SMMT in a statement.
It hopes the agreement with Japan will seek to progressively remove duties on all automotive products and avoid WTO tariffs. In terms of regulatory barriers, the automotive industry in the UK is looking to maintain key elements of the existing automotive annex in the EU Japan EPA and upgrade it where appropriate.
According to the DIT, UK businesses will benefit from tariff-free trade on 99% of exports to Japan and government analysis shows that a deal with Japan would deliver a £1.5 billion boost to the UK economy and increase UK workers' wages by £800m in the long run.
The UK government said the deal would support UK car and rail manufacturing – supporting major investors in the UK like Nissan and Hitachi through reduced tariffs on parts coming from Japan, streamlined regulatory procedures and greater legal certainty for their operations.
The deal is also an important step towards joining the Comprehensive and Progressive Agreement for Trans-Pacific Partnership (CPTPP), according to DIT, and will give UK businesses a gateway to the Asia-Pacific region and help to increase the resilience and diversity of its supply chains.