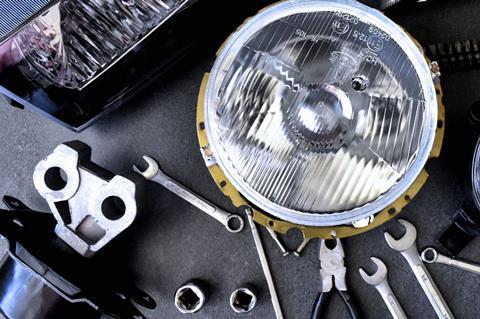 The country has begun to enforce a ban on the import of used vehicle spares, in a move that threatens the livelihoods of tens of thousands of unofficial dealers. Like a growing number of African states, Kenya wants to curtail the existing chaos in the trade of used cars and spares that flow into the continent, making it difficult to grow domestic automotive manufacturing or keep control over quality.
Now, the Kenya Bureau of Standards (KEBS) is bearing down on imported used spares. "The used motor vehicle spare parts are not to be imported. This is outlined in the standard and implementation policy that began in March 2018," stated Phoebe Gituku, spokesperson for the organisation, adding: "KEBS has only restricted used spare parts, not new ones."
It is common for used spares to be imported from Japan, Europe and the UAE, including tyres, tie rod ends, bearings, spark plugs and clutch plates. Among other used products now prohibited are: brake pads, tubes, brake hose pipes, rubber bushes, filters, pressure plates, rack ends, ball joints, and brake and clutch cables.
Kenya is also cracking down on used vehicles themselves, and from July this year will lower the age limit for secondhand car imports from eight to five years old.
Although the unofficial dealers are now concerned about their businesses, others support the crackdown on used vehicles and parts.
"The secondhand products market in Africa has destroyed the existing local producers and discouraged innovation," Gibson Mwakisha, a Nairobi-based industrial designer told Automotive Logistics. "What we need is collective government involvement: enforcing the law, while working on long-term solutions such as local manufacturing."
According to KEBS data, Kenyans spent the equivalent of $98.9m last year on imported vehicle spares, most of which were secondhand.
Chaotic consequences
A previous ban on imported used spares was applied in 2009, but quickly reversed after widespread protests from the motoring public as well as traders. Then, as with the current policy, the ban had been imposed with little warning or consultation.
A ban on imports will be a blow to motorists and traders alike. Currently, tens of thousands of people sell spares, mostly from informal stalls in the industrial areas of cities such as Nairobi. Containers of used parts are normally offloaded daily at the docks, but now traders are reporting that these are mounting up in Mombasa, the country's main port.
Meanwhile, local motorists have come to rely on secondhand spare parts, which they believe are cheaper and better quality than new knock-off spares from China, Taiwan, Indonesia and India.
Some also question whether the ban will indeed unlock local manufacturing.
"This will do exactly the opposite," Chege Ndegwa, a Kenyan engineer told Automotive Logistics. "Vehicles will be stolen for spares, since most can't afford new parts. Demand and short supply will play out and the result will be absolute chaos."