In the wake of a mass exodus of Western carmakers from Russia following the invasion of Ukraine, the country plans to revive the production of two Soviet car brands, the Volga and Pobeda, according to Russian Industry and Trade Minister, Denis Manturov.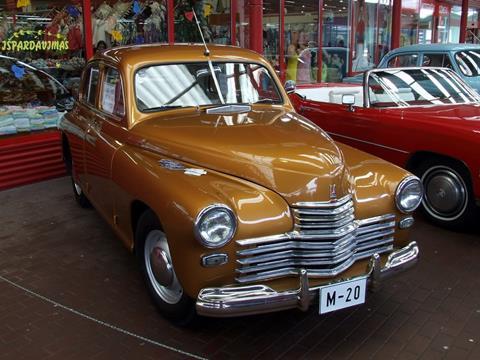 This follows the news that production of the Moskvitch brand is planned for the recently nationalised Renault plant in Moscow.
The Pobeda was orginally assembled in Nizhny Novgorod between 1946 and 1958 by the Soviet carmaker Gorky, which after the Soviet Union collapsed was transformed into Gaz Group. Pobeda's successor, the Volga, was produced up until 2010.
Until recently, the Nizhny Novgorod plant was engaged in contract assembly of Volkswagen and Skoda cars. However, Volkswagen Group announced in March of 2022 that production at the Nizhny Novgorod plant and another in Kaluga would be suspended until further notice because of Western sanctions against Russia.
Hopes for China
However, Russia is facing some problems in relaunching Moskvitch production at the Renault plant. Moscow mayor Sergey Sobyanin said that it was impossible to do from scratch, "without help from foreign partners", citing the lack of components as the main impediment.
Russian Gazette, published by the government, said in May that a number of Chinese carmakers, including JAC Motors, FAW and BYD, had expressed interest in supporting Moskvitch production at the Renault plant. However, Chinese businesses have drastically cut their presence on the Russian market in the past few months. For instance, the value of Chinese finished vehicle exports to Russia dropped from $190.7m in March to $84.6m in April, and $32m in May. Component supplies to Russia also slumped from $117.1m in March to $76.3m in April, and $81.3m in May, the official statistical data indicated.
Vladimir Bespalov, analyst of the Moscow-based consultancy VTB-Capital, said that Chinese exports to Russia were hampered by various factors, including logistics challenges, the zero-Covid policy in China, which led to lockdowns in Shanghai over recent months, and the slump in vehicle sales in Russia.
For the moment, Chinese carmakers are not making any firm commitments to the Russian market, said Bespalov, though he added that, in the long run, Russia could be still of interest to Chinese companies.
No parallel imports
Not a single automotive component or finished vehicle has been imported to Russia through parallel import channels, according to Anton Shaparin, vice president of the Russian national automotive union. To make that happen, Russian authorities need to amend a batch of technical regulations first.
However, Russian companies have raised concerns that parallel imports would not meet the domestic demand for spare parts, opening the risk that counterfeit parts could flood market.
"Risk of getting counterfeits through parallel imports increases [compared to official supplies]," said Artem Kakhimov, CEO of Future Motors. "First of all, there is no certainty from where the importer purchases these products. Importers would not provide documents confirming the quality and that the goods were purchased from an OEM, so it is unrealistic to be able track down its [origin]."