As vehicle shipments increase on overland routes between Europe and China, Russian companies such as state-owned RZD are aiming to capitalise on the new business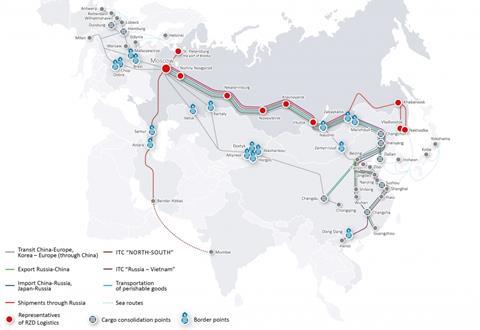 New contracts for finished vehicle delivery on the railroads between Europe and Asia show that China's Belt and Road Initiative has become a full-fledged competitor to the sea-shipping sector. The project has been up and running for only a few years, but it is seeing increasing volumes of deliveries and holds particular promise for carmakers with production capacities at both ends of Eurasia. Russian organisations such as the state-owned Russian Railways (RZD) are keen to take a slice of this growing business.
Speaking at a press conference in St. Petersburg in 2014, Vladimir Yakunin, former president of RZD, said that his company had been chasing a substantial increase in trans-Eurasian logistics, meaning the inland connection between Europe and Asia.
Yakunin said that major work was expected to be done to increase the railroad network on Russian territory, including by expanding the Trans-Siberian Railway and the Baikal-Amur Mainline to raise total capacity from around 100m tonnes of cargo per year to 500m or 600m tonnes per year in future. Some of this growth was expected to come from automotive products, and indeed RZD had already been running some trial shipments of vehicles from Germany to China, Yakunin added.
"In the coming years even renowned European brands will have to import some models from China, especially EVs" – Svyatoslav Kuchko, IHS Automotive
Since the time of the press conference, RZD has indeed been investing in new railroads and other infrastructure in this part of Russia. In fact, a comprehensive programme of development was adopted by the government in 2018 with an investment of 9 trillion roubles [$138.6 billion], and ambitions to support a fourfold increase in container transit volumes by 2024 plus a decrease of in delivery time to seven days on shipments from the Far East to the Western borders of Russia.
The planned development of trans-Eurasian logistics was one of the reasons why RZD had originally purchased French logistics provider Gefco, said Luc Nadal, Gefco's chairman, at the same conference.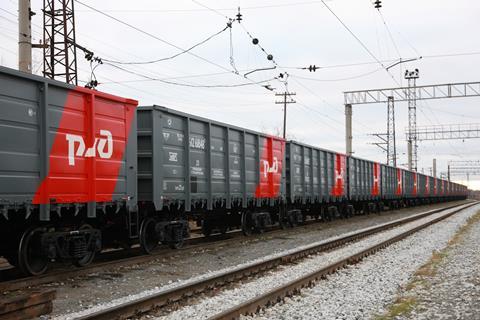 In November 2018, RZD made a big announcement disclosing details of new contracts in the area of trans-Eurasian finished vehicle logistics. Alexei Shilo, RZD commercial director, said that RZD had delivered the first batch of Mercedes-Benz vehicles from Bremerhaven, in Germany, to Chongqing in China. Transporting vehicles between the two countries by this route takes only 15 days as compared with 60 days by sea, Shilo estimated.
There were 112 vehicles in the inaugural shipment and Shilo said the German carmaker planned to contract RZD to deliver 20,000 finished vehicles in 2019 – a number which cannot yet be confirmed. He pointed out that another big carmaker interested in the overland route is Volvo, which started shipping vehicles from China to Europe by rail in June 2017. Porsche, meanwhile, confirmed in April this year that it had begun containerised shipments from Germany to China in order to supplement its ocean route.
According to Lyudmila Semyonova, deputy chairman of the logistics committee of Russia's Industrial and Commercial Chamber, the increase in the finished vehicle flow on rail is primarily due to logistics subsidies in the rail sector allocated by the Chinese government,. This has prompted some logistics companies to consider new projects in this area, she added.
Gaining momentum
The substantial efforts put into developing trans-Eurasian finished vehicle logistics are now starting to bear fruits, according to Olga Stepanova, sales director of RZD Logistics.
"RZD launched that project of delivering finished vehicles in rail car transporters in 2018 and [since then] volumes have been growing," she says. Stepanova notes that this was not the first project for the automotive industry; some finished vehicle shipments using containers have been occurring since around 2014.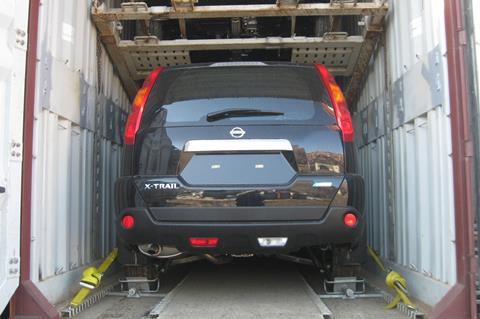 "Since the launch of the One Belt, One Road project by Chinese President Xi Jinping [at the end of 2013] we have seen an increasing cargo flow on the route. First off, it is a reduction in the delivery time that is of interest both for the cargo shippers and the cargo receivers, and it is primarily important for expensive goods with high added value, so finished vehicles and automotive components are considered to be a big piece of that pie," explains Stepanova.
RZD sees heightened demand for finished vehicle delivery on trans-Eurasian routes, both in railcar transporters and in containers.
"In 2018, together with our daughter company, Far East Land Bridge, we had more than 9,000 cars delivered in containers by rail from Europe to China and in the reverse direction. In addition, almost 5,000 40-foot (12-metre) containers with automotive spare parts were delivered by rail as well."
As for 2019, Stepanova says the operation is running "at least 30 trains per month" with automotive parts and vehicles between China and Europe. "In addition, there is at least one train per week on the route between China and Russia. If we compare the volumes in 2018 and in 2019, we recorded a twofold increase in flows. The growth is coming from the goods that previously were supplied by sea," Stepanova states.
"One important aspect is that the trains are loaded in both directions. From Europe to China these are primarily luxury cars, while from China to Europe these are cars of the mass market segment," she adds.
"Before the One Belt, One Road project was launched, sea delivery was cheaper by a factor of three or four times… now the costs of finished vehicle delivery using the railroad network come very close to those of sea delivery" – Olga Stepanova, RZD
Stepanova points out that most car manufacturers, including Mercedes and Volvo, are interested in reducing delivery time, but in addition there has been a shift in the price competitiveness of the trans-Eurasian railway deliveries, partly due to the Chinese logistics subsidies.
"Before the One Belt, One Road project was launched, sea delivery was cheaper by a factor of three or four times. When the project was launched, the gap shrank by nearly half, and thanks to the subsequent work that has been done, now in numerous ways the costs of finished vehicle delivery using the railroad network come very close to those of sea delivery," Stepanova explains.
When it comes to such an expensive product as a car, there are multiple factors affecting the logistics costs, and storage time is among them, Stepanova points out. In addition, when carmakers are able to sell their products faster, they generate extra revenue by reducing capital turnover time.
Flow from China set to grow
In the near future, a strong increase in the supply of vehicles from Europe to China and especially vice versa is inevitable, according to Svyatoslav Kuchko, IHS Automotive's Russian market analyst for automotive forecasting.
"China will reinforce its position as the world's largest car market. Even if most vehicles sold there are locally built, in absolute figures the number of vehicles imported to China from Europe is still impressive. In 2018 it amounted to 560,000 units," says Kuchko. IHS Markit expects light vehicles exports from Europe to China to increase by a further 30% in 15 years to reach 720,000 in 2033.
"The growth of Chinese vehicle exports to Europe could turn out even more impressive. In 2010 a negligible 3,600 vehicles were supplied to EU countries from China. In 2018 there were already 22,000. According to our assumptions, by 2033 this figure could increase more than 15-fold, exceeding 340,000 units a year," he states.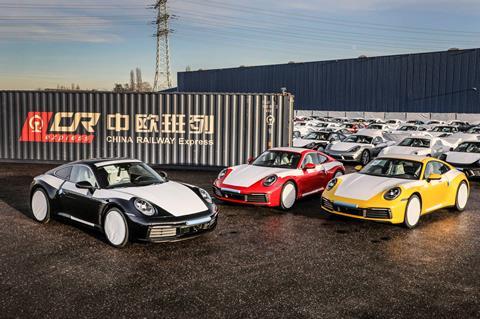 Kuchko says this is not only because Chinese brands might finally gain ground in the EU market but because the industry is seeing the global redistribution of production, as OEMs come under increasing pressure to electrify their line-ups.
"China has already become the number one EV market and is also turning into the global assembly hub for electric vehicles. Therefore, in the coming years even renowned European brands will have to import some models from China, especially EVs – among them future generations of Smart and some EV models by Mercedes, Renault and Volkswagen," Kuchko adds.
All in all, within the next 15 years the "turnover" of vehicles between China and the EU is likely to exceed 1m units per year, according to Kuchko. As a partner of the One Road, One Belt project, RZD could clearly benefit by offering a mode of transportation which is time-saving and cost-efficient compared with maritime shipments.
Work on expanding the traffic flow on this route is ongoing. During the 19th Shanghai Cooperation Organisation (SCO) summit in Bishkek, representatives of Kyrgyzstan called upon Mongolia to expand the railroad network in the country in order to secure an increase in cargo traffic on the route known as the China-Mongolia-Russia Economic Corridor, which is one of the main directions used for transit goods delivery in the region.
Mongolian President Battulga Khaltmaa said that transit flow through the country jumped by a factor of six between 2016 and 2018 and is poised for further growth in the coming years. During this conference, Russia, China and Mongolia agreed to accelerate the construction of a network of cross-border highways and facilitate customs clearance.
Q&A with Olga Stepanova, sales director of RZD Logistics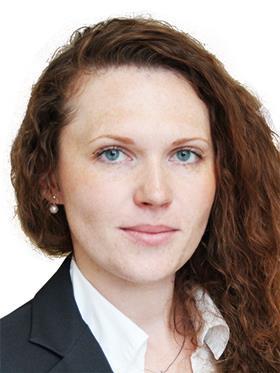 What would be the impact on trans-Eurasian finished vehicle logistics if China decided to withdraw logistics subsidies?
My opinion is that the cargo flows that are already accustomed to railroad delivery will remain on these routes, but this, of course, will be the cargoes with high added value, including finished vehicles. This may be due to a kind of inertness in the industry, as transport companies that were shipping finished vehicles by sea for quite a long period of time were used to extended delivery times, while now they are used to a delivery time limited to two weeks. So it is very likely that the majority of carmakers would opt to sacrifice logistics costs instead of returning to long delivery periods that sometimes can be unpredictable.
What steps to improve Russian railway infrastructure have been taken in the past few years?
RZD has embarked on a comprehensive programme of development [launched by the Russian government in 2018 with an investment of 9 trillion roubles]. A lot of things have been done, not only in the area of finished vehicle transit, but in the area of transit as a whole. As of today, our railway infrastructure already enables us to run the transit trains without any delays. Some work needs to be done on the border, but this is a matter of paperwork, not infrastructure.
Are there any issues associated with vehicle delivery by rail over such long distances?
In view of these changes, some Chinese and European companies invested in new lashing material for finished vehicles. If in the past there was a lashing material that did not guarantee safekeeping of a finished vehicle inside the container, today we have ledges in the container and with the new lashing materials we are able to deliver the finished vehicles to their final destination safe and sound. We believe it is safer to transport finished vehicles in containers than when covered with some kind of a mesh. We have had no situations where finished vehicles were dinged. Basically, we can say that it is absolutely safe to transport finished vehicles by rail.
Which transport corridors are common on trans-Eurasian logistics?
There are three corridors for finished vehicle shipments: through Mongolia, through Kazakhstan and through the Zabaikalsk-Manchuria border crossing [Russian-Chinese border in the Far East]. Which route is chosen depends on the starting point and final destination, because China is a big country and there are different production complexes. We could give advice, but as a rule the client has his own preferences in terms of the specific route. As for the European side, a couple of years ago I would say there were certain limitations on the border in terms of infrastructure. There are still some bottlenecks on the border with Belarus and Poland, but these issues are fully manageable and the Belarus side has put a lot of effort into expanding infrastructure, and similar work is underway in Poland.
Do you believe the downturn in the Russian vehicle logistics market impacted the project?
Historically, in Russia most finished vehicles have been transported in automotive carriers. I would not say that there is some competition for the fleet between the domestic and transit supplies, because automotive carriers are extremely rarely used in finished vehicle supplies from China to Russia. If by rail, almost all supplies are coming in containers. If by sea, it's always ro-ro carriers. The Chinese carmakers have set a target of expanding their share on the Russian market, and the import supplies of finished vehicle are steadily growing, even though some of these companies launch their localised production capacities in Russia.