In a step closer to a working United States-Mexico-Canada Agreement (USMCA), the US Senate has approved the trade deal with an 89-10 vote. The deal replaces the 25-year old North American Free Trade Agreement (Nafta).
The deal was finalised by the three North American neighbours in December following revisions to the deal that included tighter labour standards and strengthened environmental protections, which US Democrats had requested before endorsing the deal, though environmental groups have criticised the deal for not addressing climate change. The USMCA was passed by the US House of Representatives on December 19. The deal now requires the signature of president Trump.
Mexico ratified the deal back in June last year but Canada still needs to do so and deputy prime minister Chrystia Freeland is expected to introduce the legislation to Canada's House of Commons in the next few weeks. Canada's parliament does not return to session until January 27.
Despite that delay, the passage of the agreement through the US Senate further eases two years of uncertainty for North American supply chains and heralds a more secure trading environment, with benefits for the continued movement of automotive parts and vehicles in the region.
"This historic agreement not only modernises and rebalances our trade relationship with Canada and Mexico, but it promotes economic growth, creates jobs, and provides crucial certainty for farmers, workers and manufacturers," said US Treasury secretary Steven Mnuchin in a statement.

Regional content
The deal is expected to free up further investment in Mexico, but overall is likely to increase the costs of manufacturing there because it calls for a significant increase in the portion of regional content required in automotive products. One of the issues the Trump Administration was keen to renegotiate was local content levels. Under USMCA, that has been raised to 75%, up from 62.5% demanded by Nafta, to ensure tariff free trade.
It also requires that at least 70% of an automaker's steel and aluminium be sourced from North America.
The American Automotive Policy Council (AAPC), which represents the interests of FCA, Ford and GM at a government level, said the deal would provide certainty and enhanced competitiveness among trading partners in North America.
"President Trump and his administration, together with bipartisan leaders in the House and Senate, have created a 21st Century trade agreement that includes vital components to address currency manipulation and the acceptance of vehicles built to US regulatory standards," said governor Matt Blunt, president of the AAPC. "This trade agreement will serve as a model for future trade agreements, and help grow the US economy as a whole, especially the auto sector and its manufacturing supply chain."
In a statement following the agreement finalised in December the Canadian Vehicle Manufacturers' Association (CVMA) applauded the deal and called for Canada to ratify it.
"This is a vital trade agreement for Canada, and its domestic automotive manufacturing industry, as it brings greater certainty regarding North American trade rules," said Mark Nantais, president of the CVMA. "We appreciate the efforts and commitment that has been made by Canada's negotiating team and will continue to follow the progress being made by each party country and encourage Canada to move forward with its own ratification as quickly as possible."
The impact of the USMCA on automotive trade between the North American trading partners will be under discussion at the forthcoming Automotive Logistics Mexico conference to be held in Mexico City between February 25-27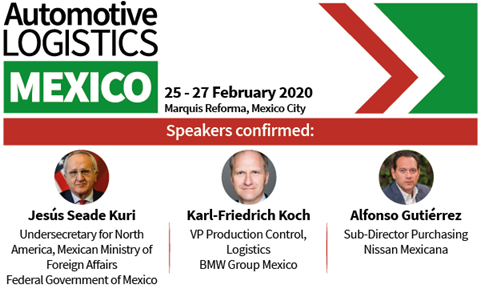 Ready to roll: Investing in a world-class supply chain
Mexico's leading Automotive Logistics and Supply Chain conference is back on 25-27 February 2020 at the Marquis Reforma. Across three days you'll have the opportunity to:
Hear first the latest industry developments around USMCA, digitalisation and more, so you can better prepare for the challenges and opportunities ahead.
Gain practical insights and intelligence from leading industry and logistics experts on areas including improving supply chain visibility, raising standards and electrifying the supply chain.
Connect with peers, partners and suppliers, in one location, to exchange ideas, share experiences and find solutions to common goals.
Book now to secure your place.
Complimentary places are available for vehicle makers and part suppliers.