The US administration is threatening to impose tariffs on imports from Mexico as early as June 10, in a surprise move aimed at curtailing illegal immigration. President Donald Trump said on Twitter that the US would start with a 5% tariff on all goods, including vehicles and parts, and would escalate the levies monthly up to 25% by October this year. Trump asserted on the social media platform that, if the tariffs rose, companies would leave Mexico and return to the US.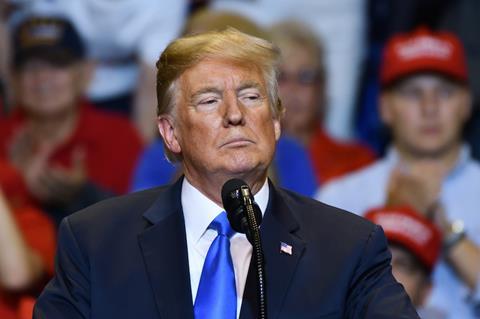 In a carefully worded response to Trump, Mexico's president Andrés Manuel López Obrador said: "Social problems cannot be resolved with taxes or coercive measures."
Given the tight margins on automotive production in Mexico, analysts have speculated that the tariffs would be passed on to the US consumer. The imposition of tariffs could also destabilise the newly formed trade deal in North America, the United States-Mexico-Canada Agreement, known as USMCA, which replaced the decades-old North American Free Trade Agreement (Nafta).
Following Trump's statement, the Dow Jones Industrial Average was down as much as 312 points on Friday (May 31). Shares in GM and FCA dropped more than 5% and Nissan also took a hit, with shares dropping around 5%. Nearly half of the Japanese carmaker's production in North America is in Mexico.
"On June 10th, the United States will impose a 5% Tariff on all goods coming into our Country from Mexico, until such time as illegal migrants coming through Mexico, and into our Country, STOP. The Tariff will gradually increase until the Illegal Immigration problem is remedied" – Donald Trump on Twitter

Last year the US imported 2.6m passenger vehicles made in Mexico, worth $52.6 billion, data from the US International Trade Administration show, and $28 billion worth of parts, according to the Observatory of Economic Complexity. Finished vehicles and parts are the top two exports from Mexico and the US is the leading export destination for goods made in Mexico.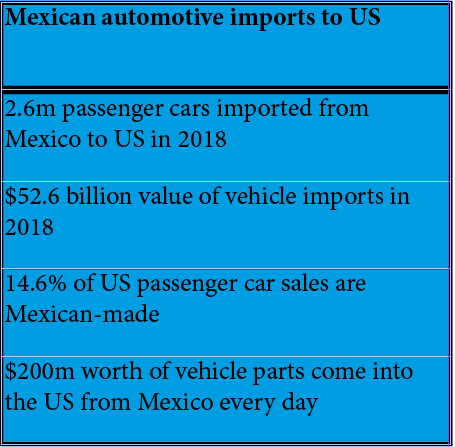 According to industry analyst IHS Markit, Mexican vehicle imports added up to about 14.6% of US sales, with the Ford, FCA and GM accounting for about 1.4m units (and GM responsible for almost half of that volume).
"In terms of supply risk, almost $200m in core and principal [vehicle] parts come into the US from Mexico a day," said Peter Nagle, senior researcher in automotive economics at IHS Markit. "Adding a tariff to that volume will not only add cost but will add logistical delays, as current low-friction trade is replaced with tariffs, border inspections and more paperwork."
Nagle told Automotive Logistics that, in the short-term, not a lot could be done as the existing supply networks had developed over decades. "[In] the long-term, however, this could weaken North America's competitive edge in vehicle assembly and could cause OEMs and suppliers to reconfigure their networks," he added.
In response to the announcement, the American Automotive Policy Council (AAPC), which represents the interests of FCA US, Ford and GM, stressed the importance of tariff-free trade in North America.
"We are strong supporters of the administration's United States-Mexico-Canada Agreement because it makes significant improvements to the Nafta, but it relies on duty-free access to be successful," said the AAPC's president, Matt Blunt. "The imposition of tariffs against Mexico will undermine its positive impact and would impose significant cost on the US auto industry."