The new free trade agreement between the US, Canada and Mexico (USMCA) will not have full consensus from the automotive industry by July 1, according to Al Zapanta, CEO, US-Mexico Chamber of Commerce. Zapanta made the prediction during last week's Livestream event from Ultima Media – Mexico Automotive Supply Chain in Focus.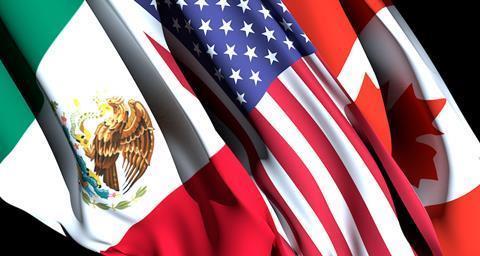 "They're talking about [the whole implementation of the USMCA] on July 1," said Zapanta. "Well, that agreement will not be 100% approved. The automotive sector, which has the labour content [to be met], is not at full agreement and will be moved to next year, but the majority of the rest of the USMCA will move forward on July 1."
The USMCA is using trade rules to drive higher wages by requiring that between 40-45% of automotive content be made by workers earning at least $16 per hour. However, as panellist Mauricio Alcocer, Mexico sales manager, CNW courier network pointed out, while Mexico has agreed to pass these new labour laws to give greater protection to workers, the current assembly wage in the country is only $7.34.
The USMCA also stipulates that vehicles must have 75% of their components manufactured in Mexico, the US or Canada to qualify for zero tariffs up from 62.5% under the North American Free Trade Agreement (Nafta).
Zapanta said the US-Mexico Chamber of Commerce was still working on regulatory and enforcement procedures related to automotive and labour enforcement, but that it would be "worked through" over the next 18 months.
Speaking to Automotive Logistics, David Henry, head of operations for LSP GlobalTranz, Mexico said: "Repairing the frayed supply chains will be an early test for the free-trade agreement. Companies face a tremendous challenge to comply with USMCA mandates in time for the July 1 deadline, while also dealing with supply chain disruptions brought on by the pandemic.
"The automotive sector was already expecting production costs to increase because of new content and wage rules in the trade pact. Now there will be more urgency to mitigate those costs by exploring changes in their supply chain and supplier base."
Coronavirus recovery
As well as grappling with the impact of the USMCA, Mexico's automotive industry is now beginning to exit the coronavirus lockdown, meaning OEMs can begin reconnecting supply chains between the country and the rest of North America, which depends heavily on parts made south of the US border. However, Zapanta was critical of the fact that during nearly two months of inactivity the country's automotive sector was not considered an essential service by its government, as was the case in the US and Canada.
He said that that failure had affected jobs and cross-border trade. It has also had a damaging impact on production. Output in Mexico dropped 98.8% year-on-year to an all-time low of 3,722 units in April 2020, according to analyst firm Trading Economics.
Regarding the future of the country's economy, Zapanta warned it was sliding into recession. As evidence he pointed out that Mexico's state-run oil firm Pemex was now "down at junk bond level" and the Peso was at 24 to one with the US dollar.