North American finished-vehicle processor Amports handled more than 1.5m vehicles across its eight terminal facilities in 2022 and spent the year improving infrastructure and applying new digital technology to make operations more efficient.
One major development has been the addition of a new (ninth) dedicated vehicle terminal at Antioch in San Francisco Bay, which is now operational and complementing services the company is already providing from the adjacent port of Benicia.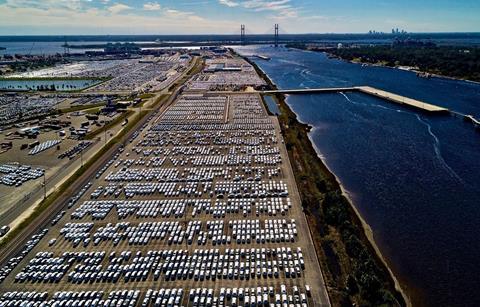 "We have finished developing the pier at Antioch, which is ready now for accepting ro-ro vessels," confirmed Tomasz Lis, vice-president of business development at Amports.
The new Antioch terminal will increase Amports' Bay area footprint by approximately 40.5 hectares (100 acres) and offer OEM customers a direct BNSF rail freight link.
Charging ahead
In terms of upgrades to terminal facilities more widely, Amports has added charging infrastructure for electric vehicles (EVs) on both the east and west coasts of the US to support the growth in EV shipments.
"EVs are here to stay and year-on-year share growth is astounding, and expected to continue at a fast pace," said Lis. "We see both legacy automakers adding EV models and new entrants entering. In both cases, the success or failure of the market will depend on a local partner."
Amports has also added capacity for heat treatment of cars for Australia and New Zealand markets. Vehicles bound for Australia and New Zealand have to be heat treated to remove the threat of importing the brown marmorated stink bug.
"We are committed to always looking for improvements in the way we operate.," said Lis. "It refers to the way we handle cars, streamline processes, reduce unnecessary moves and reduce energy requirements by upgrading facilities to always become better."
Amports has finished vehicle terminal operations at the US ports of Baltimore (MD), Jacksonville, Port Everglades (Florida), Freeport (TX), Benicia, Antioch (CA). It also has terminal operations at the Mexican ports of Altamira, Lázaro Cardenas and Toluca/Queretaro
Technology and talent
Last year Amports made a long list of improvements in the rollout of digital technology to more efficiently manage the throughput of finished vehicle volumes at a time of considerable disruption for the sector.
That included the implementation of an extensive yard management system designed by supply chain software provider Inform. Inform worked with Amports on a pilot application of the system at its terminals in ports of Jacksonville and Benicia. The system provides real-time data visibility for vehicle yard and terminal operators to quickly locate vehicles and other assets so they can optimise planning and better allocate resources.
"We started our Inform cooperation, upgraded our port-tracking software, and enhanced data visualization tools," said Lis. "We have modernised collaboration tools and implemented a ticket system for quicker reaction to any IT requirements, therefore, improving our efficiency."
Amports supported that spread of digital technology with a recruitment drive in its IT department, including the appointment in May last year of Jeff Bell as its new chief information officer.