Delays in the supply of parts and vehicles were seen as a Covid-19 hiccup after the first wave of the pandemic but microchip shortages compounded by shipping delays are prolonging the pain on both inbound and outbound trades, writes Malcolm Ramsey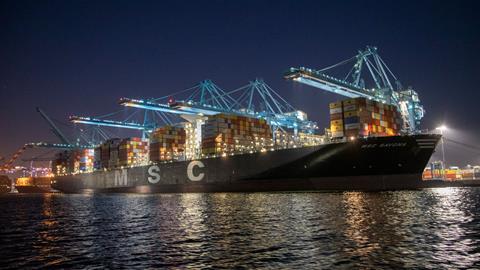 With disruption in the global shipping sector showing few signs of abating in the fourth quarter of this year, North American automotive supply chain firms have been forced to prove their ingenuity in recent months to ensure a steady and timely supply of parts and materials.
While some of these issues stem from the first wave of Covid lockdowns last year, the situation now has become many times more complex for North American supply chain planners. What is more, as the new Omicron variant threatens to derail nascent recovery, firms see little respite from the long delays and sharply escalating costs.
For the majority of firms in the sector, supply chain delays that were initially viewed as temporary hiccups have now morphed into a prolonged crisis as global trade dynamics have been upended. The strength and speed of rebound in US demand for Chinese cargoes from the second half of 2020 onwards created unprecedented pressure on ports in both North America and Asia, and that is still driving long tailbacks.
"We average about 350,000 empty container units that get repo'd back to Asia every month from the port of Los Angeles," says Gene Seroka, executive director at the port. "That's about 90,000 a week, and we were up about 30% compared to that repo number just last year when we really started to peak with the import surge."
He adds that the longshore workers have been out on the job an average of six days per week since the pandemic began and continue to welcome record numbers of vessels every week.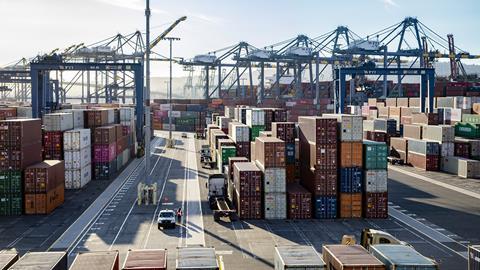 The latest figures from research consultancy Drewry Maritime, meanwhile, show that container port throughput fell by 2.3% in September 2021, with Greater China emerging as the weakest performer. However, this still places volumes at 3.2% above 2019 levels.
Simon Heaney, senior manager for container research at Drewry, predicts that supply chain turmoil "will last longer than thought" as shipping networks remain "under intense pressure" with sailing schedules in disarray, as ports and terminals have "become parking lots for ships and boxes".
Uneven pitch
While the connection between container disruption and automotive supply chains may have grown stronger, the impacts have not been felt equally across the sector. Stian Omli, head of sales Americas and global business development for breakbulk at Höegh, explains that although the firm has "experienced some operational delays directly related to Covid-19" over the past 18 months, "most services are back to normal" having improved in the second half of 2021.
One reason that Höegh may have avoided disruption is that its cargoes of finished vehicle imports into the North American market primarily come via just two routes through US east coast ports, whereas the majority of Chinese container traffic arrives at the west coast, where delays have led to record dwell times.
Firms handling inbound components to the west coast and those with more dispersed supply chains have not been so lucky. However, as Jeff Estes, general manager for parts supply chain at Toyota North America, explains: "On the production and service parts sides, Toyota has seen significant increases in lead-times, freight costs and the use of expedites to assure our customer orders are fulfilled."
This is affecting the outbound side as well. Mark Boucher, chief logistics officer at port terminal operator Amports, says the lack of volume has been a driving factor in recent months, with microchip shortages compounded by shipping delays. He adds that the data the company is seeing and is in conversation about with its OEM partners indicates that the problem will not be resolved until well into 2022.
Boucher explains that the firm's port volumes have been dramatically impacted as a result in 2021, with the company now focused on getting each vehicle "processed and accessorised as quickly as possible" so they can be released to the company's road and rail logistics providers and dealer stocks can be replenished.
Granular response
A rapid loss of confidence in forecasts has been behind much of the chaos. Systems that were in place to predict slight variations in supply and demand over the medium term have proven inadequate when dealing with spiking price signals and the rapid volatility of the new logistics landscape.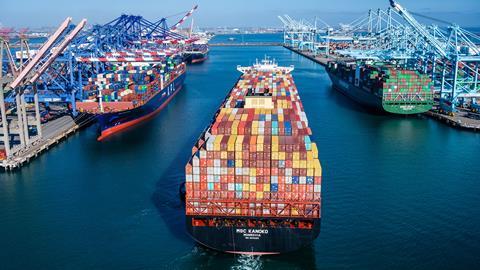 "Traditional models of forecasting freight volumes are inadequate to keep up with the erratic trade flows, whether tariff or pandemic induced, of the past few years," says a spokesperson for the port of LA: "Leveraging real-time data spread across the end-to-end supply chain holds the potential for more powerful predictive capability and can help prepare for volume surges in the future."
With massive uncertainty surrounding once routine shipments, the threat of new outbreaks, new lockdowns and staffing shortages in different regions are all compounded by surges in demand for vital materials and parts.
China's stringent response to any new outbreak of Covid-19 has also caused hair-trigger reactions from the market, making true demand levels almost impossible to predict. The shutdown of the port of Ningbo.,the world's third busiest, in August, and the port of Yantian, the world's fourth busiest, in May and June this year, only heightened concerns over the precariousness of schedules.
To tackle this variability information sharing by all supply chain stakeholders is crucial. The port of LA is continuing to closely monitor real-time system performance indicators through its Port Optimizer cloud-based platform, according to its spokesperson. That way it is able to assess the situation and develop policy and operational responses.
For Toyota, the fast-moving dynamic is driving an increase in all expedite options, with Estes noting an uptick in "air, land diversion, rail to OTR [long-haul over-the-road] conversion, and transloading from ocean containers to OTR trailers further away from our consumption points."
The firm is also increasingly focused on maintaining a healthy parts pipeline by utilising the whole of its North American network, relying on ports in strategic locations and reassessing the need for transport changes on a more frequent basis, to minimise lead-times and costs.
"We continue to look ahead and try new lanes, then evaluate our options to protect our customers," Estes says. "For manufacturing, we have expanded our use of Mobile and Houston [ports] and, for our Mexico operations, Ensenada and Manzanillo. For service, we expanded to trial and use Oakland, Tacoma, and Ensenada, and are considering Houston options."
Calling the current circumstances 'a fluid situation', George Grahovac, senior manager for supply chain delivery at Honda Development and Manufacturing of America, also notes the need to manage logistics flow at a more granular level. He explains that purchasing and production teams are continuing to carefully manage the available supply of parts to meet customers' needs as Covid-19, congestion at various ports and the microchip shortage all continue to drive disruption.
Landside pressures
Alongside the delays entering ports on the US west coast in recent months a shortage of landside staff has further amplified problems for many in the sector. Covid restrictions that prevented free movement of crew members have resulted in staff shortages at many locations, with a lack of capacity meaning that workers are often less efficient, having to deal with multiple tasks in parallel.
"In spite of the best efforts of terminal operators and longshore workers (50% more ships are being worked at once than before the pandemic), terminals remain beyond full capacity," says the spokesperson for the port of LA. "About two-thirds of all import containers are trucked to regional warehouse and distribution centre, but we have reached the limit of warehouse capacity due to a lack of available space and a shortage of warehouse workers."
As a result of these capacity issues some operators are forced to leave cargo at terminals or inland rail yards and this is then impacting turnaround time, and the ability of workers to handle goods in an efficient and timely manner.
At Amports, Boucher highlights the staffing issue for finished vehicle movements. "As with all of the operators in our space, hiring and maintaining a trained talent pool remains a challenge, but Amports has positioned itself very well to hire and retain the best resources, and to scale up to higher employee counts as the market rebounds."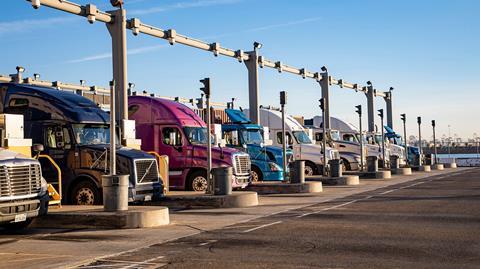 Amports' operations team has also recently implemented manpower optimisation processes that help to have the right resources in the right place at the right times.
Meeting the demands of this new dynamic is driving many logistics firms to reshape their assets and invest in supply chain technology.
Estes notes that Toyota has accelerated spending on supplier shipping confirmation and packaging flow tools, adding: "We have a supply chain visualisation strategy and have implemented many elements of that on both the production and service parts supply chains. We haven't changed that plan as a result of the west coast congestion but have accelerated some elements based on the overall volume growth we've experienced."
Amports is also accelerating investment in new tools and Boucher says the company is about to start piloting some process and reporting software with a key partner. "We are confident it will give us additional tools to better serve the OEMs and expedite vehicles through the supply chain," he says.
Disruption to continue
Given the number of issues affecting automotive logistics at the moment there is little consensus on the exact outlook for the coming months but, by and large, operators agree that disruption will remain the norm for the foreseeable future.
"Regards what I would call near term timing, I don't predict issues in the port capacity piece of the supply chain," says Boucher. "Automakers are still working hard to recover production volumes. As we get towards Chinese New Year, we could start to see some supply chain volume challenges, but I think that will manifest first on the vessel side with getting European and Mexican production to the US as timely as possible."
Amports also suggests that road carrier capacity will be an increasing concern as volumes come back, adding that the severe driver shortage will become "much more pronounced" as the recovery goes forward.
"From discussions with our logistics partners, we don't see any relief from the inbound congestion, both on the water or on land prior to early 2022 as a best-case scenario," Estes predicts.
Omli of Höegh expects that the lack of semiconductors will continue to define operations for the near term, noting that has been the main disruptor for the automotive industry in 2021, apart from Covid-19. The disruption has revealed what a vital component in new light vehicle production the components are. "We do expect the scarcity of semiconductors to ease into 2022 but it will take time and challenges will continue."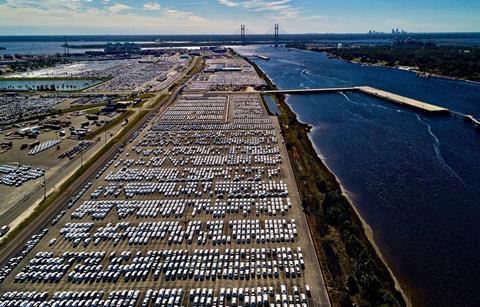 Retaining labour
Over the longer term, major global restructuring of supply chains and competition for scarce resources may come to define much development for the sector, as firms will face much tighter operating constraints and fight to attract talent and materials.
"The biggest issue for many of us in the supply chain – and I would put all port and back-of-plant operators like Amports, and over the road carriers in this situation – is manpower sourcing and retention," says Boucher.
He says the shortage of labour in finished vehicle logistics is a reality and many people have simply not come back to work since the original Covid shutdowns.
"The marketplace is rich with opportunities for drivers, mechanics and process engineers, in other industries," says Boucher, acknowledging that much of the work involved in the sector was difficult. He says the key to success for the future is to build employment models that hire the best and keep them for the long term.
For US ports, the challenge of staffing is matched with an equally large challenge to improve antiquated infrastructure. The White House estimates that public investment in US infrastructure as a share of GDP has fallen by more than 40% since the 1960s and the World Economic Forum now ranks the US just 13th when it comes to overall quality of infrastructure.
The signing of the recent Bipartisan Infrastructure and Build Back Better frameworks now promise to open the floodgates for investment but the funding needs to be used wisely.
Highlighting freight infrastructure, workforce development, and digital infrastructure as key investment vectors to respond to future surges, the port of LA is also considering the importance of training a new generation through programmes such as the port's $150m Goods Movement Workforce Training Center. That initiative is designed for new and incumbent workers in the transport logistics industry and stems from the port's commitment to ensure skilled longshore workers who can manage key industry transitions and to look for opportunities to improve hiring from within the community.