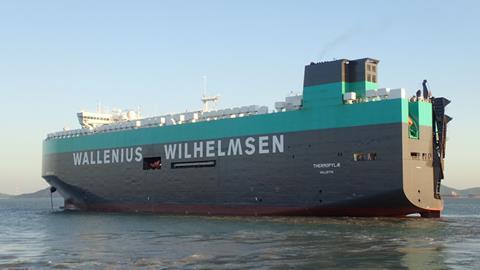 German carmaker BMW and shipping lines including Wallenius Wilhelmsen (WW) and Maersk have formed the LEO Coalition to discover if LEO, a blend of lignin and ethanol, can be used in cargo vessels.
Shipping accounts for 2% to 3% of global CO2 emissions, a proportion likely to rise as global trade continues to grow steadily, which WW and Maersk believe means the industry has an urgent need to reduce its environmental impact.
For its part, BMW sees participating in the LEO project as a valuable contribution to fostering sustainability along its entire value chain. Having production and vehicle distribution sites all over the world, sea transport plays an important role in BMW's operations.
Wallenius Wilhelmsen's CEO Craig Jasienski said: "Our customers' ambitions on sustainability are increasing rapidly, and we applaud this development. Clearly, LEO would be a great step forward for supply chain sustainability, and it has the potential to be a viable solution for today's fleet, and not just a future vision."
The coalition will add weight to research at Copenhagen University, currently at lab-scale test stage into the potential of LEO being a marine fuel and using only sustainably sourced and certified ethanol.
The project is scheduled to move into phase two, testing the fuel on engines, in the second quarter of next year, with a third phase of scaling up LEO fuel production to follow.
Pointing out the marine sector has very different fuel requirements from automotive or aviation, Maersk's chief operating officer Soren Toft said: "Shipping requires bespoke low-carbon fuel solutions which can make the leap from the laboratory to the global shipping fleet. Initiatives such as the LEO Coalition are an important catalyst in this process."
Lignin is a structural bio-polymer, which contributes to the rigidity of plants. Lignin is isolated in large quantities as a by-product of lignocellulosic ethanol, pulp and paper production. Currently, it is often burnt to produce steam and electricity.