All rail services in and out of the Canadian port of Vancouver have been halted because of damage caused by the torrential rain and flooding that hit the province of British Columbia last week. There has also been extensive damage to highways in the southern part of the province.
[Updated November 22] While the marine terminals at the port of Vancouver are continuing to operate, vessel delays and an increased demand for anchorage are expected because of the disruption to terminal operations.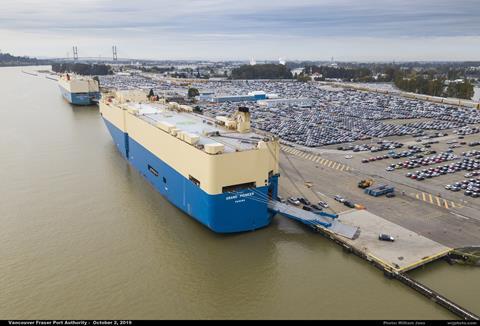 It means all inbound finished vehicle shipments on the Canadian National (CN) and Canadian Pacific (CP) rail networks have been stopped and there are currently no accurate forecasts on when services will be restored.
"CN and CP main rail corridors are not currently operational between Vancouver and Kamloops due to washouts and landslides," said a spokesperson for the Vancouver Fraser Port Authority. "Both CN and CP crews are clearing debris and conducting repairs at multiple sites, with progress being made in restoring some impacted rail sections. A timeline for fully restored rail operations to the west coast is currently unavailable."
The port of Vancouver is Canada's largest port and North America's third biggest in terms of tonnage capacity, moving $440m worth of cargo a day, including commodities, consumer goods and finished vehicles. Last year it handled around 420,000 finished vehicle imports, putting it at number six in the top 10 of vehicle handling ports in North America. Hyundai-Kia and Toyota are two of the biggest OEMs using the port.
From January 1 to June 30, 2021, overall cargo volumes through the port reached a record high of 76.4m metric tonnes (MMT), up 7% from 2020 mid-year.
Line repairs
In a statement CP said that the heavy rain had caused multiple track outages and its operations between Spenses Bridge and Falls Creek were suspended. However, in an update the rail provider said that progress had been made to clear 20 separate sections of track and that work carried out over the weekend aimed to restore the service by midweek "barring any unforeseen issues".
"We are working closely with local and B.C. authorities to coordinate the delivery of critical materials, equipment, food and fuel as CP crews work to safely restore service," said the company in a statement. "That includes with the Ministry of Transportation and Infrastructure to assist in getting highways reopened as soon as it is safe to do so."
CN also reported that crews were performing critical repair work where safe to do so.
"Northbound and eastbound traffic from Vancouver, as well as inbound traffic to Vancouver from east/north of Kamloops, are still impacted by the situation," said the company in a statement.
The widespread flooding in the Metro Vancouver and Fraser Valley regions has also destroyed sections of road leading to the closure of a number of highways. The impact of flooding on the highways throughout southwestern British Columbia remains severe and widespread. All main highway routes to the Metro Vancouver area are closed and traffic is expected to be affected for two to three days. Damage assessments of roadway infrastructure are ongoing.
The port authority is posting daily updates on the situation here and real-time insights into operations can be accessed through the PortVan eHub app.