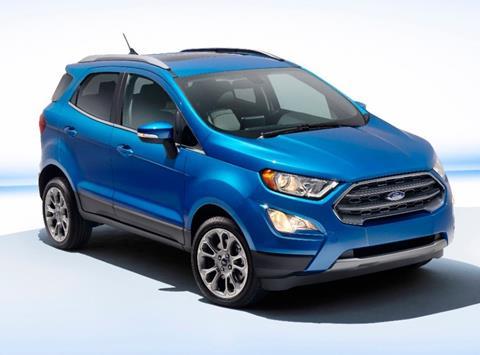 Ford will start importing EcoSports through the Canadian port of Vancouver next month for the first time. The carmaker has previously only used the port of Halifax on the east coast and used rail to distribute the vehicles to rest of the country.
While Ford is making job losses at its Oakville plant in Canada because of declining sales of the Ford Edge and Ford Flex, EcoSport sales in the country have increased over the last year. Ford sold more than 6,000 units of the EcoSport in 2018 and sales in the first half of this year are up more than 30%.
The EcoSport, which is made at Ford's Chennai plant in India, is one of only two models that the carmaker imports to North America, the other being the Transit Connect from the Valencia plant in Spain.
Speaking at the recent FVL Import Export summit in Baltimore, Leland Chang, Ford's manager for North America Vehicle logistics, specialising in emerging technology development, said the move to import through Vancouver was governed by Ford's focus on three guiding principles in its distribution network planning: speed, reduction of cost and improvement of quality.
"At Ford we have a team that looks over the different variables in the network throughout the year [on a monthly basis], monitoring what is changing," said Chang. "You can have changes in the strategies at the ports, expansions, volumes lost, that kind of thing; vessel rotations and schedules can change."
He said Ford's team kept on top of those sorts of changes and adjusted the network accordingly, adding that the team also looked at inland transport, comparing the differing rates affecting rail and road haulage.
The carmaker has been trialling a track and trace technology using in-car modems to capture information and give greater accuracy on the location and status of the vehicles being delivered, including battery life and tyre pressure.
Further adjustments
Ford is not alone in having made adjustments to its finished vehicle handling network this year. American Honda has also switched Asia-bound volumes from the port of Hueneme on the Californian coast to Portland and is using Baltimore in the east to balance its use of railcars for imports, according to Chuck Kendig assistant vice-president of sales and production, American Honda Motor.
Nissan North America has also seen some variability over the last year, according to Chris Styles, senior director of SCM Logistics at the carmaker.
"We have had some changes in the past year or so," he told delegates in Baltimore. "On the west coast we added Tacoma as another port of entry and that helped us relieve some congestion through LA port."
Nissan is using using Brunswick, Jacksonville and Baltimore on the east coast. Styles added that it was an ongoing process to look at the inland side of the delivery process.
"We are always looking at the inland rail network," he said. "We have added a couple in the past year and that just means we are looking at something that needs constant improvement process."
Read more about the North American finished vehicle sector and the discussions in Baltimore