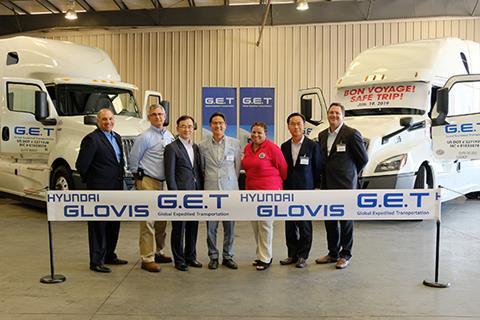 Glovis America, part of South Korea's Hyundai Motor Group, has established a truck-based freight transport business in the US.
Global Expedited Transportation (GET), based in Bloomington, California, will specialise in carrying automotive parts used by Hyundai Motor and Kia Motors across the country. Glovis had previously been outsourcing the work to third party logistics providers.
As journeys will be between the west and east coast, GET will employ two truckers per journey, allowing one to drive while the other sleeps. That way the company says it can transport automotive parts from ports in Los Angeles to car assembly plants in the east within 54 hours.
Glovis expects its new transport subsidiary will deliver 40% of its total overland shipments in the early stage sand gradually increase that to 70% by 2023.
The company, which anticipates GET will improve its competitiveness, plans to add containers, complete cars and otherservices to GET's offering. For example, and for better operational use of its own resources, the company will provide a trucking service for third-party clients which need to transport goods from the east to the west coast.
A Hyundai Glovis official was quoted in the South Korean media as saying: "By establishing a subsidiary in the US, we have an opportunity to increase the stability of our transportation business and find new projects in the world's largest truck network and market."
The road trucking sector is worth $622 billion a year and accounts for 80% of all goods transported in the US.