Honda Motor Europe Logistics (HMEL) has started using barges to transport containerised motorbikes, power products and replacement parts between the Belgian ports of Antwerp and Ghent. The goods are being imported to Antwerp from global markets, including Japan, USA, Thailand, Malaysia, Mexico and Turkey, and they are being distributed from Ghent to Honda's European dealer and distributor network.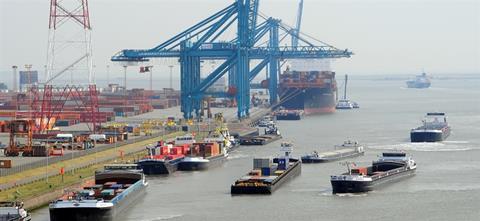 HMEL started using the inland waterway route on June 11 and is buying space on two existing weekly multi-client services that ship TEU containers to Antwerp. Honda said that in the first year it expected move 2,840 containers but that this could grow in subsequent years.
A spokesperson for HMEL told Automotive Logistics that the switch to inland waterway from road was based on a number of issues. Road tax and fuel costs are forecast to increase and there are problems related to congestion and other delays affecting road haulage in region, not least the major roadworks planned for the Antwerp area this summer.
Furthermore, the regular barge service means there will be no risk attached to storage, demurrage or detention costs at the port.
There is also a carbon reduction from taking HGVs off the load, which Honda estimated to be 14 tonnes annually.
The barge service is operated by Danser, which remains responsible for the end-to-end flow of traffic, and takes a day to complete. HMEL said that the key point is that the barge service connects with the arrival of inbound boxes and departs shortly afterwards.
The Honda Motor Europe Logistics logistics network comprises six European branches that are centrally managed and coordinated from Ghent.