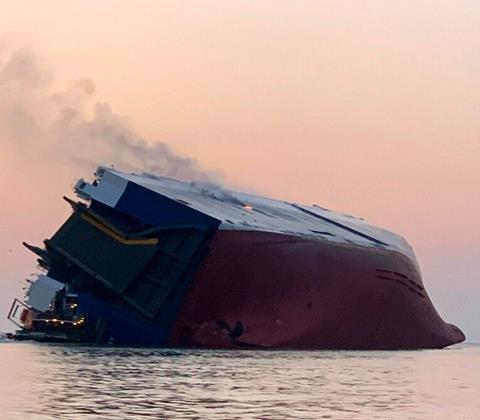 Hyundai Glovis' car carrier Golden Ray capsized outside the US port of Brunswick last weekend with around 4,300 vehicles onboard. It is currently lying on its side in St. Simons Sound. All 24 crew members have been safely rescued, including four who were trapped in the engineering room being released through a hole cut in the hull of the vessel by rescuers.
The 200-metre car carrier had left the port's Colonel's Island vehicle terminal early Sunday morning on route to Baltimore as part of a rotation from Mexico to the Middle East.
The US Coast Guard (USCG) reported that it received a call that the vessel had capsized around 2am. It mobilised response teams involving units from Brunswick, Savannah and Charleston, as well as the Georgia Department of Natural Resources, Moran Towing, SeaTow, Brunswick Bar Pilots Association, and the Glynn County Fire Department.
Since then the port of Brunswick's Captain of the Port (COTP) has established an emergency safety zone in St Simons Sound, according to the USCG. Traffic into and out of the port of Brunswick was temporarily controlled but is being restored. Vessels are not authorised within half a mile of stricken vessel.