Glovis America is now operating a new $110m vehicle terminal at the port of Philadelphia on the US east coast, providing much-needed capacity at a time when larger car-carrying vessels are loading and discharging greater volumes
Over the last three years, ports on the east coast of the US have been the busiest in the country when it comes to handling finished vehicles, and as a result the leading contenders have been looking for extra space. The growth in short-sea imports out of Mexico, as well as more deep-ocean trade and the shifts in entry points for vehicle imports on the west coast, have all meant that shortage of capacity at peak times has been a growing issue. Added to this is the trend toward ever-bigger pure car and truck carriers (PCTCs) that discharge bigger volumes of passenger cars, which themselves have been growing in size.
There was welcome news, then, in October last year when the US east coast port of Philadelphia (Philaport) officially opened a $110m vehicle terminal at the Southport Marine Terminal Complex. It is the first terminal to be opened at the port for 45 years.
Glovis America is operating the 63-hectare Southport Auto Terminal on a 15-year contract with Philaport, with two five-year options to renew. Next year marks 20 years of Glovis America working with Philaport and Delaware Valley RoRo (DVR).
Previously, vehicles were unloaded at the Packer Avenue Marine Terminal, which mostly handles containers, and moved to a vehicle-handling facility at Pier 98. The new facility enables Glovis America to directly unload imports into a dedicated vehicle-handling facility.
Glovis and Eukor vessels call at the port on a weekly basis from Busan, South Korea and Veracruz, Mexico.
Making space
The third-party logistics (3PL) provider has contributed $10m to this latest development of the terminal, with the rest provided by Pennsylvania state funding. That forms part of an overall $300m government investment in infrastructure, warehousing and equipment at the port, which was first announced in 2016. It is the first major capital injection into equipment and infrastructure at the port for four decades.
The Southport Auto Terminal, situated at the former Navy Yard, has parking capacity for 24,000 vehicle units, though there is additional space for overspill as well.
"This new facility combined with the pre-existing Pier 98 Annex gives us a total of 250 acres [100 hectares]," says Sean Mahoney, Philaport's director of marketing. "In addition to these port of Philadelphia parcels, Philaport has the ability to flex into adjacent lands. Between various contiguous parcels, PhilaPort and its operator has the ability to park over 40,000 cars at any time."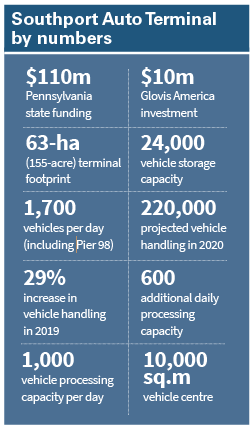 Currently, Philaport has two berths for discharging and loading PCTCs but it is in the preliminary planning phase to build a third berth, according to Mahoney.
The Southport Auto Terminal will be able to process 350,000 vehicles annually at full capacity and could eventually push Philaport into one of the top ten ports for vehicle handling in North America. Volumes for 2019 give it a rank of around 14th.
Decade of growth
Glovis America has been providing port processing services at an existing 35.6-hectare facility at Philaport since 2010. The company provides pre-delivery inspection, installation of vehicle add-ons – or port-installed options – campaign work, transit damage repair and truck logistics for its existing customers.
Prior to 2010, Philaport had a small 18-hectare facility (the Pier 98 Annex), which it almost doubled in size that year because of demand for capacity brought about by the Hyundai-Kia volumes that were moved there from the ports of Baltimore and New York/New Jersey.
In 2019 it processed 200,000 vehicles from carmakers, predominantly Hyundai-Kia, a substantial increase on 2018 (+29%). In 2020 Glovis expects to increase that to 220,000.
"Our growth in Philadelphia has been fantastic – 2019 will beat our best year by over 17% and we expect another record year in 2020," Patrick McGinn, manager, operations support at Glovis USA, told Automotive Logistics in early December. "The Southport expansion is a multi-year project, and over the course of the last year we've used these new facilities to provide services to five separate OEMs. We look forward to working with them and other customers in the future."
The terminal has a 10,000 sq.m vehicle processing centre (VPC) that can handle more than 1,000 cars a day.
"Our state-of-the-art vehicle processing centre includes two car washes, two PDI [pre-delivery inspection] conveyor belts, four extra-long paint booths, four prep stations, 13 hydraulic lifts, and has been designed with future expansion in mind," explains McGinn. "Our 155-acre yard includes brand new 100-foot (30-metre-) high mast LED lighting and has been wired with fibre optic cable and Cisco wi-fi equipment."
The terminal is located adjacent to the berth at Pier 122, which is dedicated to finished vehicles and receives 110 vessel calls a year on average. Philaport had purchased the nearly 80-year-old Pier 122 from Conrail in 2007 and then leased it to an agriculture and fertiliser company, Growmark. Northeast Energy Terminal, a subsidiary of USD Group Philaport then acquired the assets from Growmark and invested in improving Pier 122 to provide a safe berth for PCTC vessels.
The new terminal is adjacent to Class 1 rail links, including CSX and Norfolk Southern. Mahoney says that together the railroads have over 200 acres (80 hectares) available to dedicate to the movement of vehicles or other rolling stock, such as construction and agricultural equipment.
McGinn adds that Glovis has been working with Norfolk Southern to bring automotive rail to the port. The first trains began calling in December.
The port also has direct access to two major highways, the I-95 and the I-76.
Larger vessels and vehicles
As mentioned, one of the of the major trends affecting the North American vehicle handling ports in terms of capacity is the growth in vehicle size, as US car buyers increasingly opt for bigger vehicles such as SUVs and pick-up trucks. Imports of those vehicles are taking up more space at the ports, and the simultaneous increase in vessel size means that larger volumes of bigger vehicles are being delivered. Post-Panamax vessels are now capable of carrying more than 8,000 units, which is leading to a dramatic increase in demand for room to park vehicles delivered at a first point-of-rest location. This is something that the new terminal is able to deal with, explains McGinn
"Larger vessel sizes require larger first points of rest and more yard management between vessels," says McGinn. "This 155-acre contiguous expansion is laid out in a safe, efficient rectangle that allows us to efficiently consolidate our yard without dealing with public or private roads, tricky intersections, or other port traffic."
That also has an impact on labour, and Glovis America is putting the numbers on the ground.
"We currently employ over 250 full-time employees in Philadelphia, an increase of over 20% from previous years and a growth pattern we expect to continue as we bring new business to Philadelphia," says McGinn.
Looking ahead, the Southport Auto Terminal is also handling test shipments for premium electric carmaker Tesla and is equipped to power the latest generation of electric vehicles, according to Mahoney.
At the facility launch in October, Pennsylvania's governor, Tom Wolf, commented: "The new vehicle processing centre is just one step in my port development plan, which is generating long-lasting economic growth in south-eastern Pennsylvania by making Philadelphia the best place to ship and receive goods on the East Coast." He added that the terminal would stimulate an estimated $124m in economic activity.
Other investments planned for the port include $188m aimed at doubling annual container handling at the Packer Avenue Marine Terminal from 456,000 to 900,000 TEUs. The berths will be deepened to 45ft (13.7 metres) to accommodate larger vessels and the installation of four Post-Panamax cranes.
The port is also forecasting a 21% increase in breakbulk cargo from a $12m state investment that it said would improve warehouse capacity, add a mobile harbour crane and fund improvements to allow cargo to be loaded onto rail cars in inclement weather