Haropa ports, which runs the Seine Axis ports of Le Havre, Rouen and Paris, is meeting storage capacity constraints with investment, redevelopment and the application of smart technology
As with the other vehicle handling ports in Europe during 2019, capacity constraints have tested the resourcefulness of Haropa ports, which oversees activity at the sea port of Le Havre, and the inland ports of Rouen and Paris. While vehicle sales growth eased off globally last year, Haropa's main customers kept up the level of assembly, which resulted in the 104-hectare terminal being filled to 110% of its official capacity, according to the port operator's sales and marketing director, Laurent Foloppe. That affected efficient throughput at Le Havre and, as a consequence, annual traffic through the port was down by 5.4% to 356,000 last year. In addition, the imported vehicles that account for 60% of throughput are spending an average of ten days at the port, which also affects the terminal's fill rate.
Part of that is because of a change in the way the port's terminal operators are doing business. "They are carrying out more and more finalisation/customisation work on their vehicles and must therefore absorb a longer average storage time," Foloppe tells Automotive Logistics.
Finished vehicle throughput at Le Havre

Imports 213,600
Exports 142,400
Total 356,000
Main OEMs: BMW, Groupe PSA, Kia, Renault-Nissan-Mitsubishi Alliance
Terminal operators: GCA, Gefco, Groupe Cat, Höegh, Walon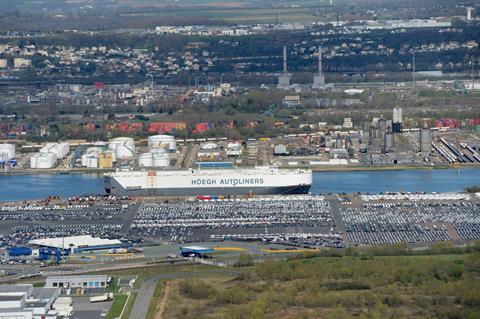 To cope with all this, Haropa is reorganising storage capacity at Le Havre to gain 7,000 storage spaces and is extending operating space to the east of the ro-ro terminal, which will eventually provide a further 10,000 vehicle parking spaces. It is also re-opening the old container terminal for parking cars in long-term storage and is currently looking at the potential for a multi-storey car park.
"This project is part of the investment programme of €600m [$658.2m], with around €30m dedicated to the reorganisation and modernising of our ro-ro terminal," says Foloppe. That project will run over two phases, each accounting for 20 hectares, and the whole project will take five years to complete.
In this way Haropa will be able to more quickly process welcome additional volumes from BMW and increasing import volumes from Groupe PSA's new Kenitra plant in Morocco (although targets have been significantly put back by the impact of coronavirus this year).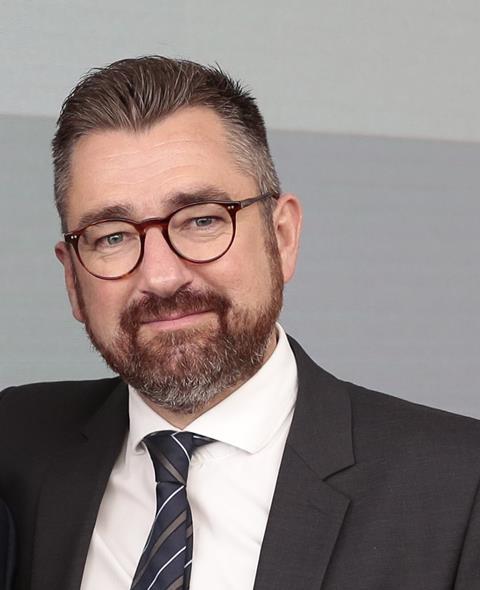 Pension system protests
Capacity was not the only problem in 2019. Toward the end of the year Le Havre, along with Rouen and Paris, faced disruption to services because of widespread protests in France against the government's reforms to its pension system. Protests began on December 5 and the country-wide disruption affected maritime, river, rail and road routes to the port, with 14 days of strikes and a complete blockade of the port (called Operation Dead Port) resulting in the suspension of 100,000 20-foot equivalent units (TEUs), though there was less of an impact on ro-ro activity. Nevertheless, 127 ship arrivals were delayed and about 100 cancelled, and more than 110 trains were affected. River barge services out of Le Havre were also disrupted.
In March this year Haropa signed an agreement with the main players in Le Havre to recover the activity lost during December and January. The port authority is in discussions with major stakeholders over what measures are to be taken to boost ro-ro activity at Le Havre and has invested €3m in neutralising container storage costs arising from Operation Dead Port. Port of Le Havre is contributing €18 per container, with terminal operators contributing €12 per container.
Taken together with tariff discounts and commercial rebates on port fees for container shipping, it brings the Le Havre's financial support to €6m, something that Foloppe says "sends a strong signal to companies in the international transport chain".
Haropa Le Havre – some other numbers
104 ha ro-ro terminal storage
14 ro-ro shipping companies present
10,000 additional parking spaces being added
€600m investment in ro-ro terminal expansion project
55,000 TEUs for spare parts and CKD vehicle shipments
15,800 TEUs of rolling stock (Groupe PSA, Nissan, Renault, Ford, Kia, Toyota and Mercedes-Benz)
24/7 PCTC and container terminal access, technical service centre open
Digital Le Havre
There has been significant investment in the ongoing digitalisation of processes at Le Havre throughout 2019, including for the monitoring of vehicle and vessel movements.
Administrative functions are now digitised, with connections between customs and port-based companies. The port also has a tailor-made system developed with Soget (the port systems operator) that measures specific ro-ro performance and provides tracking at the level of vehicle identification numbers (Vins). Called S)One RoRo, it currently provides access to a specialised digital platform providing information and performance indicators on vehicle imports but soon will also cover exports, with the aim of generating productivity gains and increased throughput.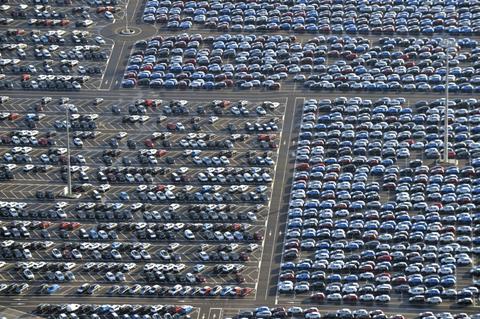 Le Havre also has a software application called S-Wing, which enables real-time monitoring of ship movements. The package provides a single window coordinating all the operations and events related to a call and is available to all companies using the port for the collection of declarations, the management, planning organisation and operational tracking of the sea and river calls.
At Le Havre last year, Haropa also began a project to test 5G connectivity applications for logistics operations in the port and for piloting 'smart grids' and electric vehicle charging. The project is being conducted with Nokia Siemens France and the energy provider EDF.
Foloppe says the applications will improve competitiveness and make Le Havre more attractive as an industrial port, providing higher flow capacity and making it ideal for the development of Internet of Things applications, and providing big data for faster and more accurate analysis of handling.
Asked whether any of these digital advances could help in managing the trade disruption expected when the UK leaves the EU at the end of 2020, Foloppe says that tests have been carried out under real conditions with a planned deadline according to proposed statutory instruments or legislation.
"At the invitation of French customs, our team took part in functional tests using Brexit SI [statutory instrument] software. Operational tests were carried out especially on pre-close procedures and we are certified by customs as 'Brexit-ready'," he states.
Since then, however, a whole new scale of disruption has hit the European ports sector because of the coronavirus pandemic.
At the time of publication, all ro-ro terminal operations across Haropa's three ports were fully operational.
Look out for further coverage of activity at the European finished vehicle handling ports in 2019 in our forthcoming digital supplement Automotive Logistics Digital: European Finished Vehicle Ports review