Vehicle-handling ports on the European continent spent last year dealing with the fallout from the Covid pandemic and the impact of the semiconductor shortage, but that did not stop a number of them pursuing ambitious sustainability initiatives related to infrastructure. Marcus Williams reports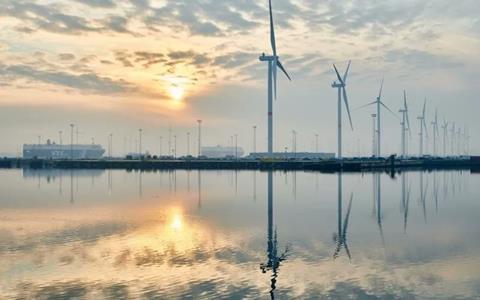 The majority of vehicle-handling ports in Europe reported the that main challenges in 2021 were related to fluctuating volumes, mainly caused by the impact on production of the semiconductor shortage.
That was the case at the port of Zeebrugge, which nevertheless managed to increase volumes by 3% on the previous year and retain its position in the market as Europe's busiest vehicle-handling port, moving 2.26m vehicle units. That figure was part of an overall increase in total tonnage handled at the port in 2021 of 4.6%, equal to just under 50m tons.
The adjacent port of Antwerp also reported fluctuations in vehicle volumes but said breakbulk volumes had surged and that operators were diversifying the loads moved through their terminals.
Meanwhile, the Slovenian port of Koper made a concerted effort to deal with the volatility in vehicle production and the impact on throughout the supply chain, working with land and ocean-based logistics providers.
Peaks and troughs
The Spanish port authority at Barcelona (Port de Barcelona) says continuous disruption to the supply chain has "very seriously affected" the port, with every company involved in operations suffering the impact of the pandemic from different points of view.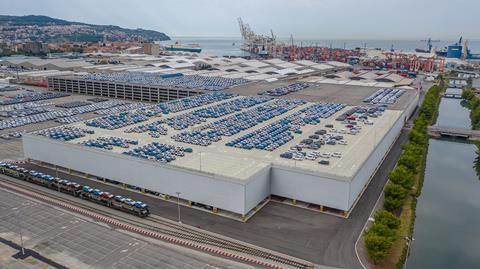 "OEMs have had to frequently stop production to cope with supply disruption," says a Lluis París, head of automotive, ro-ro, SSS and bulk division at the port. "Container traffic has been lacking reliability due to blank sailings, port closures in the Far East and lack of equipment and capacity."
On the finished vehicle side of the business specifically, Barcelona says it handled 5% fewer vessels in 2021 but because vessels were running half-empty it actually lost about 40% of volumes.
"In general, transport companies have been trying to keep giving the same level of service without the same volumes, which indeed, makes life much more complicated," says París. "Car terminals were following the same trend [in 2021]: lower volumes with some unexpected peaks of production to be stored and not ready for shipment."
The port authority has made efforts to help through different 'hard' discounts on the taxes charged for vessel calls and for goods wharfage. It also eased payment terms for clients and expended €4.3m ($4.75m) for the programme.
Supply chain strains
According to the port authority of Valencia, all automotive manufacturers felt significant supply chain strains in 2021. Its main carmaker customers, Ford, Toyota and Stellantis (specifically Fiat and PSA vehicles) experienced their own patterns of volatility, but in general the total volumes handled at the ports of Valencia and Sagunto decreased by 7.4% compared with 2020.
Again, Valencia points to the semiconductor shortage as the main and most damaging factor affecting new vehicle production. However, a spokesperson for the port said shortages stretched across various materials, such as metals, rubbers and fabrics, where production has not been able to make up for earlier disruptions, or where labour has been in short supply following pandemic-related protocols.
The port of Vigo, also in Spain, says semiconductor shortages posed a significant challenge to the day-to-day management of the terminal. A combination of accumulating vehicle stocks in the terminal at different times with a reduction in the number of ship calls caused sporadic complications. However, the port says that terminal operators were able to deal with them successfully based on good programming and flow management.
Working with its terminal operators, Vigo port authority (Puerto de Vigo) says it was able to adapt to a market that was more variable than ever and subject to a combination of the direct impacts of the Covid pandemic and the tensions resulting from the microchip crisis.
"This capacity for adaptation and the efficient management by terminal operators in the face of such variable market oscillations is perhaps the reason that has led the port of Vigo to become the leader in new vehicle traffic [amongst the] Spanish ports," says its head of commercial and marketing, David Castro.
Over in Greece, the port of Piraeus reports that its vehicle handling terminal at the port was at maximum capacity and storage areas were full. That is explained by the disruption to car production because of the microchip shortage. The consequent shortage in vehicle production was followed by a surge in demand and the efforts by carmakers to meet that demand increased the average cargo per vessel.
"The increased flows towards the Black Sea as a result of the supply to the area via… the Baltic has further contributed to this situation," says a spokesperson for the port.
Despite the fact that the terminal is operating at almost full capacity since the second half of 2021, there has been an increase of 51% in transhipment traffic. The current business relating to transhipment volumes is estimated to last at least to the first half of 2022, according to the port authority.
Supporting EV throughput
Despite the fluctuations in vehicle throughput, European ports have continued efforts to make operations more sustainable.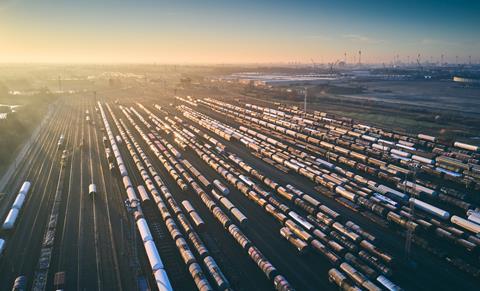 Zeebrugge managed to increase the number of electric vehicle (EV) makers using its facilities for import and export. To support that, the various terminals have been investing in equipment to handle and charge EVs, part of a wider drive toward sustainability that includes infrastructure developments to increase efficiency.
Terminal operators International Car Operators (ICO), C.Ro Ports and WW Solutions (WWS) have installed new wind turbines to power their respective operations.
ICO installed 11 wind turbines last year supplying 44 MWh of power and is using them to sustainably power a mobile heavy-lift crane used for handling industrial equipment and other project cargo, as well as general cargo and containers (learn more about ICO's green initiatives in this video).
Five more turbines were installed on a wind farm shared between the terminals operated by C.Ro Ports and WWS, representing a combined investment of €20m ($22.6m). The turbines will produce approximately 50 GWh of electricity per year, which will be used locally at the terminals with any surplus connected to the grid.
Those terminal operators are also investing in equipment to handle and charge electric vehicles.
Meanwhile, the Zeebrugge port authority (MBZ) has also been working to increase rail connections in and out of the port, including an increase in the frequency between Zeebrugge port and Strasbourg rail hub for container shipments. The service, run in an agreement with Naviland Cargo, now offers a daily roundtrip with a stop in the adjacent port of Antwerp.
Terminal Container Athus and rail operator Hupac also started new rail services to and from Zeebrugge in 2021.
Zeebrugge's spokesperson also said the port will remain "the frontrunner in providing alternative fuels" for car carrying vessels.
At the Cop26 climate change conference in Glasgow last November, MBZ signed an agreement with the adjacent port of Antwerp, the Chilean Ministry of Energy and the utilities company Engie, for the supply of green hydrogen, for which the European ports will become a hub supplying wider Europe.
The ports of Zeebrugge and Antwerp are in the final stages of a merger that will lead to a new combined operation under the name Port of Antwerp-Bruges.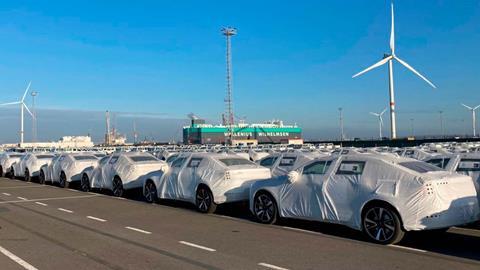 "By May 1 [2022], a new era will start for us, as the merger with the port of Zeebrugge will be completed," says Anne de Smet, key account manager for Antwerp Port Authority. "As we will become one port with two platforms, we will be able to offer more possibilities to customers, so we believe the future is bright."
Environmentally friendly equipment
In the meantime, the port of Antwerp has been putting sustainability high on its priority list.
"We have added new energy efficient tug boats to our fleet," explains de Smet. Three tugs are equipped with reversed stern drives and with a nitrogen oxide filter to comply with IMO Tier III regulations.
"Later this year, we will have a tug rebuilt to run on methanol and, by 2023, a tugboat running on hydrogen will be added as well," she says. "We have also signed an MoU to reduce ship emissions by means of shore power, but this will first focus on container vessels."
At the same time, Antwerp port has made LNG available in the port and the terminals. "We are now looking at the long-term fuels and making sure they will be available for our customers," says de Smet.
Upgrades to infrastructure at the port of Koper in Slovenia have brought their own benefits in terms of more sustainable operations. Luka Koper, the port operator, has reorganised and enlarged the truck loading areas for faster pick-ups and deliveries, and opened an additional truck gate for better traffic management.
"This has significantly shortened the transport routes inside the port, which has a positive environmental effect," says Luka Koper's spokesperson. "We also continued with the introduction of modern lighting systems for storage areas, which brings energy efficiency and enables smarter light management."
The port is renewing its internal fleet of operations vehicles with EV vehicles to be more sustainable and has been preparing to handle more EV traffic by investing in plug-in points, transformer substations, safety equipment and training for employees.
Work is continuing on a new railway track between Koper and Divača, with a completion date planned for 2025. "The new line will significantly boost the capacity of rail transport to and from the car terminal, but also for the whole port, which relies heavily on train transport," says Luka Koper's spokesperson. Rail accounts for 59% of the goods taken to and from the port, compared to 49% taken by road.
Sustainable fuels in Barcelona
Barcelona is also making a concerted effort and has new propulsion and power generation systems at the top of the agenda. It now has an LNG terminal fitted with a special berth for small scale operations, supported by an LNG bunker barge and the supply of LNG by truck.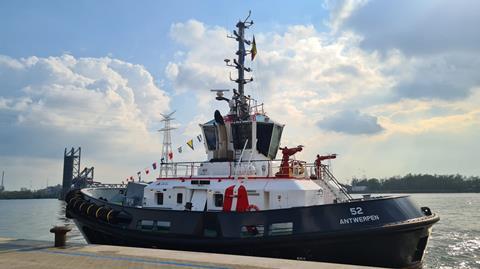 "Within the port's commercial policy, we are granting a 10% discount on port dues to vessels using LNG for propulsion purposes, while vessels using LNG for power generation alongside are enjoying a 30% reduction, since they contribute as well to the cleanliness of the city air," says Lluís Paris.
The same discounts are offered to vessels fitted with batteries, such as the new Grimaldi ships, which can operate on batteries during their whole call at Barcelona and are emitting zero pollutants and zero CO2.
Barcelona also has 3m cu.m of tank capacity in its liquid bulk area for oil and chemicals storage. That offers the chance to begin projects on ammonia and methanol supply with its current operators. The port is also involved in projects involving green hydrogen
Barcelona is also building a new grid for the supply of sustainable electricity to ships at berth. The port is looking to generate green energy within its own premises using solar panels and the purchase of green energy from Spanish network.
The port of Vigo, meanwhile, expanded its capacity for finished vehicle handling by adding 70,000 sq.m that was previously under public concession alongside a new access control to the terminal to improve efficiency of throughput. There are several projects currently under study for this year to improve efficiency, including the expansion of terminal capacity through a vertical storage unit for finished vehicles that will add a further 60,000 sq.m. The port has also increased the berthing line in four of the vehicle terminal's ramps and improved the paving.
"The project to renew and replace the previously existing lighting in the terminal with LED devices has been completed, and different project alternatives for onshore power supply are currently under study," adds Castro.
Political instability
The outlook for the ports in 2022 has been made uncertain by Russia's invasion of Ukraine, which is having an impact on the supply chain throughout Europe and Russia, closing ports, arresting delivery routes and hitting the supply of parts to car plants, which are having to close shifts, compounding the problem of fluctuating volumes in terms of output.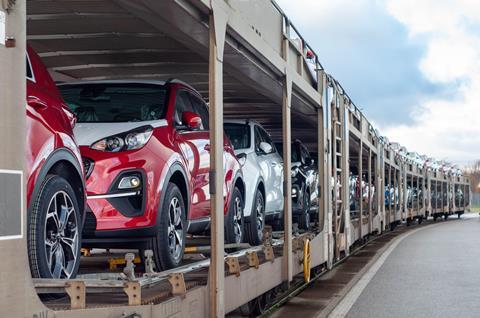 The port of Vigo says that the political and economic instability derived from the war in Ukraine is adding to a global uncertainty that does not allow for reliable forecasts, even though Stellantis had forecast production from its plant near the port city to hit 600,000 units this year.
"In fact, as of March 2022, there have already been several occasions where components shortages have led to production stops at the car factory," says Castro, though he is optimistic that 2022 will continue to show improvement.
The impact of the Ukraine crisis could impact vehicle sales and production for years to come, according to Daniel Harrison analyst for Ultima Media's business intelligence unit, Automotive. Higher oil and gas prices would have shocks both on consumers and across operations, increasing inflation and risking 'stagflation'. There could also be a global recession. However, higher petrol prices would also likely increase demand for EVs – potentially adding to vehicle inventory pressure at the same time that supply and production are further disrupted. Governments may need to intervene carefully to support transitions away from Russian oil as well as to incentivise EV sales and production.
Dynamic management at Gdansk
Polish logistics provider Adampol is handling finished vehicle traffic through the port of Gdansk and, like other terminal operators across Europe, it spent last year responding to volume fluctuations with dynamic planning and logistics management.
The company says volumes were significantly reduced compared to the original forecasts it received but it was able to relocate shipments of other cargo, as well as high and heavy equipment.
"Due to difficulties related to Covid-19, the task was to maintain the existing import-export contracts, as well as establishing cooperation for potential new contracts, which, once calculated, turned out to be competitive to western ports," says a spokesperson for Adampol.
Like other operators in Europe, Adampol has been working with the port authority at Gdansk – ZMPG – to prepare the infrastructure at the port for greater EV volumes, as well as working on the other projects aimed at making operations more sustainable. As well as the installation of chargers for EVs, both parties are working on improving storage yards and modernising lighting.
"Additionally, along with the ZMPG, we are modernising the CCTV system at the free custom zone to improve security and providing more yards for automotive from spring 2022," says Adampol's spokesperson. "We have also introduced a new reporting and monitoring system for vehicles on storage yards and a scanning system [to monitor] each vehicle movement from the moment of admission to the moment of leaving terminal."
Adampol has digitised the depot yards. Each vehicle is marked with an exact location by scanning on a virtual map of the yard. The system has been in a testing phase since 2020 and has now been finally implemented.
Adampol has also strengthened rail connections and increased the emphasis on more effective road transport planning.
"Together with our partners and contractors, we discussed and optimised rail connections, which resulted in the handling of up to three trains for import-export via Adampol," says the spokesperson.
Despite the uncertainty related to volume fluctuations and the crisis neighbouring Ukraine, Adampol says that ongoing contract negotiations could see potential increase in throughput of 60% in 2022, on top of fixed-term contracts, though it did not provide figures for how many units were processed in 2021. The port authority says in general that the port normally handles up to 100 tonnes of cars annually but during the pandemic there was a decrease of about 30%-40%. Taking pre-Covid figures to be around 82,000 units of throughput that would put the number last year between 49,000-57,000.
The main carmakers using Gdansk are Hyundai-Kia, RNM Alliance, Opel, Suzuki and Toyota. Adampol was bought by Hyundai Glovis in 2015.