North African countries have attracted the attention of vehicle-makers due to their development programmes. One example is Morocco, which has invested in special industrial zones such as Tanger Automotive City, and is now seeing an automotive uptick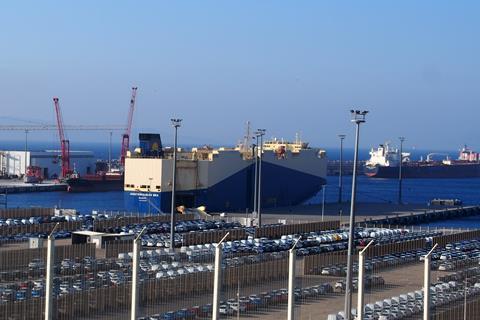 There is no doubt that shipping professionals are familiar with the Moroccan city of Tangier, as it is ranked 50th among container ports worldwide. It was King Mohammed VI who, shortly after ascending to the throne in 1999, decided to build a new port – Tanger Med (Tanger being the French spelling) – in the north of the country about 40km east of Tangier, with a terminal to handle growing container traffic. The first container terminal opened in 2007 and has since been joined by three others; two at Tanger Med port 1 and two at Tanger Med port 2.
To create more business and more jobs for local people, a decision was made to establish not only port facilities but also a number of industrial free zones, operating in close collaboration. There are currently three such zones – Tanger Free Zone, Tanger Automotive City (TAC) and Tetouan Zone – and soon there will be four. Based on this combination of ports and free zones, the Tangier region as a whole has undergone industrial development – and an automotive hub has emerged.
"The government strategy for the 2014-2020 period is to promote and develop key sectors in Morocco, like the automotive industry" – Imane Biyout, Tanger Med Zones
Tanger Med Special Agency, the port authority, decided to create a subsidiary to commercialise these zones, and so Tanger Med Zones was born. Its role is to build and operate the zones, including warehouses designed to the specifications of the companies using them. Tanger Med Zones was allocated 5,000 hectares for development and today 1,600 hectares are full.
"The government strategy for the 2014-2020 period is to promote and develop key sectors in Morocco, like the automotive industry," explains Imane Biyout, development MD at Tanger Med Zones. "The integration rate for the automotive industry is 65%, meaning that cars made in Morocco are produced from parts made locally. Those cars which are made in Morocco are exported all over the world, and spare parts too."
Rise of Tanger Automotive City
The first zone which was built, the Tanger Free Zone, started operations in 1999 and was intended to boost exports, with many different types of companies operating there. Then, in 2012, French vehicle-maker Renault decided to build a factory at Melloussa, about 20km south east of Tangier, to make cars for the local market and also for export.
Initially, the Renault plant produced 170,000 vehicles per year but it has grown to make 400,000 per year, including Docker, Lodgy and Sandero models. In June 2018, Renault announced a milestone with the export of 1m vehicles from its two Moroccan plants, Melloussa and Casablanca.
"When Melloussa opened in 2012, Renault asked us to have their subcontractors [suppliers] close to their plant," explains Biyout. "Together we decided to build Tanger Automotive City, a free zone specialising in automotive. We managed it like the others; we built the plant for the subcontractors and leased it." TAC was launched in 2013.
The first benefit of the free zone development for Renault subcontractors was its vicinity to the Melloussa plant (about 5 km away), but Tanger Automotive City has been attracting new operators dedicated to the automotive industry.
"We had 28 new companies during 2018 in this zone, for a total of 50 companies based in Tanger Automotive City," says Hassan Abkari, deputy MD at Tanger Med SA. By July 2019, the TAC free zone was nearly at capacity with these 50 different companies, all dedicated to automotive. "In six years, we took up the challenge to have 100% of our zone full," states Biyout.
"We are looking at the different proposals that we have. We don't know for the moment if [the TAC extension] will go to one or more logistics companies" – Imane Biyout, Tanger Med Zones
At the beginning, it was mainly French and Spanish companies which came, but in recent years some Asian companies have arrived, including: Hands, a South Korean company specialising in alloy wheels; ZTT, a Chinese company producing cables for cars; JTEKT, a Japanese supplier of steering columns; Varroc Lighting, an Indian company which produces headlamps and rear lights for customers in France, Spain and Morocco; plus Turkish organisations like Martur Fompak, a leader in vehicle seats.
"The original aim of this free zone for Renault's subcontractors is not true anymore. They continue to work for Melloussa plant but also for their own export. They want to be in TAC to be close to Melloussa, but also they have all they need to export their production," says Biyout.
The success of TAC goes beyond the automotive industry; for example, Siemens is building blades for wind turbines, for the Moroccan market and also for export.
Expanding into new areas
As it is now fully occupied, the TAC is looking for more space. "We are working on an extension in the northern part of TAC. Construction has begun in the last few weeks," notes Biyout. The first phase of this extension covers 22,000sq.m.
"We are looking at the different proposals that we have. We don't know for the moment if it will go to one or more logistics companies." The development will allow automotive manufacturers to consolidate their flows in a warehouse for export to all continents. A second extension, of a size yet to be decided, will be located at another site.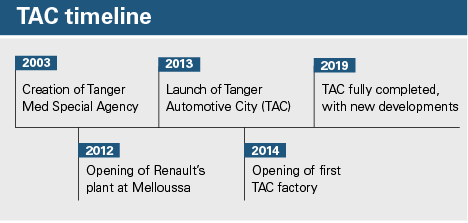 Around TAC itself, additional space was also available, therefore the Moroccan government decided to provide 9 billion dirhams ($932m) for the acquisition and construction of a new area next to the existing one.
On September 6, the government signed a decree extending TAC to a total of 517 hectares, bringing the total dedicated automotive area to 800 hectares. "These free zones meet important demands from automotive and logistics operators," the government stated on the signing of the decree.
This new zone represents an opportunity for several logistics providers to move in. There are already companies based in the area, like Bolloré group, DHL, Nippon Express and others, which are serving the automotive industry as well as other plants based in the various free zones around Tangier.
If Renault gave the automotive industry a boost in the north of the country, the other key French automotive manufacturer, PSA, also saw the benefits of having a Moroccan plant. In May the company opened a new factory at Kenitra, about 250km south west of Tanger Med and a few kilometers north of Rabat. The OEM has contracted automotive logistics specialist Gefco to ship its cars from Kenitra plant to Tangier, and so the logistics provider has invested in railcars to move the vehicles directly to the port using the national service, Office National des Chemins de Fer (see box for details).
Containers and cars in combination
Having only a container port was not sufficient for the promotion of key sectors in Morocco, the government decided, and so Tanger Med built up a ro-ro terminal in the port which covers 13 hectares. Granted to STVA, a French company belonging to Groupe Cat, the ro-ro terminal in Tangier has grown to become the main such facility in Africa, according to Hassan Abkari, deputy MD at Tanger Med SA. The Renault plants at Casablanca and Tangier now export about 370,000 vehicles through the Tangier ro-ro terminal, with some of those volumes from Casablanca transported by rail.
It was granted to STVA as a common user terminal, but Abkari says this is the situation for the moment. Tanger Med SA and STVA are actually negotiating for a new silo in this port which will enable 5,000 more vehicles to be handled per year.
"We are negotiating with the operator," says Abkari. "We are thinking of a parking [facility] like a silo. It will be a good way to add capacity to our terminal without taking too much space."
"We are thinking of [adding] a parking [facility] like a silo. It will be a good way to add capacity to our terminal [at Tanger Med] without taking too much space" – Hassan Abkari, Tanger Med
The ferry linking Spain and France also offers services for automotive OEMs, in fact handling as many vehicles as the ro-ro vessels.
"The ferry terminal has traffic of 720,000 trucks per year, around 50% of the traffic going to Europe," explains Biyout. "We offer automotive operators international distribution of their products, from the ro-ro terminal, the ferry terminal or the container terminals for spare parts. Tanger Automotive City was located in this area due to the vicinity of Europe, 14km to [the port of] Algeciras via the Strait of Gibraltar, which takes around 20% of international flows," he states.
Abkari believes that the concept of a container terminal, ro-ro facilities and free trade zones can now be 'exported' to other countries, especially elsewhere in Africa. "We have the concept. We'll see if this concept can be implemented in other parts of the world," he says.
Gefco builds logistics support for PSA Kenitra
PSA Peugeot Citroën has begun production at its Kenitra plant in Morocco and has plans to supply 80 markets from the middle of 2020, when it says annual production capacity will reach 200,000 vehicles. The carmaker has started output at the €557m ($616m) plant with the Peugeot 208 and will also produce 90,000 engines when the plant is fully ramped up.
PSA Peugeot Citroën signed a manufacturing agreement with Morocco in 2015 to produce B- and C-segment vehicles and engines for the domestic market and for export. Local content from 62 suppliers is currently at 60% and this will gradually rise to 80%, according to the carmaker. There are 27 supplier sites now set up to meet the production needs of the plant.
The start of production at Kenitra goes one step further in PSA's plans to sell 1m vehicles in the Middle East and North Africa (Mena) region by 2025.
The plant is currently in pre-series production but is working closely with Gefco, one of its main transport and logistics providers for both inbound and outbound services.
Gefco Morocco's MD, Alexis Rhodas, discusses the logistics operation with Marcus Williams.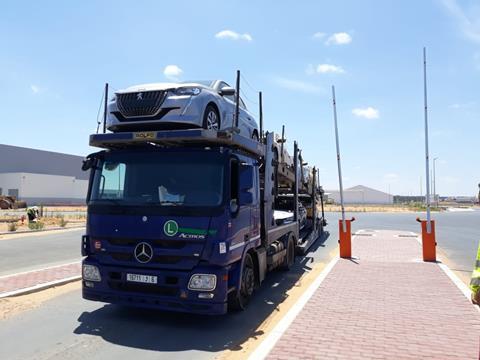 What services is Gefco Morocco providing for Groupe PSA at Kenitra?
We are providing inbound and outbound services here, plus logistics within the country. Gefco covers the full scope of services deliverable to PSA. There will be a lot of suppliers here at the end of the day. What we have for sure is 27 greenfield sites, which are the ones very near the plant in the same area. We have 60 others either in the Kenitra free zone or outside the free zone, and we have a few of them in other free zone areas, like we have at TAC.
It will cover the full spectrum of the geography of Morocco, so we have TAC and we have the Kenitra free zone, we also have subcontractors in Tangiers; it is mainly around Kenitra and Tangiers.
"From Kenitra to Tanger there is a good [rail] link… less than a year ago, they opened the new LGV fast line for passengers between Casablanca and Tanger. So the rail is a real subject for Moroccan authorities" – Alexis Rhodas, Gefco Morocco
We are organising services between those suppliers and the plant. This is both for the local suppliers in Morocco and also for inbound flows from those outside. When the parts come to Morocco, we step in with last mile delivery to the plant.
We also have a new entity called MAF [Magasin Avancé Fournisseurs], which is a warehouse where we consolidate the different inbound material and deliver the full truck to the plant. MAF is in Tanger Med because it is an advantage to be near the customs operation and the vessel. We consolidate the different boxes and groupage within MAF and then we can deliver to the plant. It is a consolidation point and it is also bonded.
What is the percentage of locally produced parts compared with imported parts?
That is difficult to answer at the moment. The target is for 60% integration. So far, all the subcontracting plants are not fully operational. The target is to reach 60% local integration, which means 60% of the parts will be locally produced and the remaining 40% will be imported.
Is Gefco the leading logistics provider in Morocco, Algeria and Tunisia?
With regard to the automotive industry and with regard to the fact that we are dealing with carmakers for 70 years, we have an added value and we can push hard. In Morocco we have a huge compound where we receive and store new cars for different makers in Casablanca. This is mainly for the Moroccan markets. We receive cars from companies such as JLR, some Renault and FCA.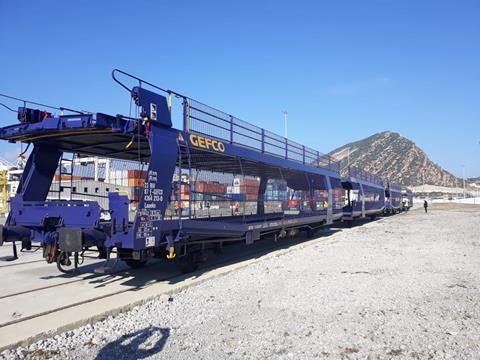 We take the cars out of customs and clear them through customs. Then we transfer the cars from the port to the compound, where we store them for up to two months and provide maintenance services.
When the car is sold we deliver the car to the different points of sale. Just before we do that we prepare them with the finishing products and then deliver them. Gefco is a leader in this industry.
Gefco is supplying rail wagons for the shipment of vehicles out of Kenitra to Tanger Med. The target was 45 wagons?
Yes, we currently have between 15-18. We have regular arrival of new wagons. It was decided by PSA that the cars would be transported from the Kenitra plant to Tanger by rail.
Is the rail infrastructure there good enough?
Yes, it is. From Kenitra to Tanger there is a good link. Moreover, less than a year ago they opened the new LGV fast line for passengers between Casablanca and Tanger. So the rail is a real subject for Moroccan authorities. They have been investing a lot into that. The line is good both for freight and passengers.
Groupe PSA is in a ramp up phase of pre-series production. Is Gefco testing its provision of services in line with PSA?
Gefco sticks to the rhythm of PSA. If PSA is in a project mode then we will also be in a project mode, if they are in a ramp up so are we.
Gefco bought Moroccan transport company GLT earlier this year, so how is that benefitting the services you are providing for PSA?
Yes. This is a benefit for the PSA contract. GLT is an expert on the Morocco-Europe corridor, including Spain and France. They have huge experience on that corridor and in handling and optimising flows. It is a great support for Gefco. We get the benefit of their experience on that corridor. The integration is done and we operate 100% of our road flows with GLT.